Despite the rain, students came in droves to this year's Spring Jam May 14, making it the most attended Spring Jam in Drexel history.
The concert, held outside in parking lot F between the Main Building and 30th Street, included headlining performances from Major Lazer and B.o.B. as well as sets from the winners of various Drexel talent competitions such as Drexel Idol and Battle of the Bands. Drexel's Campus Activities Board organized and ran the event, which capped off a weeklong series of competitions and events to celebrate the nearing end of spring term.
According to backstage director Amanda Moorhead, sporadic showers caused some technical problems for the CAB Traditions Board.
"The rain threw us off and we had a few issues with equipment getting wet," Moorhead said. "But after some garbage bags and a tarp were found, everything went a lot more smoothly."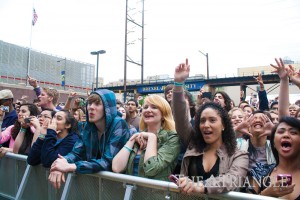 Issues with B.o.B's sound board, coupled with student comedian winner Steve Wettenstein's absence, caused CAB additional logistical problems, Moorhead said. The rapper's soundcheck took much longer than expected.
"This meant there was a lot of scrambling to make up time, but the acts were all really great about shortening their sets so that we could get back on schedule," Moorhead said.
Moorhead said she was grateful to Night Kids, a four-person house DJ disc jockey group from New York that CAB hired to fill the void between other performances, for making the show seem flawless.
CAB was impressed by the total number of attendants: a record 3,500 students and guests.
"I think if we get a sunny day next year, we can easily top those numbers," Moorhead continued.
The event ran from noon to 8 p.m. with performances by the winners of the aforementioned competitions, while students enjoyed carnival games and rides available throughout the day.
Several student performers represented Drexel at the event, including disc jockey Adrian Hardy, a junior majoring in marketing and international business. Hardy said he became a disc jockey in the fall of 2007, and has since gained residency at various clubs in the Philadelphia area.
"Basically what that means is it's my home turf; I play there on a regular basis. Not a lot of DJs have that," Hardy explained.
Hardy also talked about the origins of how he began in music and spoke about his artistic style.
"I'm not technically skilled at all. I started in the fall of 2007 – over three years ago – and just started playing a lot of venues, lots of clubs, anything that I could. Now I play big events with big names," Hardy said.
"My style has evolved a lot over the past three years. It started as just straight house music and transformed to include Motown and top 40 as well," he said.
Another popular performance came from W.C. Lindsay, winner of CAB's Battle of the Bands competition. William Lindsay, a freshman music industry major and the band's creator, formed the band when the members of his old band in Columbus, Ohio went to different colleges.
"This is my solo music," Lindsay said. "We met at school and just started jammin'."
Lindsay is a frequent performer at several Philadelphia area venues, including Drexel's Late Night Series, World Café Live and Lickety Split.
According to Lindsay, many people in the audience at Spring Jam were his friends, who have seen him perform before. Even his family came to the event.
"My parents love [my music]," Lindsay said. "My dad drove all the way out here from Ohio."
In addition, the finalists of CAB's Drexel Idol competition, Sarika Madari and Gabriella Micalizzi, each performed one song.
Madari, a freshman biology major, won the competition and was crowned this year's Drexel Idol. The contest had several rounds, each further narrowing the competition. In the final round, members of the audience texted in their votes to determine the winner.
Rain began earlier in the day during a set by the Treblemakers, Drexel's all-female a cappella group, and continued throughout a performance by electronic artist Kuf Knotz. Treblemaker member Joyce Si Lu spoke about her group's set, which took place during the storm.
"The rain started coming down really hard when we started singing, which was unfortunate, but it didn't impact our performance. The only complaint that we had was that we couldn't soundcheck and get enough mics," Si Lu said.
Ankur Nagpal, traditions director of CAB, explained additional ways the rain affected the event, noting that early showers soaked the carnival, yet didn't damper people's spirits.
"It didn't stop people from enjoying the food and all the fun games," Nagpal said.
Carnival events included a mechanical bull, pugil stick fighting and a Velcro wall, as well as inflatable basketball and an inflatable obstacle course. Additionally, students enjoyed a wax hand-dipping station and tried to ring the bell in the high striker game.
Headlining duo Major Lazer, best known in the mainstream circuit for its creation of the beat behind Beyonce's new single "Run the World (Girls)," began the night performing hits such as "Pon de Floor" and "Barbara Streisand" from Duck Sauce. Major Lazer's lead DJ, Thomas Wesley Pentz, better known as Diplo, was joined onstage by collaborator Chris, who hyped up the crowd.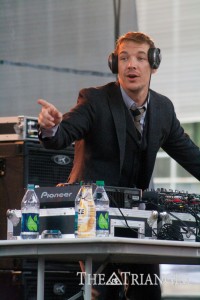 According to Diplo, the name Major Lazer is "kind of just a mix of two generic reggae names … we had a bunch of reggae names in a hat, and we were trying to make something out of it."
"Lazer was always something that you used in reggae records, [and there was always] Major this or Major that, so we just put them together. We had a bunch of funny words that we were gonna make up and those were the first two that we picked. And we just kept it," he continued.
Discussing Beyoncé's new single "Run the World (Girls)," in which the techno loop from his song "Pon de Floor" is featured, Diplo said The Dream wrote the song about a year ago for Beyoncé's upcoming album, sampling his track.
"I think she didn't realize ["Pon de Floor"] was quite big in the underground still. And I play [her song] and it goes over really well in my crowd. Some people don't like the song, but I don't really care. I didn't make it," he said.
Offering advice to students who would like to pursue a career in the entertainment field, Diplo said, "I think the best advice for somebody just coming up is to do everything. Play a million shows. Play s—-y ones, play good ones; play as many as you can so you know what's good and what's not. Go all out."
"We have some young artists that we work with that don't wanna do this show or that show but they need to do every show," Diplo said. "They need to build their repertoire and just gain experience. And they'll really understand if they wanna do it forever too, because the touring life's not easy."
Diplo discussed his artistic history, which began in Philadelphia during his time at Temple University. He spoke of his musical project Hollertronix, and how his style has evolved over the course of his career.
"I had a party here called Hollertronix, where we were just mixing records. Back then it was considered crazy to mix a rap record and like a dance record," Diplo said. "But that's what we did back then. In upscale clubs they'd play house music and then they had hip-hop clubs. They didn't really mix. Then we started bringing in different things like world music," he continued.
Currently, Cartoon Network has picked up a "Major Lazer" short series, to premiere on Adult Swim.
"The idea was pretty raw, but then building up our videos and our artwork and our shows and the different remixes and the way we perform, I think it built a sort of attitude or style about the whole project so that it became what it is," Diplo said.
Like Diplo, Spring Jam headliner B.o.B. is famous for mixing styles and genres in his music. Even during his set, he performed a variety of songs — some acoustic, some grounded in rock, and several with heavy rap leanings.
B.o.B. performed many popular songs from his first album, including "Airplanes," "Magic" and "Nothin' On You." Later in the set he free-styled and performed additional tracks from his album.
B.o.B is currently in the process of releasing a second album, of which he said, "It's kind of like esoteric knowledge with a modern-day spin to it."
He added, "The next album I feel like is definitely gonna be an album you can play all the way through … I'm just really curious to see how people are gonna receive it, you know, because I always like to go beyond the boundaries with my music."
Of his creative process, B.o.B said, "I just allow the music to come out, and I pretty much get an idea of what people like based on the responses I get from the music or the mixtape songs or the singles. From there we pretty much just go for it and put it in the show, and just see how [people respond]."
In addition, B.o.B mentioned the difficulty artists have in trying to become recognized.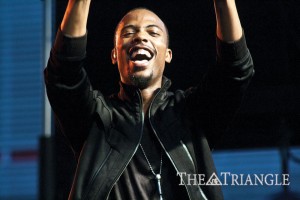 "It's really hard for an artist to break past that threshold of being an underground artist or being an open mic artist to being somebody who is developing followers and fans," he said.
He stressed the importance of having patience and resolve as an artist, as well as developing a connection with one's fans.
Julie Paradiso, a junior music industry major, will assume the position of Traditions Committee Director for CAB next year and will organize Spring Jam 2012. Paradiso hopes to improve and build on the festival atmosphere achieved from having this year's Spring Jam outside.
"Right now, the Traditions Committee of CAB is currently in the process of turnover to a new director and committee. Once the new committee is decided we will begin the planning process for all of next year's traditions events," Paradiso said.
"CAB is really looking forward to getting feedback from students to make improvements to next year's Spring Jam and any suggestions from the student body are welcome," she added.
Funding for Drexel's annual Spring Jam concert comes from the student activity fee that each undergraduate student is charged.