Mechanical engineering junior Jared Barag was recently credited with saving his neighbor's life early June 8.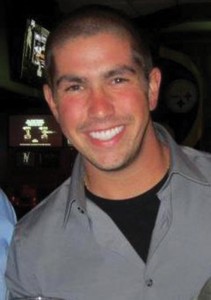 David Wilson, a resident of Marlton, N.J., was suffering from cardiac arrest when Barag found him collapsed on his front lawn. Barag was able to perform CPR until paramedics arrived and  rushed Wilson to the hospital.
The events unfolded around 10 a.m. when Barag was washing his car in his front yard. He commutes to Drexel from his home and was the only one at home at the time.
"I remember relaxing and just going about my business," Barag said, recounting his experience. "It was really like any other Sunday morning; nothing could have prepared me or anyone else for this."
Barag saw his neighbor, doing yard work and quickly waved hello before going inside for a break. Upon his return a few minutes later, Barag noticed Wilson missing, with his lawnmower sitting by itself. Wondering where his neighbor went, he walked over to see if anything was amiss or out of the ordinary.
"I found Mr. Wilson on the ground and the first thing I thought was maybe he passed out — thinking it was heat exhaustion. I really didn't expect anything more than that; I don't think anybody does," Barag stated.
Further inspection showed that Wilson had bloodshot eyes and was breathing raggedly, evidence of something worse taking place. Barag immediately dialed 911 and paramedics were dispatched. A minute after his arrival to the scene, Wilson drew one final breath and Barag jumped into action.
"I knew I had to do something because the ambulance wasn't going to make it in time. We were trained CPR in high school so I knew what I was supposed to do," Barag said. "I stayed on the line with the emergency responder and thank God for her. She kept me calm and walked me through what to do,"
Barag recounted, "I zoned everything out, had that sort of tunnel vision and couldn't see anything going on around me."
Barag continued to perform CPR until paramedics arrived where they administered defibrillation and were able to resuscitate Wilson. He then accompanied his neighbor's spouse, who had just arrived home from church, to the hospital — their own children live about two hours away, in north New Jersey.
"I wanted to help her out because she came home to this tragedy; I couldn't just leave her," Barag said.
Arriving at the hospital, doctors placed Wilson in an induced coma in order to reduce brain swelling. The outlook was somewhat bleak as Wilson had been without oxygen for an extraordinary amount of time and doctors believed his brain cells were damaged. However, he regained consciousness and is on his way to a full recovery.
"It's pretty amazing; he's walking and while he's still weak he's on his way to being back to normal," Barag said.
Barag was praised for his quick response time and ability to stay calm during the entirety of the situation.
"I had a lot of adrenaline rushing through me and was exhausted when everything was over but I did what I had to," Barag said, looking back at the time. "I'm just glad that he's going to be okay."