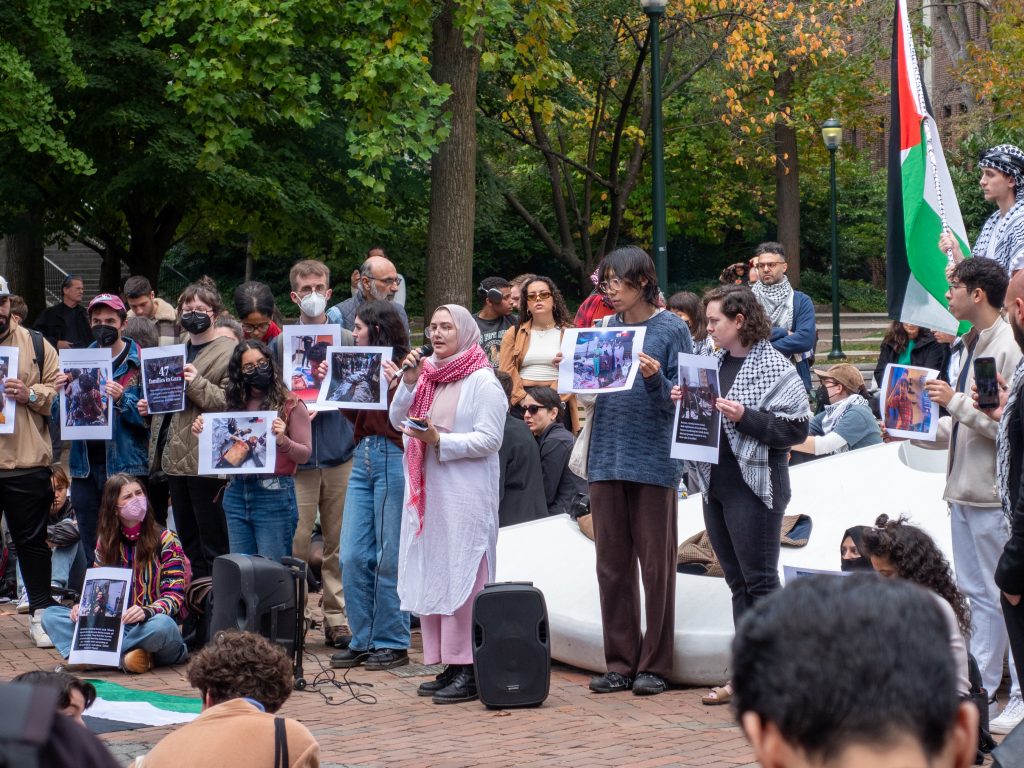 Drexel Students for Justice in Palestine released a letter on Oct. 12 addressing the absence of support they have been receiving from President John Fry and Drexel administration.
"We, students of Drexel University representing Palestinian voices and our partners in solidarity are writing this statement to express our profound disappointment and sadness at the recent email sent by President John Fry regarding the escalation of violence in the Gaza Strip. Though we applaud the email's support for academic freedom and free intellectual inquiry, we are shocked by President Fry's failure to mention the Palestinian people even once or acknowledge the context for these tragic events and violence," the letter states.
Drexel student organizations like Drexel Black Students Union, Drexel Indigenous Students Association, Drexel Community for Justice, Drexel Middle East North Africa Club, Pakistani Student Association, Drexel Queer People of Color, Drexel University College of Medicine Muslim Student Association, Swarthmore Jewish Voice for Peace, Penn Chavurah, Temple Students for Justice in Palestine, Students for Justice in Palestine at the University of Delaware, Swarthmore Students for Justice in Palestine, Bryn Mawr and Haverford Students for Justice in Palestine and Penn Against the Occupation all have signed the letter in support of SJP and the Palestinian community.
SJP has not been the only student organization on campus that released a letter expressing these sentiments regarding the administration's statements.
In a letter posted on their social media on Tuesday, Oct. 17, Drexel Muslim Students Association denounced President Fry's three most recent statements for excluding Palestinian voices and neglecting the Muslim and Arab communities in light of the Israeli offensive in Gaza following the Hamas attacks on Oct. 7.
"It goes without saying that the Drexel Palestinian and Muslim communities are in a state of grief. This context and reality is one that you neglected when you chose to circulate a university-wide statement without any mention of the unfathomable loss of innocent lives and the egregious violence experienced by the Palestinian people for decades," reads the statement.
In an interview with The Triangle, DMSA, President Kawthar Aguibi said that this was not the first time the DMSA responded to an email from the university with an open letter.
"Two years ago there were similar tensions between Palestine and Israel, and there were a lot of protests going on, a lot of public rallying and a lot of students speaking up. Back then the DMSA had met with leadership, had met with administration in response to their emails during that time and expressed concerns over Palestinians not really being heard. And so the past two years we've had a good relationship with administration. And we felt like we were being heard," shared Aguibi. "And then we get the first couple of statements, and it just feels like some of the work that we've been doing the past two years kind of just goes down the drain. And we're kind of questioning: were we even actually heard the first time around?"
According to Aguibi, the letter was sent to 23 officers in Drexel administrative leadership in hopes of making an impact. Other MSA chapters have been boosting and reposting the letter which has now gathered almost 1,000 likes on Instagram.
"In John Fry's email, he didn't mention anything related to the Palestinian lives that were lost…there was no mention of the support system that would be available to Palestinians and Muslims who are seeing the footage that's coming out of Palestine right now," commented Rida Memon, vice president of DMSA. "And that gives us the impression that our suffering does not matter to the university and it makes us feel unheard. It makes us feel unwelcome and unincluded. It makes us hesitant to speak out. It makes us feel unsafe because it gives the impression that some lives matter more to the university than others."
SJP member and graduate student Nada Abuasi also commented on the reasons motivating the organization to comment on President Fry's letters.
"One of the biggest surprises, I suppose, is that we expected [the initial statement] to be both sides, but it seemed that right on the front President John Fry had immediately just expressed support for Israel, and did not even acknowledge both Palestinians in the West Bank and in Gaza, who are, you know, facing the front of collective punishment. And so reading that email, we were kind of all collectively upset. But we were like, 'Okay, let's calm down. Let's write out an initial statement.' And we decided to put that out so that people know that this is what we feel," said Abuasi.
Aguibi and Memon noted that Muslim students have been sharing stories about feeling unsafe on campus and as if the university has turned their backs on them.
"People are afraid to speak up because they're afraid of what kind of retaliation is gonna happen. You know, international students are afraid of risking their education in a different country. Students with scholarships, students with financial aid, students, you know, of all backgrounds and of all circumstances are afraid of risking anything related to their livelihood as students here," said Aguibi. "I've literally had some students say that they feel like a target has been painted on our backs. I have felt like a target has been painted on my back by being visibly Muslim."
"In the Intercultural Center, the ICC, where Muslim students hang out, I have heard on multiple occasions, 'Am I safe here?' And that is a lingering question among a lot of people in our community," added Memon.
Abuasi even shared that "One of the biggest ways I can explain sort of the challenges of Muslim and Arab students on campus is – it's just a recreation of the climate that existed post 9/11, and it's a climate that really never disappeared. It just lessened over time. It was something that people really got used to. But you know, with all this rhetoric going around, there's an intense amount of surveillance. And there is an intense amount of monitoring that is under the guise of public safety or under the guise of protection."
Both DMSA student leaders shared that Drexel professors have been generously accommodating towards students' needs in the midst of the collective grief and suffering occurring. In an effort to support members and anyone else who has been feeling overwhelmed by current events, the organization created an email template for students.
DMSA Professional Staff Advisor and Assistant Director with Graduate Student Services at Drexel's LeBow College of Business Noor Jemy added that, "The reason the students crafted a template is because we have to be sensitive of what we can and cannot say…The template is there because it helps the students verbalize in a way where none of them will come to harm in any way, because they're not taking a stance in the letter. They're essentially just saying I am hurting right now, and I can't focus."
In regard to President Fry's statements, DMSA seeks an updated official statement from the university that includes the following: "Acknowledging and recognizing the impact of this crisis on members of the Palestinian community and their allies on Drexel's campus; Shedding light using factual current events and providing accurate historical context pertaining to the region; Acknowledging and apologizing for the impact that the biased statements have had on the student population and increased tensions on campus; Reinforce that Drexel's values of inclusion and safety also apply to Palestinian and Muslim students; Address next steps for ensuring the safety of all students, regardless of faith, ethnicity, or identity."
Similarly, Abuasi highlighted that Drexel SJP and all the organizations that signed their letter seek for "an acknowledgement of Palestinians on campus."
"I think there has yet to be an email or a statement sent out by the President, but also sent out by any other faculty member that fully acknowledges Palestinian identity…Your denial of our experience, your denial of our identities, your unwillingness to respond to the statements that many have already put out, your unwillingness to extend a hand and reach out to your Palestinian students…It's just brutal, and I think if any of us need support, if we're talking about support, and that's the support we need to begin with: just a blatant…knowledge and the fact that a genocide is happening…that's it," Abuasi added.
Abuasi and Drexel SJP shared a call to action for students: encourage students to join an organization that is dedicated to advocating for a community; engage in a process of "dialogical learning to engage in a process of unlearning" so that students can "start engaging in their own pedagogical formations"; and open the conversation in classrooms to invite awareness.
Drexel SJP has not received a response from John Fry or the Drexel Administration. "I personally forwarded the email myself…I know most of the time in my experience as an undergraduate, administration rarely responds back unless there's an immense amount of people who are showing this support and demanding that there'd be a response…I think that Drexel University is unfortunately kind of one of those campuses that is…very calm, very silent about these things. So, and I honestly believe, unless there's student outrage, we probably won't hear a response," Abuasi stated.
"An initial response was sent yesterday to us for a meeting with Subir and [Katie] and we will be following up with more information on how those meetings go and actions taken by the university on DMSA's social media page," Memon updated the Triangle this morning. Subir Sahu is Drexel's Senior Vice President of Student Success. Katie Zamulinsky is the Associate Vice President and Dean of Student Life.
In the midst of all of the suffering of this crisis, DMSA hosted a Day of Du'a on Oct. 19, partaking in a global collective fast in solidarity with Palestine, followed by an Iftar dinner at Behrakis Hall.
*Editor's Note: President John Fry released a new statement on the evening of Oct. 20 that expressed support for the Palestinian community. "I want to extend my full sympathy and support to our Palestinian students, faculty, and professional staff, whose pain and trauma deepen by the hour as the humanitarian crisis in Gaza worsens and casualties rise. I join with them in grieving for loved ones who have died during Israel's siege of Gaza and in praying for the safety of Palestinian civilians in harm's way. I also want to reaffirm that Drexel defends their right to express their views about Israel and Palestine without fear of intimidation, harassment, or professional retribution, and will continue to enforce a policy of zero tolerance against any manifestation of Islamophobia in our community."