Jessica Mintz, a junior fashion design major, recently won the Macy's Phillies Ballgirls Uniform Design Challenge for her dress design inspired by the traditional Philadelphia Phillies pinstripe uniform.
Macy's and the Philadelphia Phillies baseball team held a contest to see who would be the next "MVP of Fashion." Contestants from Pennsylvania, New Jersey and Delaware were called to design the 2011 Phillies Ballgirls uniform.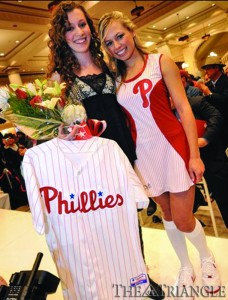 "It needed to be appropriate, new and comfortable, as well as travel-friendly. It also had to somehow incorporate both the Phillies and Macy's Logo into the design," Mintz said.
The Phillies Ballgirls are softball players who make appearances at various events representing the Phillies. They throw foul balls to fans during Phillies games, run softball camps and do work for charities.
The winning uniform design will be worn by the Phillies Ballgirls at a select number of these community appearances during the season.
Contestants sent in their portfolios, samples of work and sketches of the uniform. Fifteen designers were chosen to be semifinalists and carry out their design, which was judged at a live runway show at Macy's Center City store, March 31.
Mintz started out with a traditional concept of the Phillies uniform with a female silhouette, but then she changed her design before sending it in. After she advanced to the semifinals, she had to purchase fabric and make the uniform. She also had to style the model.
"We had about a month to meet with the ballgirl that we were assigned and make a dress to fit them exactly," Mintz said.
After she was done with the initial fittings, her tailoring professor, Juanita Phillips, consulted with her regarding her pattern and getting the bottom of the dress to fall right.
"I helped her with just the technical, the pattern making, some of the sewing," Phillips said. "But the rest she did on her own," she added.
The contest was open to amateur designers as well as those still in school. Mintz was the youngest contestant to make it to the semifinal round, competing against people who were already established in the design industry.
Mintz received an "MVP" Phillies jersey and a Macy's gift card for winning, and is able to put her designs in her portfolio. According to Mintz, Macy's and the Phillies are thinking about starting a Phillies Ballgirls line for retail.
"If they put her piece in that line or develop other looks from that piece, then it could possibly lead to a job after school," Phillips said.
This competition marked the first collaboration between the Phillies and Macy's. It was also the first fashion competition Mintz had entered.
"It was a really nice surprise to hear that she won. Her garment fit the bill. It fit into all their criteria: what they wanted for the ball girls to wear, what they wanted it to look like. The girl who modeled for her actually said she felt really comfortable in it. I know she can't wear it at the game, but she said if she could, she wouldn't feel naked or underdressed or overdressed," Phillips said.
Mintz has just begun her co-op with fashion designer Nanette Lepore.