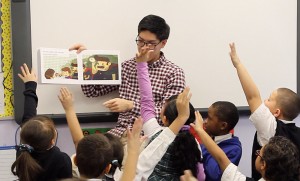 Selena Lin, a full-time graduate student at Drexel University College of Medicine's Department of Microbiology and Immunology, is well on her way to becoming a published author. She is the creator of "Bob and his Time Traveling Adventures," a children's book that promotes healthy eating habits.
The idea came to Lin last spring when she thought about diabetes and the childhood obesity epidemic. One in four children in the United States suffers from childhood obesity. Her busy and stressful schedule as a graduate student helped her realize the importance of a healthy lifestyle.
In her story, Bob accidentally acquires the ability to time travel, and he discovers the results of different food choices.
"The idea [of the character] was a flash of inspiration, but the story took time to develop more thoroughly," she said.
The book's illustrations were drawn by her boyfriend, Tony Tran, a freelance graphic designer and creator of Claynextion.
"At first we worked [simultaneously] on this together until we were both confident that we were on the same page, [and from then on] I worked independently," Tran wrote in an email.
Originally, Bob's story was to be presented in application form and the concept won second place at 2013's Startup Weekend. However, the team decided to shift their direction after they pitched the app at the Baiada Institute for Entrepreneurship's 2013 Baiada Business Incubator Competition. There, the judges encouraged them to consider making the story into a book.
"We started up with the app idea and pitched it, but you still need to get attention, so we [went] with a book," Lin said. "[With a book], it's easy to share, easy to get feedback."
"I took a class in college [called] Children's Books 101," Tran said. "The process of illustrating a book wasn't new to me … but I had to get a lot of feedback [because it was different than a college project]."
A Kickstarter page to fund the publishing of the first book in the series began Feb. 5 and ended March 7. The campaign raised $3,501, exceeding the goal of $3,200. The book is now scheduled for release this spring.
In order to get feedback, the duo read the draft of the book to classes of second-graders. "We brought candy and fruit, and after the story we passed it out, [and we] got to see what they chose," Lin said.
"It's mostly illustration-driven, and I guess when we read it, they [seemed] interested," she said. She added that the children also reacted strongly to a scene in the middle of the book where Bob sees the consequences of eating too much candy. They realized that Bob gained "a lot" of weight from eating too much, and that apples were a more nutritious food source.
"Witnessing the feedback and reaction from the kids was probably the best experience ever," Tran said. "They're very unpredictable and brutally honest, and it's scary because you wouldn't know what they would say. The kids loved the book and how colorful each page was."
"The initial thinking was to not be too educational, but to be creative … and show them the consequences [of their decisions]," Lin explained. The creators wanted to have character development in their story and "incorporate more than just healthy eating."
The team would like to see the second book released before September, which is National Childhood Obesity Awareness Month. On the subject of future themes, Lin said, "[W]e want to incorporate both [healthy eating and exercise]. … We're not sure if we want to focus on food types; it's still up in the air." She noted that the first book does not explicitly say that exercise is important, though the topic is implied, and that the first book focused on introducing the character and his abilities.
"We do plan to go back to the app," she said, adding that that particular goal "wasn't obtainable right now." Meanwhile, they are using their free time to work on Bob's adventures.