David Stephenson, a pre-junior communication major, was recently elected to the position of editor-in-chief of The Triangle, Drexel University's Independent Student Newspaper, for the fall and winter terms.
Stephenson worked his way up through various positions at the paper, beginning as a staff writer and later assuming the responsibilities of assistant news editor and news editor, before becoming the web manager. It was here that he helped develop and launch The Triangle's new website.
Along with his editor-in-chief position, Stephenson also currently works as a public relations assistant for the College of Engineering. He works heavily with the Freedom Rings partnership to help bring Internet access and training to underprivileged local communities.
He will put his web experience to good use by further developing The Triangle's web presence in the coming months, Stephenson said.
"We're going to have a detailed website that students can not only use, but share and discuss content on," he said. "Content like breaking news and stories about other students, research projects, organizations and events."
While not seeking to entirely remove the printed version of the paper, Stephenson's main goal of his term is to transition The Triangle from a primarily print newspaper to an online-oriented paper.
"We want to think about online first, because that's really where our generation gets its news," he said.
Furthermore, Stephenson seeks to raise the profile of The Triangle so it becomes more of a resource for students when they want information about the University.
"In the next six months, I would like to see The Triangle become the go-to source of Drexel news and of the arts, entertainment and sports of the Drexel community," he said. "We're going to foster a sense of community and be a news source for the students, by the students," Stephenson continued.
He explained that the University can be a hectic yet interesting place for students, and that The Triangle can help make sense of everything going on.
"Drexel can be a huge and very business-oriented place, and it's easy to feel lost," he said. "We're here to be a voice for the students, to publicize things that are happening and to make them interested in their school."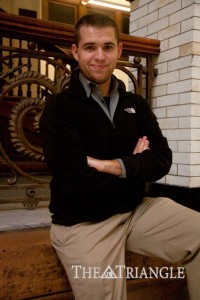 Another goal of Stephenson's is to make students more invested in The Triangle.
"When something good or bad happens, when students see a scandal, or something goes wrong, or when someone wins an award, we want the students to reach out to The Triangle first," he explained.
During his time at The Triangle, Stephenson has learned that it takes more than writing skills to be a successful part of a newspaper.
"It's also about talking to people, meeting with organizations and making decisions about things of relevance to the Drexel community," he said.
He encouraged students to help improve The Triangle by becoming part of it.
"As someone who joined an organization as a freshman, it's definitely one of the better decisions I made at Drexel," he said. "And the kinds of people you meet and the experiences you have at The Triangle can't be beat."