Sigma Psi Zeta held their 10th annual "Take Back the Night" event April 16 on Race Lawn as part of an effort to spread awareness about and prevent domestic abuse. The event was active until the late evening, with many students from all around Philadelphia enduring the sudden cold weather and making it through until the end of the night.
The main feature of the function was a number of speakers recounting their own past experiences either dealing directly with domestic abuse or helping others recover from some sort of harm. Speakers included respected officials such as Community Relations Officer of the Drexel Police Department Thomas Cirone, who has 27 years of experience as a police officer; Director of Global Studies and the Office of Human Trafficking at Drexel Donna Sabella; and licensed professional counselor in the Philadelphia region John G. Taylor.
"The speakers all had some sort of real-life experience dealing with domestic abuse, something we always hear about but think it'll never happen to us or anyone we know," pre-junior general business major Jacob Brodie said. "As cliche as it sounds, it's surreal."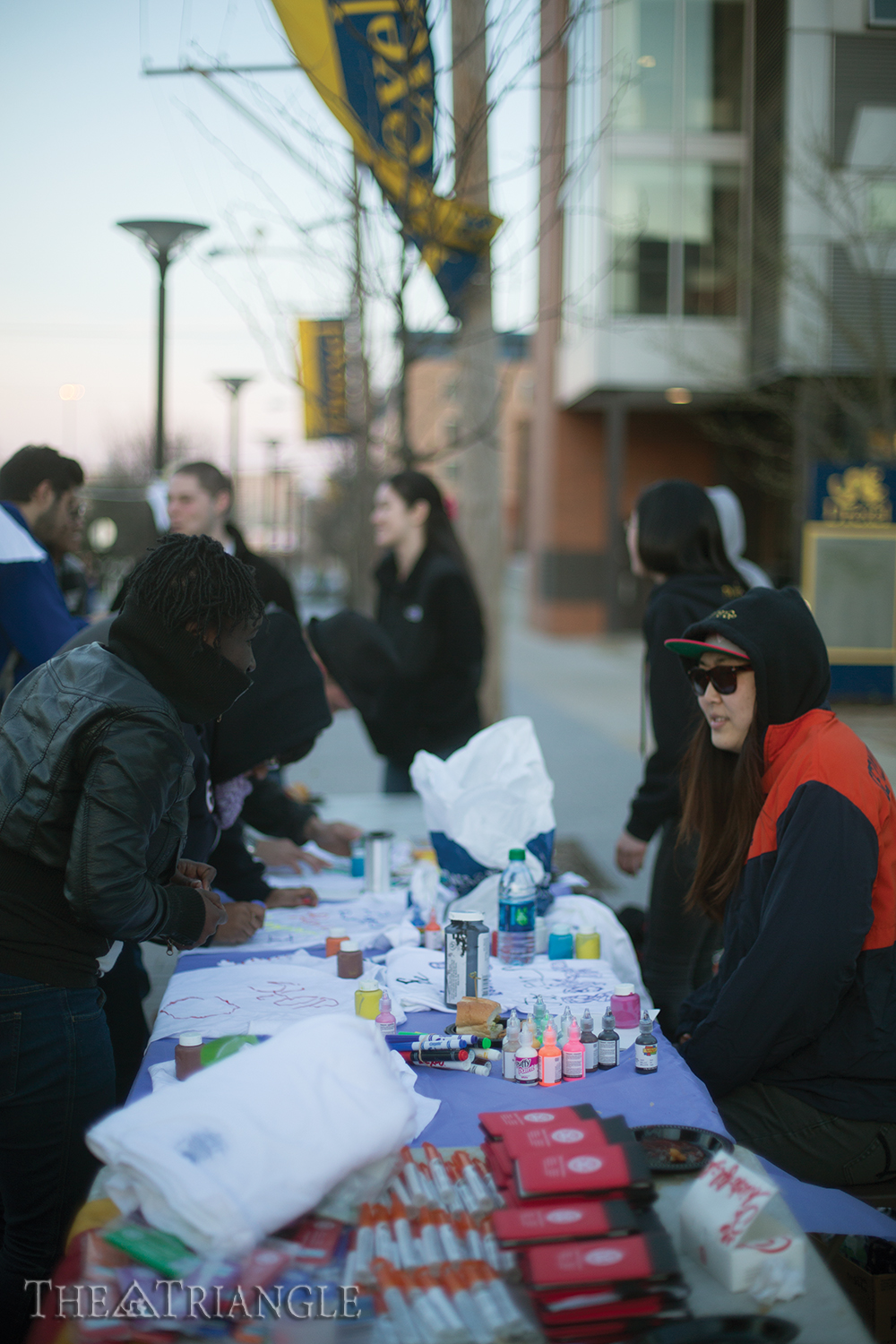 The "Clothesline Project" was a newly added activity this year. Participants were given notecards and t-shirts to write inspirational quotes or anything significant to them to be hung up on display for everyone to see.
"It's something that everyone loves because it makes them feel like kids again," junior custom-design major Stephen Guarino said. "It's a very fun event and a great cause; the only thing that would make it better is if it weren't so cold!"
The event came to a close with a candlelight vigil. Participants took a moment of silence to honor those who have been victims of domestic abuse and violence with remembrance so that others will never have to experience what they went through alone.
The abrupt change in weather may have hindered the event's attendance, but overall it was a very informative experience, given various students' feedback.
As part of the event's purpose is to fundraise for facilities that help prevent and mitigate the impact of domestic abuse, a raffle took place with various prizes for the lucky holders of winning tickets. Prizes included coupons for free drinks at TeaTalk, gift cards to the frozen yogurt shop Kiwi and gift cards for the noodle house Sang Kee.
The event was catered and featured finger food that complemented the outdoor event and helped garner attention from passersby.
 "We're all very caring and thoughtful people," co-chair of the event and biology major Elizabeth Kwong said. "Philanthropy is one of our main goals and we all care about it, so it's something we look forward to." She and her fellow sisters Stephanie Tran, a business major,  and Feyone La, a biomedical engineering major, are co-head chairs and are in charge of the event this year.
"Take Back the Night" is an annual event that is held by chapters of Sigma Psi Zeta on campuses across the country. The sorority itself is a multicultural group that is part of Greek life on campus and the main target of its national philanthropy is domestic violence awareness. "Take Back the Night" is a huge part of the organization's philanthropy and preparation conducted year round.
In addition to "Take Back the Night," the sorority is also very active during the month of October, which is designated National Domestic Abuse Awareness Month.
Sigma Psi Zeta will once again be hosting the event next year as well as the years to follow.