Mason Payonk, a sophomore legal studies major from Scranton, Pa., will be opening for this year's Homecoming Dance Party Jan. 25 under his stage name Mason IV Real.
According to Payonk, he has been a rapper since his sophomore year of high school.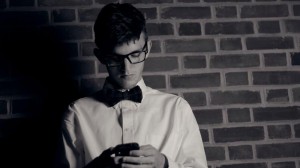 "I started it as a joke my sophomore year with a bunch of friends, then I start[ed] doing it seriously," he said.
Payonk got his chance to perform at the annual homecoming concert after his manager from Eclectic Management, an alumnus of Drexel University, contacted Associate Dean of Student Engagement John Cooke.
"I actually played at the Theatre of Living Arts Dec. 12 and I put together a video of the show and stuff like that, along with my SoundCloud page and stuff like that," Payonk said, describing his selection experience.
"When I got the news that I was on, I was ecstatic. Trinidad James is fun. Schoolboy Q is awesome. Griz — I'm not a huge [electronic dance music] fan, but I saw Griz at the TLA. He's awesome. His funk music is dope. Carnage kills it. He's awesome," Payonk said.
"I told my close friends, but I wasn't allowed to announce it until the night that they announced [the performers]. I got a lot of text messages. At home, back [in] Scranton, I felt like I had no hometown support but that's because when I started I was obviously terrible. My music was bad; I thought I was good. So, no one really took me seriously. So now, I feel like people take me seriously. Like, 'Wow, he's opening for this artist and this person' and then they check out my stuff," he continued.
Payonk described his music as "new-age" and "contemporary."
"It's not like the classical, lyrical stuff. It's fun stuff related to it," he said.
He also reported having rhythm and blues influences in his rap. He listed other artists as influences, such as Drake, T. Mills and G-Eazy.
Payonk has played other shows, opening for other artists such as Lil Debbie in October at The Note in West Chester, Pa.
He also opened for Chris Webby in his December show at the TLA, and homecoming will be his next performance. It was after his first show that he came in contact with a promoter who will help him book more shows in the future.
This March, Payonk hopes to have a mini-tour: one show in Scranton, one show in Stroudsburg and another at the TLA, where he hopes to open for T. Mills.
Payonk has nine tracks available for free download on his SoundCloud page and four music videos on YouTube. The three most downloaded songs from his SoundCloud are "Do You," featuring artist W.E.S., "Alone" and a freestyle rap called "Versace." Payonk also has one mixtape called "The Rendition" from his senior year of high school and one from last year called "Commercial Break." He has an eight-song extended play coming out Jan. 31 called "The Variety." According to Payonk, however, he has written 200 songs since his start in high school, only 20 of which he likes to perform live.
Payonk recorded all of his music in his Drexel residence hall room and one of his videos was filmed in a Drexel residence hall. He has done a collaboration song on his new EP with another Drexel artist, Kid Riz, a freshman.
"After I graduate, I want to go to law school. I want to do entertainment law. I'm looking at schools like [University of California, Los Angeles] and [New York University]. Ultimately, I want to be like an agent for people. I like to argue with people, so being a lawyer is the perfect job for me, I feel like. Anywhere in the law field, I'd be content with, but right now I'm looking at entertainment law," Payonk said.
"I can't even put it into words how excited I am [for Homecoming]. It's [going to] be crazy," continued Payonk.
He said he has made a set list of seven songs and is going to give away free merchandise to the audience. "It's just cool to have someone from the school, opening up for these big name artists," he said.