Seth Meyers, the head writer of "Saturday Night Live," performed an hour of stand-up comedy May 23 to a sold-out crowd of Drexel students.
The event, which was sponsored by the Good Idea Fund, featured the host of SNL's Weekend Update performing a college-tailored comedy routine as well as an open question-and-answer session.
Meyers' jokes ranged from a rant about study-abroad students bragging about their international experiences to a time he got punched in the face at a Las Vegas club. He also joked about being overshadowed in the news after he 'killed it' at the White House Correspondents' Dinner when it was announced the next day that Osama bin Laden had been killed.
"I felt great about the job I did at the White House Correspondents' dinner. It was that Saturday night, and I was like, 'I killed it,' and I got so much hubris, so much went to my head, so much ego, that I started thinking, 'I did so well that I bet all they're going to talk about on the news on Monday is how well I did.' So, I'm basically admitting to you that I'm the one guy in America when Barack Obama announced that he killed Osama I was like, 'Aw [expletive], today? It took you 10 years and you killed him today?'" Meyers joked.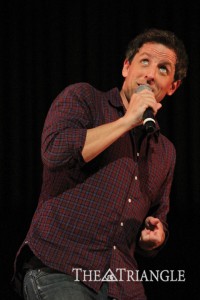 He continued, "But then I came up with a theory that made me feel a lot better, which is this: Obama also told jokes that night which were really funny, and then I went after him. I think I did a little bit better. I think it got to him. I think he went back to the White House and he was like, 'We got to find something to get the focus back. What do we do? And someone was like, 'We can kill bin Laden?' and he was like, 'Do it,'" Meyers concluded.
At the end of the routine, he asked everyone in the audience if they wanted to hear the jokes NBC wouldn't allow him to air on Weekend Update.
After a roaring applause, Meyers said, "The legal term for what you just gave me is consent," and he rattled off a list of raunchy news jokes.
"Honestly, I loved everything about it. I mean, it was a tad hot, but who cares when Seth Meyers is in the same room as you? I still cannot really get over that fact. Five days ago he was doing SNL, and then he was here," Kali Giandiodis, a sophomore business student and longtime fan of SNL, said.
Meyers held a question-and-answer session where he discussed some of the memorable moments on SNL, his relationship with his brother, and his path from college to head writer of SNL.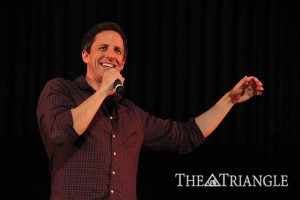 Meyers started doing improv while he was in college at Northwestern University. He did comedy with his brother, Josh Meyers, through college and abroad in Amsterdam.
"I've mostly been lucky to have a brother in the business because it's a crazy business, and it's nice to have someone to sort of bounce ideas off of. So we've been more supportive than rivals," Meyers said.
After college, Meyers starred in a two-man show in Chicago where someone from SNL was in the audience one night and asked for an audition tape. After another submitted audition tape and a live audition, Meyers got hired at  the age of 27.
Meyers' advice to students wanting to break out in the comedy industry is to do as many gigs as possible.
"The older you get, the harder it gets to fail," he said. The first 10 to 15 stand-up shows anyone does are bad, and one should get those out of the way, he explained.
"And then that exciting moment when you sort of feel yourself transitioning to being better at it is when you decide if you want to put all the work into it," he said.
Meyers also addressed Kristen Wiig's departure from the show.
"It's the saddest thing ever when anyone leaves the show. I mean, she had been there seven years, and we like basically live on top of each other, like we have tiny offices and you sort of see each other all the time. But the great thing about the show, the reason the show keeps regenerating, keeps being relevant, is because we keep bringing in new people," Meyers said.
He also could not confirm rumors of Jason Sudeikis or Andy Samberg leaving the show. He said he loves them and hopes they'll stay, but if they leave, he knows they'll be really successful.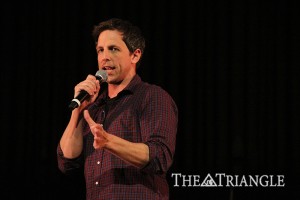 Meyers shared details about the season finale after-party with the Foo Fighters and Mick Jagger, saying it was "the best after party ever."
"The Foo Fighters is like the best wedding slash bar mitzvah band you've ever seen. At one point Dave Grohl was like, 'Amy Poehler, I know you want to come up here and sing,' and she was like, 'No!' and he was like, 'Come on, everybody give her a big hand,' so Amy came up and sang Joan Jett in front of like 500 people," Meyers reminisced.
Event organizer Shefali Sharma, a senior double-majoring in marketing and international business, initially brought the idea of hosting Meyers up to the Good Idea Fund. She polled 50 of her friends to gauge interest in bringing Meyers to Drexel. There was definitely interest, seeing as all 800 tickets were claimed the first day they went on sale.
"I'm so glad I had a great liaison, Ari [Melman]. I couldn't do this without him and Casey Sharkey, the adviser. It's really incredible to see what a great response we had. Students posted around a hundred of their favorite clips on the Facebook page when it was first announced. Tickets sold out within 24 hours, and the line for the show was wrapped around the Main Building all the way to the Paul Peck Center. But at the end of the day, it was all worth it, and Seth gave an amazing performance," Sharma said.
The Good Idea Fund enables students to organize any event they want with the leftover money that the Student Activity Fee Allocation Committee has from the previous year of campus activities, according to Ari Melman, a senior business major who serves on the Good Idea Fund committee. The leftover money that the Good Idea Fund has at the end of the year goes toward structural improvements on campus.
"Shefali was extremely well organized, but any student with the passion to make their event a reality can do it. The Good Idea Fund nurtures and supports student ideas to ensure they are successful," Melman said.
The Good Idea Fund is two years old and has helped bring rapper Lupe Fiasco, New York Times best-selling author and financial journalist Andrew Ross Sorkin, Sir Salman Rushdie, and other big names to Drexel.
Event ideas can be submitted through The Good Idea Fund's website, www.drexel.edu/safac/thegoodideafund.