Drexel University announced the suspension of regular University operations and classes due to severe weather conditions Jan. 21 and 22. The announcement was made via text message and email to students and faculty around noon Jan. 21, and then the University later announced the continuation of the suspension through Jan. 22.
According to the 6ABC Action News website, the Philadelphia area received 13-14 inches of snow. Due to the unusual amount of snow, Mayor Michael Nutter issued a snow emergency to be effective from 4 p.m. Jan. 21 through 6 p.m. Jan. 22.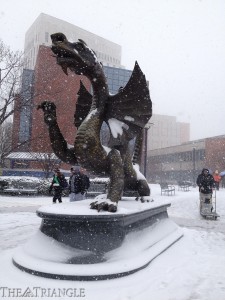 "Snow events of this magnitude are relatively rare in the mid-Atlantic region," Robert Francis, vice president of University Facilities, said when asked about the reason for Drexel's lack of snow days in the past.
The president of the University consults with the senior vice president for Student Life and Administrative Services and the vice president for Public Safety in order to make the final decision for a University snow day. Ultimately, the decision relies on the condition of public thoroughfares and transportation.
According to Francis, the decision for previous snow days was based on snow emergencies declared in both Philadelphia and New Jersey, which impaired the ability of commuters to get to and from campus safely.
Drexel's grounds crew and custodial staff worked to remove the snow from sidewalks and pathways throughout campus. At any given time on campus, there were 15-20 crewmembers working to remove the snow and six to eight police officers on duty to keep order.
While the grounds crew worked to keep the campus safe and accessible for students and faculty, Drexel students took advantage of their time off.
Drexel students are well aware that snow days were almost nonexistent in past years. Having two snow days in one week came as a shock to many students. Across the University City Campus, at all hours of the day, students were seen having snowball fights, looking for places to sled or simply enjoying a walk in the snow.
Francis said he wants students to feel confident that they are in good hands with Drexel's service staff and to call 215-895-1700 to report areas where snow or ice are dangerous and may need immediate attention.