Drexel University's Office of Student Affairs, in conjunction with the Office of Veteran Student Services, held the annual Memorial Day primer May 21, hosted by the College of Nursing and Health Professions. The event is to honor Drexel's military community and especially to remember and pay tribute to America's service members who have died in the line of duty.
According to Army Lt. Col. Richard Zygadlo, director of Drexel's ROTC program, more than 1.1 million Americans have died in our nation's wars. Since Sept. 11, 2001, 286 Pennsylvanians have been killed in the war on terror, including members of the Drexel community.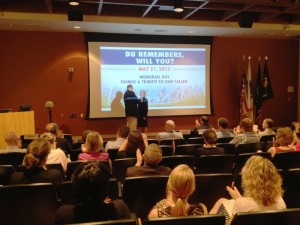 "Our hearts are filled with gratitude as we pause on this day to remember those who have served our country," Patience Ajoff-Foster, an adviser with the School of Education who gave the invocation, said. "On this day the Drexel University community remembers. As a gesture to show our gratitude for the men and women who have served and continue to serve our country, we remember all of the men and women who have served in our nation's wars. While we haven't always shown our appreciation, we remain forever grateful for their courageous service. We especially remember our fallen heroes, as we gather here freely because of their bravery and selflessness."
Chris Diaz, a veteran of the U.S. Navy and vice president of the Drexel Veterans Association, paid tribute to Brian Lundy, a fellow Navy Corpsman who was killed in Helmand Province, Afghanistan, in September 2011. Diaz arrived in the country with Lundy and volunteered to take over Lundy's post when he was killed in action.
"Brian was loved by everyone, from the Marines that he served with to the Afghan National Army forces he served with to the villagers that he served in the surrounding areas of Afghanistan. Brian's sacrifice inspires me — or better yet, the life he lived inspires me," Diaz said.
The ceremony included the presentation of the Chuck E. Sabin Award, given to a Drexel ROTC senior every year. This year's honoree was Cadet Katherine Grous, a Philadelphia-area native and current nursing student. She will be commissioned Sept. 20.
The award is named after Drexel alumnus Chuck Sabin, who died in the Sept. 11, 2001, attack on the Pentagon, and was given to Grous by Sabin's Drexel ROTC classmate, retired Army Col. James Hartz.
"Chuck's legacy is one of professionalism, dedication and commitment to our nation's freedom, security and well-being. He loved Drexel, and he loved his country. The Chuck Sabin memorial medal is awarded to a Drexel ROTC cadet who has exhibited the dedication to service and professionalism which marked Chuck's amazing life," Hartz said.
Special recognition was also given to Sgt. 1st Class Justo Rivera, who will be deploying to Afghanistan as a flight medic in December. This will be Rivera's third deployment since 9/11; he previously served in both Iraq and Afghanistan. Rivera is currently stationed at Drexel's Armory.
In addition to the event on campus, the College of Nursing and Health Professions sent faculty and students to the City Council Veterans Resource Fair May 22 to provide free health screenings to veterans.
"I think Drexel has really earned its title as a military-friendly school, five years in a row," Rebecca Weidensaul, director of the Office of Veteran Student Services, said. "What I've learned is that student veterans, like Matt [Oles] and Chris [Diaz], have so much to offer and the capacity to make Drexel a better place. I think of them as leaders, difference-makers, risk-takers, the perfect match for what [President John A. Fry] calls our 'creative, diverse, entrepreneurial, impatient, unpretentious and fearless University.'"
Memorial Day is Monday, May 27, and all Americans are encouraged to pause at 3 p.m. local time to participate in a national moment of silence.