Three students in the Drexel College of Engineering are developing a solar-powered charging accessory. Spor is a "self-regenerating battery charger for USB devices" and has been called "the ultimate clean energy device," according to the three seniors' Kickstarter account.
Spor can receive energy from both solar and indoor light and can also be charged using an outlet. It charges phones "practically as fast as a wall outlet," and takes the charger one and a half hours to fully charge an iPhone.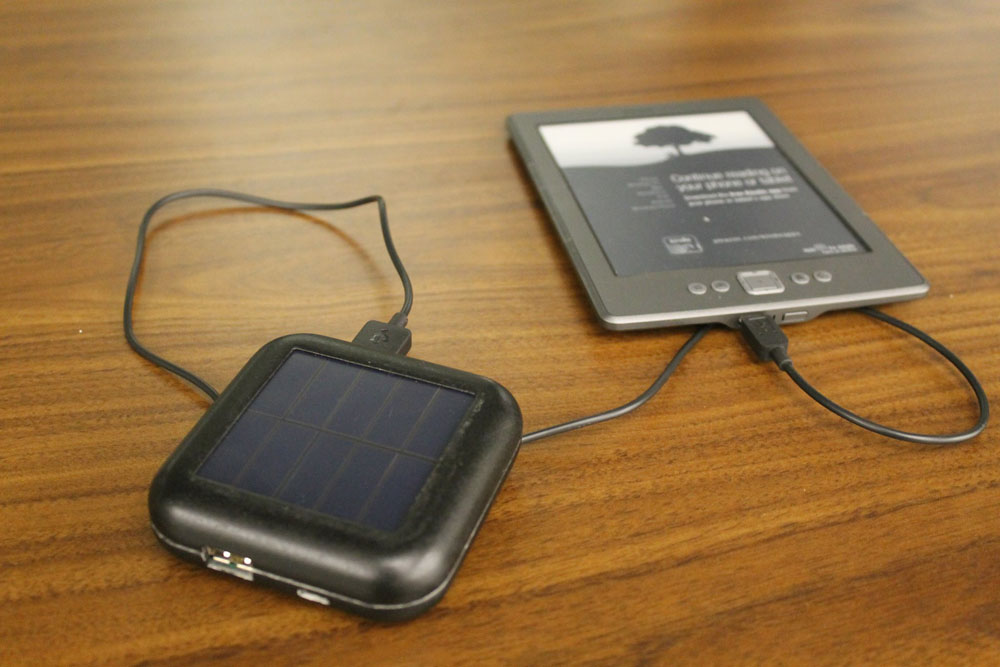 Most chargers on the market are either too little to be effective or too large and expensive to be practical. Spor is a compromise between these extremes. It is composed of three key components: a battery, a solar panel and a circuit. The battery is a 5,200 milliampere-hour lithium ion battery. The solar cell is monocrystalline with a matte epoxy coating.
The chargers are being developed by senior entrepreneurship major Jason Browne, senior entrepreneurship, marketing and finance major David Hunt and senior graphic design major Troy Hudson
Additionally, by linking several Spor chargers into "daisy chains," or by using its two output ports, more than one device can be charged at a time. It is also possible to charge both Spor and another device at the same time. Like most charging devices on the market, it produces one ampere, which is a measurement of electric current.
"I came up with the idea for Spor by connecting two dots," Browne, the creator and the CEO of Spor, wrote in an email. "First, my understanding of the solar technology market and realizing that solar cells were actually really cheap and second through my experimenting with electronics and need for a power supply for all my mobile devices."
Spor has a lifetime of about two months, or at least 500 charge cycles, without needing to be recharged, though it is unlikely to die because it passively charges when exposed to light. Spor takes two to three hours to charge from an outlet and 50 if it is charged entirely from sunlight.
Consumers can make their own shell designs on shapeways.com, a website that specializes in 3-D printed jewelry, and the charger can be printed in almost any color, shape or material, according to the Kickstarter account.
"The process for designing and building hardware is a complicated one," Browne wrote. "It took many iterations of prototypes to land on something that works well and is cost-efficient." Browne wrote.
Hunt, who is a co-founder and the head of marketing, emphasized there have been at least 15 little changes made to the device through the creation process. Hudson is the head of design and chief creative officer.
According to Hunt, the team had to adjust their design when the solar panels they ordered from China were too weak and when the batteries were not the right size. "It really just took a lot of testing," he said.
The Spor team hopes for the device to become integrated in the market in developing countries. "Here (in developed countries such as the U.S.) we have options for our electricity consumption. Walls and outlets are everywhere. This makes a product like Spor more of a convenience purchase for those who don't want to be stuck to a wall while charging their device," Browne wrote.
He continued, "However, in many countries, people have limited to no access to AC grid outlets and therefore have no way to charge their mobile devices. This is combined with the exploding growth rates for mobile device use in said developing countries, whose populace uses these devices more often, including banking and international communication."
The device won the local "Lean Startup Machine" competition in February 2013. It also won first place and $10,000 at the Laurence A. Baiada Institute for Entrepreneurship Incubator Competition that October. As per the competition's terms, the team won free rent in the institute's space in the LeBow College of Business for the first year and reduced rental fees the second year.
At the moment, Spor has reached about $40,000 of their desired $100,000 goal on Kickstarter. Hunt explained some of the group's further plans if they raise additional money. If $300,000 is raised, they will make five-watt solar panels available with the Spor charger. If they make more than $900,000,  then they would invest in Bluetooth capabilities and a mobile app that measures usage of clean energy.