A senior in Drexel's College of Information Science and Technology will embark this summer on a bike trip across 14 states, stopping along the way to build houses with a nonprofit organization called Bike & Build.
Ben Toll, who is pursuing a master's degree in information systems and a bachelor's in information technology, will begin his journey with Bike & Build June 10 in Providence, R.I. Founded in 2002 by Marc Bush, Bike & Build is an independent nonprofit that helps raise money for housing. The planned route will take the group through Connecticut, New York, Pennsylvania, Ohio, Indiana, Illinois, Iowa, South Dakota, Nebraska, Wyoming, Montana and Idaho before reaching the end in Seattle. The cyclists will reach their final destination Aug. 18.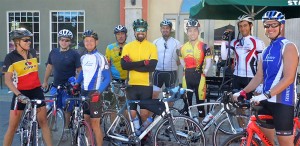 Toll's interest in Bike & Build was sparked last summer. "One of my friends did it last year. I was in California last summer, and I saw his Facebook post about it. He posted pictures of his trip," Toll said. Taking inspiration from his friend, Toll decided to follow in his friend's footsteps.
"They encourage kids who are in college or just out of college to cycle around the country. In doing so, everyone has to raise $4,500 each. Along the way, during the trip, we have various build sites, and we just build for the entire day," Toll said regarding Bike & Build. An organization driven by young adults, Bike & Build is open to cyclists between the ages of 18 and 25 and leaders up to age 28. The participants orchestrate the affordable housing projects, which Bike & Build funds with prearranged contributions.
Additionally, Toll has previous experience with cycling. "Last summer I was able to align all of my Drexel classes to be online, so I made my way out to California for three months. While I was out there, I found a cycling group on meetup.com, which I cycled slightly over 1,000 miles with around the [San Francisco] Bay Area," he said.
Toll also cycled 103 miles and helped raise $300 along the way with Bike MS. "I've done Bike MS (City to Shore) here last year, but … nothing to this extent."
Because of Bike & Build's intensive nature, training is recommended. Much like a runner must prepare for a marathon, a Bike & Build cyclist must prepare for the 3,930-mile route.
"They recommend you cycle 500 miles with your bike prior to the trip. They ask that you train 500 miles to get used to it," Toll said.
Toll said he anticipates challenges. "The biggest challenge I see in this ride will be overcoming the 4,000-plus miles I will ride this summer. While I've been riding my entire life, I've never cycled on a daily basis over the course of 70 days."
However, he is excited for the trip. "I look forward to having an outdoorsy adventure in the summer before I have to tackle work. I enjoy helping out with building homes for families who are in need. Also, I just enjoy cycling," he said.
Highlighting the numerous options that Bike & Build offers, Toll added, "There are a few different routes — there are eight routes that go across the country." With bike routes in the Central United States; Northern United States; Providence to Seattle; Providence to California; Southern United States; North Carolina to San Diego; Maine to Santa Barbara, Calif.; and South Carolina to Santa Cruz, Calif., there are a myriad of routes to choose from.
Toll said he believes his experience will be worthwhile. "Cycling across America will be such a major accomplishment, and I look forward to sharing the experience with other people that I will be helping to build new homes with and just having a great time."