Drexel senior Alexxa Grattan won first place Jan. 30 for a dish she created at the S.Pellegrino Almost Famous Chef Mid-Atlantic competition held at The Restaurant School at Walnut Hill College in Philadelphia.
Grattan, a senior majoring in culinary arts, created and has been perfecting her winning signature dish, Chicken & Biscuits Goes to Town, since October. She received a standing ovation from chefs and media judges when she was declared winner of the regional competition.
"The judges loved how I kept everything within the regional cuisine," Grattan said. The judges appreciated the use of local ingredients, such as gluten-free thyme biscuit, in the chicken dish.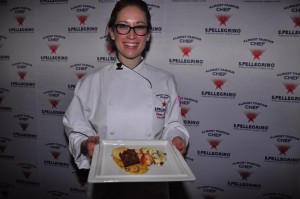 Grattan was given two hours to create 10 portions of her signature dish and was judged on its taste and aesthetics, as well as her kitchen skills, personal charm, poise and ebullience.
"Everything about Alexxa's winning dish expressed who she is — imaginative, skilled and possessing a lively sense of humor," Edward Bottone, Grattan's mentor throughout the process and a chef and instructor for Drexel's Culinary Arts Program, said.
Grattan will present Chicken & Biscuits at the national competition in Napa, Calif., in March. There she will compete for up to $22,000 in prize money, a one-year paid apprenticeship with a celebrity chef, and the opportunity to re-create her dish during an extensive media tour.
"I'm really excited for it — I think it will be a great experience," Grattan said.
Grattan plans to get involved with behind-the-scenes work in the food television industry after graduating from Drexel this June.