Nevena Bosnic, a senior economics major, was selected March 9 as a 2012-13 Carnegie Junior Fellow in the International Economics program of the Carnegie Endowment for International Peace, making her the first student from Drexel to receive this distinguished award.
Shocked, she immediately contacted her biggest supporters: her family, the Drexel Fellowships Office, the economics department and the LeBow College of Business faculty to inform them of the news.
Bosnic will begin working Aug. 1 as a research assistant in Washington, D.C. The research will focus on trends in the global economy, including the global financial crisis and the policy issues that rose from it, as well as the ramifications of the rising weight of developing countries in the global economy. She will work on this research until July 2013.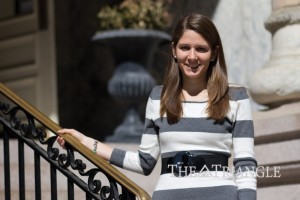 "By immersing myself in this particular field, I hope to learn not just about what is taking place throughout the world but also continue to learn about myself, my interests and what I really want to do with my career," Bosnic said.
The Carnegie Endowment for International Peace only offers eight to 10 one-year fellowships to qualified graduating seniors and new graduates. The acceptance rate is around 5 percent. Bosnic, who is considering graduate programs in public policy, economics and political economy, was selected from other nominees of almost 400 schools.
Bosnic heard about this opportunity during visits to the Fellowships Office and applied for the program 10 months before the deadline.
"I discussed my interests in international economic policy with Rona Buchalter and Cindy Schaarschmidt, who were extremely supportive and really pushed me to apply for Carnegie," she said.
Bosnic was required to submit a resume, transcript, two letters of recommendation by professors, a personal statement and an essay focusing on the work of the International Economics Program. Next, Bosnic was one of 30 students selected for an interview. She was notified of her acceptance through a March 9 phone call.
Bosnic will be working with Moises Naim, a senior associate in Carnegie's International Economics Program and chairman of the board of the Group of Fifty. Naim has authored a number of books and a 2005 novel titled "Illicit: How smugglers, traffickers and copycats are hijacking the global economy," which was later made into an Emmy-winning documentary film. He is also the chief international columnist for El Pais, Spain's largest newspaper.