Karin Rhodes, assistant professor and director of the University of Pennsylvania's Division of Emergency Care Policy Research, discussed ways to screen and intervene in instances of intimate partner violence during a seminar at the New College Building on the Center City Hahnemann campus May 25..
The presentation, entitled "Developing and Testing System-Level Interventions for Intimate Partner Violence," featured some of Rhodes' research findings about domestic violence and ways of treating its victims.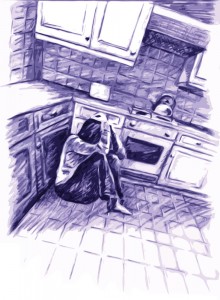 Most of the research came from an emergency department surveillance study of victims in Kalamazoo, Mich., where police identified female victims of intimate partner violence. This included patients of both hospital emergency rooms and public health center environments who came in for health problems related to abuse. Rhodes examined the ways that the women were screened and treated by health care professionals for both effectiveness and usefulness.
As part of her research, Rhodes also developed and tested the effectiveness of a social health survey and resource guide that victims could fill out about any physical, sexual or emotional abuse. As part of her PowerPoint presentation, she showed examples of questions on the questionnaire, in addition to the many statistics of the answers she received from the women who filled them out.
"I view violence like an STD. If you don't address the perpetrator and the victim, it's going to keep going," Rhodes said.
Rhodes also talked about common pitfalls in the medical field about addressing and documenting cases of domestic violence, such as the failure to successfully ask, or probe, victims and to address the issue of disclosure.
"There's a fair amount of check-the-box phenomena," she said while discussing busy and time-crunched doctors and the clinical training they received in medical school where they had to "train out empathy."
The audience was mostly comprised of doctors in colorful scrubs and white jackets. The seminar offered one credit from the Drexel College of Medicine to physicians who wanted to claim it.
The discussion was part of the Public Health & Medicine Seminar Series program jointly hosted by the School of Public Health and the College of Medicine.