G. "Anand" Anandalingam, the second finalist under consideration to be the new dean for the Bennett S. LeBow College of Business, presented his goals and strategies for the college March 14 to current Drexel faculty and students.
Anandalingam is currently serving as the dean of the Smith School of Business at the University of Maryland, a position that he has held since June 2008. He studied at both Harvard University and the University of Cambridge and has been at Smith since 2001.
Admitting that he doesn't yet have a comprehensive understanding of Drexel or LeBow, Anandalingam acknowledged that it's necessary to understand an organization from the inside. He focused a majority of his remarks on innovation, entrepreneurship and globalization in business education.
According to Anandalingam, entrepreneurship is not just teaching students how to start a company or how to deal with entrepreneurial finance or management.
"It's not simply starting new companies. … It's a mindset. It's a way of thinking," he said.
Anandalingam said he believes that LeBow has the potential to become a leading player in business education, especially because much of the local competition offers a more traditional instruction.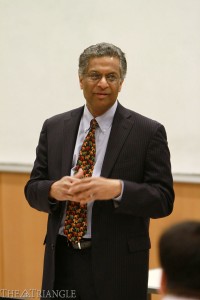 "The only way for a new player or a new company to have prominence in the marketplace is to differentiate and actually do things that are innovative," he said. "Lots of traditional companies don't quite make it in the long run because they are too large and too traditional and too full of themselves to really innovate."
In order to achieve his goals for LeBow, Anandalingam developed a four-pronged strategy; his work at LeBow would be based on students. He said that professors and faculty chose a profession where they have a strong influence on the future.
"We are in the business of the future. We are in the business of making changes. … [We have to make sure] that the students are global citizens," he said.
Another of his strategies is to help the faculty and students of LeBow grow as thought leaders. He explained thought leadership as faculty members conducting research that will influence other people in their fields, the City of Philadelphia and the students at Drexel.
Anandalingam explained that in order for a business school to run successfully, it needs to be involved with the external community. He plans to conduct outreach activities to corporate clients and alumni to help foster the environment of entrepreneurship and innovation. If selected as the new dean, he will increase outreach and external relations.
The last portion of his strategy is a little more technical — to operate the college like a world-class institution. "If the vision doesn't translate to your day-to-day operations of your enterprise, then it makes no sense," Anandalingam said. He explained that this would be possible by eliminating useless technology and streamlining processes to make the entire college run more smoothly.
His plans for LeBow seem to align with President John A. Fry's dream that Drexel grow into a university renowned for its civic engagement, as he described his views on what is missing in social entrepreneurship. Anandalingam explained that in order for social initiatives to be sustainable, they need a strong business foundation. Without the incentive for profit, support for a project will be short-lived.
"Doing good is very important, but I think if you have a good business model, it's going to be sustainable," Anandalingam said.
He also noted that it's not necessary to go abroad to find problems that need solving. "Social entrepreneurship can be in your own backyard," he said.
Anandalingam also believes that globalization is inevitable and that in order to succeed, LeBow needs to embrace the global business environment. "I don't know how you can say a business school is not a global business school," he said.
His vision relies on collaboration with other colleges at Drexel — especially the colleges of medicine and engineering. "No one person can make a difference," he said. "Be in partnership for educating students, be in partnerships for outreach and external relations, be in partnerships for how we operate the entire business school as well as the University."
Having the entire community invested — monetarily and emotionally — in Drexel will be integral to its growth and success. He explained that for a leader to be effective, he must be followed, and said that having the community "buy in" to Drexel's mission would help it succeed.
Donald Siegel, dean of the School of Business at The University at Albany, State University of New York, is the other finalist for the position and had a similar opportunity March 6 to present his plans for LeBow. The Triangle's coverage of Siegel's presentation can be found at www.thetriangle.org/2013/03/08/dean-candidate-lebow.