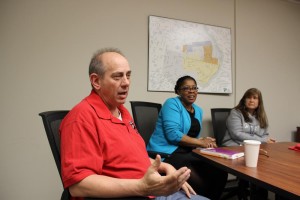 The Sexual Assault Victim Empowerment System, developed in part by Drexel adjunct professor Candace Wannamaker in the School of Education, has been live since mid-May and allows victims of sexual assault to feel more confident and less alone when reporting their cases to authorities.
According to Steven Webb, creator of the program, SAVES is an "allegation escrow that holds information for a specific person until a specific condition has been met." This means that, when filing a report, victims can identify a minimum number of allegations against the same person that, when met, would make them feel comfortable moving forward with the case.
SAVES was founded on the basis of discomforting statistics that surround sexual assaults on college campuses.
"The entire program was brought about because statistics show that sexual assaults that happen on a college campus most of the time are repeat offenders, and so we have the same offenders who are out there who sexually assault women," Wannamaker, who joined the team in January, explained. "For some reason … [the victim] won't come forward."
The anonymous data collected by SAVES undergoes a rigorous algorithmic process to ensure validity and is subsequently stored offline so that it is not accessible by an unintended audience. The SAVES team does not report claims to authorities; it is stored for the victim's benefit and for comparison against institutional reports to see how many incidents are actually reported.
Title IX Wise is another service offered by SAVES and focuses on the process that occurs after victims decide to move forward with their allegation, specifically in a university setting.
"Sexual assault reporting is fragmented," Wannamaker said, citing five different departments to which the victim may need to report their case in a university setting. "What we've created is a database that's not fragmented, so that each of those offices can connect."
"For a victim, not knowing the progress of their report of a sexual assault can be traumatic," Webb wrote in an email. "We think that the more transparent the process, the more the victim may feel supported to know that progress is being made with their case."
The SAVES team has met resistance, however, when presenting their program to institutions such as Drexel and the U.S. Army.
Lori Doyle, senior vice president of university communications, wrote in an email, "Mr. Webb approached several people at Drexel last year about his product, and we told him we were confident in the systems we currently have in place to track and respond to sexual assaults and not interested in purchasing his program.
Doyle continued, "We explained to him that Drexel takes sexual assault very seriously and already has significant resources in place to respond to reports of sexual assault or other forms of sexual misconduct."
Although Drexel chooses not to notify students about SAVES, Sarah Julius, a sophomore biomedical engineering student, thinks it could have a positive impact on those dealing with the aftermath of an assault.
"Sexual assault is both physically and mentally debilitating," Julius said. "Victims of assault should be given any help possible. This sounds like a step in the right direction."
Kevin Garvey, a sophomore engineering major, agrees, "Students need a way to easily and confidentially report sexual abuse on campus, and the University should welcome new technology that makes it more victim-friendly."
Webb was also recently informed of legal limitations mandating that the Army use a reporting system developed by the Department of Defense, which restricts the official implementation of SAVES and Title IX Wise at a military level; however, reports can still be filed by military personnel.
"The Department of Defense has identified the need for increased confidence in the system to facilitate a higher number of cases being reported," Webb wrote. "This is exactly what SAVES does, so we feel it is important to spread the word about SavesReporting.org to any individual in the United States military to assist that organization in accomplishing these goals."
Visit www.savesreporting.org to learn more or to file a report. Students who have been victims of sexual assault should also contact Drexel Public Safety at 215-895-2222 and review the resources offered by the Office of Student Affairs.