One of Drexel's very own will represent the great red, white and blue in the 2012 Olympics in London. Rowing alumnus Stephen Kasprzyk (class of 2005), along with the United States men's eight boat, surpassed New Zealand and France during the Olympic qualifiers to earn a spot in the games.
In order to secure a spot, the boat finished eight seconds ahead of New Zealand and nearly 20 seconds ahead of France during the semifinals. In the qualifying finals, Team USA finished four seconds ahead of New Zealand with a time of 5:36.11.
The men's eight representing Team USA are coxswain Zach Vlahos (Piedmont, Calif.), stroke Grant James (DeKalb, Ill.), David Banks (Potomac, Md.), Kasprzyk (Cinnaminson, N.J.), Jake Cornelius (Brooktondale, N.Y.), Brett Newlin (Riverton, Wyo.), Ross James (DeKalb, Ill.), Will Miller (Duxbury, Mass.) and Giuseppe Lanzone (Annandale, Va.).
During his time at Drexel, Kasprzyk earned a significant list of accolades ranging from Dad Vail success stories to an appearance at the Royal Henley Regatta. As a freshman, the standout oarsman helped his eight qualify for the 2001 IRA National Championships. He kept the momentum moving straight through his sophomore season, as his boat placed fifth at the 2002 Dad Vail finals.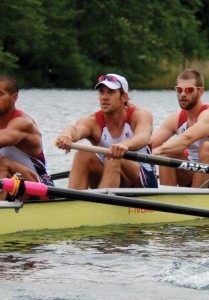 After graduation, Kasprzyk and teammate Dave Florio competed in the 2007 Senior World Championship held in Munich, Germany, where the pair took seventh place.
He went on to win the pair in 2007, the eight in 2009, and the pair in 2011 at the U.S. Rowing Elite Nationals. His high level of competition didn't stop in national waters, as he traveled across the world for the 2010 E.ON Hanse Cup, where he took fifth place.
Just one year ago, Kasprzyk helped Team USA's men's eight win gold at the 2011 Pan American Games in Guzman City, Mexico. The men finished with an impressive time of 1:21.88, ousting Canada and Argentina in the process.
All of these accomplishments have led Kasprzyk to where he is today, representing his country at the most renowned and respected competitions in the world. The games will begin July 27 and proceed through Aug. 12. The men's eight will head to the water July 28 for their preliminary heat followed by the repechage July 30. Depending on the outcome of the race, the men's eight will compete Aug. 1 in either the B finals or the A finals.
In the meantime, Kasprzyk's fellow Dragons will be at home eagerly anticipating the results.