Grammy-nominated rock producers and engineers Mike Clink and Shane Stoneback discussed their past work as well as industry tips and techniques during "GRAMMY Soundtables: Behind the Glass," a conversation held April 29 at the URBN Annex. The event was moderated by David Weiss, a famous jazz performer and producer.
Both Clink and Stoneback hold similar outlooks on their jobs and the impressive success that has come with their careers.
Clink worked on Guns N' Roses' most popular album, "Appetite for Destruction," which sold over 65 million records, shattering the prediction of 5 million. He has also worked with several other famed artists, including Aerosmith, Megadeth, Motley Crue, I Mother Earth and Sarah Kelly.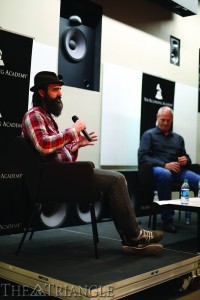 Similarly, Stoneback has produced hit singles for the band Vampire Weekend, such as, "A-Punk," "The Kids Don't Stand a Chance" and "Oxford Comma." He has produced countless other singles for bands, including Sleigh Bells and Cult.
Clink and Stoneback were asked to define what being a producer meant to them.
Clink responded first, "They must capture the best performances from a band with the amount of [resources] you have to work with." He insinuated that a producer captures the magic of what's going on in the studio. His first task, however, is to gain trust from the band; he added that producers are essentially coaches who must find the right recipe for each individual band.
Stoneback replied that whatever makes him feel "the most uncomfortable is usually the most successful."
Stoneback was more of an engineer at the beginning of his career but ultimately evolved into becoming a producer and finding sound where others would have overlooked it. He said that everything is intertwined and connected, from producing to songwriting and engineering. For Stoneback, each artist that he works with has individual sounds. Like Clink, Stoneback works with a variety of genres and said that he never wants "to leave his fingerprints on any album." In other words, he wants the album to be organic and what the artist wants.
Clink said he also believes that producing, songwriting and engineering are combined, but his viewpoints are focused more on performance. He said he was more willing to take on certain tasks due to the strengths and weaknesses of the individual team. "I try to do the heavy lifting where it is needed," he said.
"Bands generally turn to you pretty quickly when they hit a fork in the road," Stoneback said. "You're going to give them assistance, but it can't be too much and it can't be too little."
Not all bands know what they want to sound like, and developing bands is what Stoneback and Clink expressed a passion for.
The conversation began to delve into the technical standpoint of producing, providing advice to audience members interested in this career path. The advice was across the board and not specific to any one aspect of producing. Topics ranged from shooting new artists to the special development of sound and learning to incorporate unique spins into songs, among others.
The discussion was funded by the Philadelphia chapter of the Recording Academy.