The stigmas surrounding issues like sexuality, race and ethnicity have faded enough in our era for college-aged students of the current generation to now facilitate a series of open-minded dialogues among the nation's youth. According to a new study, students of Drexel and other universities may well be the most accepting age group of a concept that also used to be considered taboo: mental illness.
The research is the result of a survey created by the Anxiety and Depression Association of America, the American Foundation for Suicide Prevention and the National Alliance for Suicide Prevention. More than 2,000 people took part in the poll, which was given online and polled people from across the United States. 198 of these subjects were in the age range 18-25, which was deemed "college-aged" for the purposes of the study.
60 percent of these college-aged participants view the act of seeking help from a mental health professional as "a sign of strength." There is no definite answer as to what has caused this positive attitude among younger adults, but several factors may have contributed.
"In all likelihood, a combination of technology, greater acceptance of differences among people in general, and the portrayal in film and other outlets of individuals with mental health conditions being humanized and in a compassionate way, along with other factors, have broken down barriers and stigma," Anne Marie Albano, member of the ADAA and director of the Columbia University clinic for Anxiety and Related Disorders, wrote in an email.
"More youth are talking about their mental health conditions and more youth know someone first hand who has suffered with anxiety or depression than ever before," she continued.
The Center for Collegiate Mental Health is a program run out of Pennsylvania State University that collects anonymous data on usage of college counseling centers. 224 colleges participated in the 2015 data collection, including Drexel University. The information from the 2015 report seems to support the findings of the ADAA study.
"Recent data indicates that general utilization at counseling centers has increased at a rate 5 [times] greater than enrollment at institutions," Annette Molyneux, Associate Dean of Students and Director of the Drexel Counseling Center, wrote in an email.
"As with any data, it's tough to interpret exactly why that's happening, but maybe that does reflect, to some degree, a reduction in stigma since students are seeking out services at a rate higher than in the past," Molyneux continued.
Molyneux isn't the only one who sees a shrinking stigma surrounding mental illness on campus. In concurrence with the results of the study, Drexel sophomore Chandni Lotwala said, "I have friends with mental illnesses and it's easy to openly talk to people about it … I don't think I've ever heard anything about there being a negative association with mental illness at Drexel." Venkata Jonnakuti, a sophomore biological sciences major, shared similar sentiment. "I think this college is really accepting," he said.
Despite this attitude of acceptance, 46 percent of people in this same age group view mental health treatment as unaffordable for most citizens and one third view it as inaccessible for a majority of people altogether, according to the ADAA study. As it turns out, this opinion is not unfounded.
"The Affordable Care Act was incredible for expanding health insurance to emerging adults, but there are many more barriers we need to overcome to make it as simple as possible for people who want care, to get it," Albano said.
"One thing would be for mental health providers to get more creative with where they deliver care by looking to non-traditional settings that are safe, confidential and comfortable," Albano continued. She also suggested that new clinicians be trained in various different treatment strategies such as evidence-based treatments. Additionally she recommended an increase in training for seasoned clinicians to provide better mental health education.
Nearly 90 perfect of the college-aged adults in the study were aware that having a mental illness can cause someone to be at a higher risk of suicide. While 91 percent of them identified the effects of "life situations" such as bullying as leading to an increased risk of suicide, only just 52 percent were able to associate anxiety-related mental illnesses with the same consequence.
When asked if they would make an active attempt to help if a loved one was contemplating suicide, the answer among college-aged adults was almost universally affirmative at 96 percent. On the other hand, 57 percent confessed that circumstances could arise that would cause them to change their minds, such as "[the person trying to help] would make them [the individual contemplating suicide] feel worse," "there may be nothing they could do to help," or "talking about it might make the person attempt suicide." For older adults, only 43 percent claimed that these situations would stop them.
"Most suicides and attempts are preventable," Albano said. "Effectively diagnosing and treating mental disorders is a critical pathway to intervening and reducing suicide crises."
Paul Furtaw, Associate Director of Counseling, offered his opinion about the consequences of unattended mental illnesses. "Our experience at the Drexel University Counseling Center has been that students are very comfortable with the possibility of their peers having mental health issues and actively seek to support and comfort their peers who may experience acute crises or ongoing stress and threats to their mental health," he wrote in an email.
"However, when it comes to their own mental health needs, they still feel uncomfortable with the idea that they may have 'stuff to deal with' or things that aren't 'going well.' As a result, students often wait longer than is necessary to take actions to do something about their mental health concerns. That results in more severe difficulties that can potentially take longer from which to recover," Furtaw continued.
This study shows that 65 percent of college-aged individuals have at some point in their lives thought it possible that they may be afflicted with a mental illness, and this age group reports a greater prevalence of diagnosed mental conditions than the older participants. It is important that all individuals, especially those in this age range, be aware of the resources at their disposal.
Many health insurance providers cover certain treatments for mental disorders, and many college campuses offer free or reduced rate counseling services to their students. Drexel's counseling center offers individual and group counseling from trained professionals at no charge to students.
The first floor lobby of the Recreation Center also houses MindKare mental screening kiosks, which serve to diagnose mental disorders such as anxiety, depression, alcohol abuse, eating disorders, bipolar disorder and posttraumatic stress disorder. In the case of an emergency, the National Suicide Prevention Lifeline can be reached at 1-800-272-TALK (8255) at any time and will provide the caller a chance to talk to a professional counselor.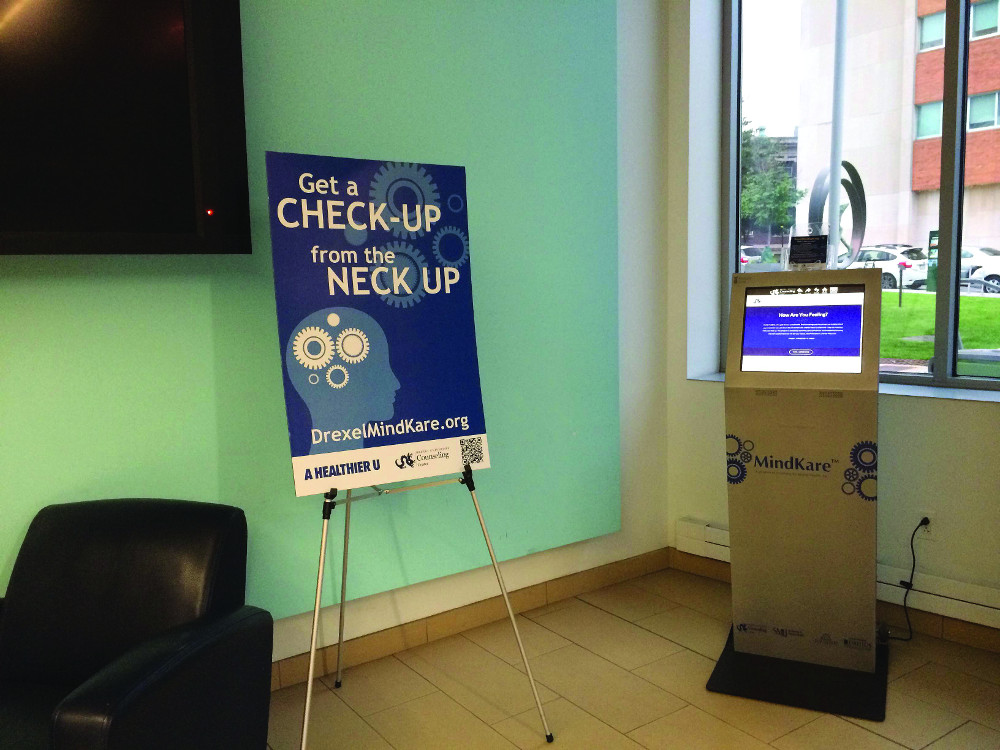 As for the resources offered by Drexel, sophomore biological sciences major Jane Tong seemed to think that the issue lies in outreach. "I would say that these [resources] aren't particularly well advertised around campus." Tong alleged.
"If people were, perhaps, struggling with these mental disorders, they might not be aware that [the resources] exist and so that kind of defeats the purpose. Maybe promoting the existing resources in addition to making more could be beneficial," Tong said.
Furtaw spoke to this topic as well. "Many students don't know we're here or that we're free of charge," he continued.
"We exist to support students' academic success and personal well-being, which go hand in hand of course, and for no other reason. We are not a research facility like some campus clinics and we are able to put the needs of our student clientele first and foremost accordingly," Furtaw said.
Regarding the future of treatment of mental disorders, Albano insisted that "we must continue to improve the accessibility of care to ensure the mental health community is delivering care and treatment to people who seek it. By doing so, we're helping to ensure that future generations are mentally healthier than those before."
For more information on mental health related issues and services, please visit www.adaa.org or the Drexel Counseling Center in Creese 201.