Former Pennsylvania Gov. Ed Rendell discussed law, politics and the Occupy Philadelphia protests during a discussion hosted by the Earle Mack School of Law Nov. 2.
Rendell was prompted to express his opinion about the Occupy protestors, and he challenged demonstrators to organize their efforts.
"The fact that they went up to picket against Mayor Nutter and Bill Clinton? Bill Clinton, whose administration did more to cut the poverty gap for African Americans and Latinos than any president in history?" Rendell asked.
Rendell charged protesters to go out and get signatures to change legislation and get the politicians in Washington, D.C. out of office.
"The only way you're going to change the income disparity is to get people in office who are going to vote to raise taxes on rich people, to do things to penalize companies that outsource jobs out of the U.S. and reward companies for creating jobs here," Rendell said.
He used the example of the Vietnam War-era protestors, who went door to door in New Hampshire and convinced Democratic voters that Lyndon Johnson had to go. This was key to Johnson's resignation and the end of the Vietnam War.
"I would love to go down to everyone in Occupy Philadelphia and ask how many of you are registered to vote," Rendell said.
According to Rendell, during the last presidential election, 350,000 Philadelphians were not registered to vote, and 300,000 registered Philadelphia voters didn't vote. If they voted, it could have altered the outcome of the presidential election and the last Pennsylvania gubernatorial election.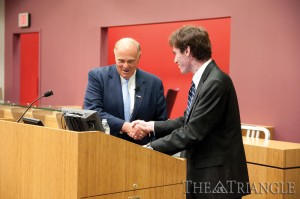 Rendell, who was also mayor of Philadelphia for two terms and the Philadelphia district attorney before being elected governor in 2002, first spoke about the importance of speech in law and life. He spoke candidly about SuperPACs, Social Security and his career.
"I would recommend almost everyone, if they had the time and resources, to go to law school regardless of whether they intend to spend their life practicing law," Rendell said.
Because of his law education, Rendell said, he asks his staff for practical applications of legislation before passing it.
"In life, and I think you'll find this again in any field of endeavor, in any type of practice in law, messaging is important," Rendell said.
"Even if you're an engineer and you get put in charge of a section at a pharmaceutical manufacturing business, you're in charge of a section with five other people. How do you convey what you want those people to do? The message you give them and the vision you create and the words that you use … that's important. It's important even in that setting," Rendell added.
Rendell went on to explain that young people aren't good at writing and expressing themselves because of computers. He said the language on computers is cryptology and shorthand, and that it has nothing to do with the way people talk.
"The most valuable thing for me in my legal career was learning how to speak on my feet and learning how to react quickly to questions," Rendell said.
According to Rendell, being district attorney helped him learn how to speak publicly. Lawyers need to learn how to make messages understandable, direct and passionate. Rendell stressed the importance of believing in one's message.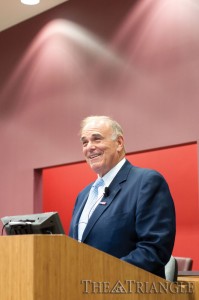 Rendell argued that being a lawyer helps people in political office because lawyers look at both sides of a case to understand the theories on the other side.
"I find the most argumentative, the most highly partisan, the most unreasonable members of the legislature are not lawyers," Rendell said.
Rendell also discussed his disdain for Super Political Action Committees, which allow candidates to get funds from corporations without disclosing the names of the corporations. Before SuperPACs, full disclosure was required, and voters could choose not to vote for people based on their sponsors.
"Now we don't have a clue who's supporting what, and to what extent. Someone who has got a special piece of legislation and wants it to go through to Congress could be giving out tens of millions of dollars, and we have no way of knowing that. We have no way of voting against who took it," Rendell said.
"Occupy" protestors should work to get the campaign finance changed, Rendell said. Most politicians' campaigns are paid for by lobbyists, he added.
"We need to modify the First Amendment to make it clear that political contributions are not speech, and therefore, they need to be regulated in every way," Rendell said.
Rendell also spoke about the need to increase the age at which senior citizens can collect Social Security benefits. According to Rendell, people are living 10 years longer than they did when Franklin Delano Roosevelt enacted Social Security.
"When FDR passed Social Security, he said in one of his speeches, he wanted the last five years of everyone's life to be financially secure," Rendell said.
"Social Security was never intended to pay for 25 years. … And by the way, as people live longer, they work longer. They have to," Rendell added.
"There are answers for every problem as long as the politicians will to do tough things. And what we need is the Republicans and Democrats to stand together and say, 'Yes, we did this,'" Rendell said in closing.
The event was organized by the Drexel chapter of the American Constitution Society. Michael Doneson, a third-year law student and president of the Drexel chapter, and Eric Bergel, first-year law student and event chair for the chapter, were instrumental in getting Rendell to come to Drexel.
Bergel worked in the governor's office for a summer internship while Rendell was governor.
"One of my jobs when I was at the governor's office was more or less to be a seat-filler at his press conferences. It was very cool. You didn't do a lot, but you learned a lot through observation and seeing how politics worked," he said. "One thing I learned from his press conferences was he is a master of public speaking, and he knows exactly what to say, how to say it and how to get the response he wants," Bergel said.
Bergel's connections with Rendell's administration allowed him to get the governor to speak at the University.
"He has a number of different parts of his career that made it exceptional for him to speak here," Bergel said.
According to Doneson, this is the third major speaker of the term that the Drexel Chapter of the American Constitution Society has invited to speak. Pennsylvania Congressman Patrick Murphy spoke about repealing "Don't Ask, Don't Tell," and in September, attorney Paul Smith came to speak about arguing for the U.S. Supreme Court in Lawrence v. Texas and Brown v. Entertainment Merchants Association.
Randy Barnett and Elizabeth Price Foley will debate the health care bill Nov. 16 at the Earle Mack School of Law, and American law professor Jamie Raskin will speak Nov. 22.