Canadian blogger, author and self-proclaimed "red paperclip guy" Kyle McDonald spoke Feb. 18 about how he bartered his way from a red paperclip to a house at a public speaking event hosted by the Drexel Entrepreneur Association in the Paul Peck Alumni Center.
McDonald became a viral news story in 2005 when he started using Craigslist to make online deals in Canada and the U.S. with the goal of trading up from a paperclip to a house. The entire process took exactly a year to complete, and every step of the journey was documented on his blog, titled "One Red Paperclip."
He later wrote a book about his experience: "One Red Paperclip: Or How an Ordinary Man Achieved His Dream with the Help of a Simple Office Supply."
"The best thing I ever did was trade that paperclip. If I didn't trade it in the first place, I'd just be a guy in an apartment sitting at a desk looking down at a red paperclip," McDonald said.
After recounting his story, McDonald encouraged the students to "trade away your own personal paperclips."
Freshman business major Brian Woo took McDonald's message to heart when he asked McDonald if he would trade a free copy of his book for a plastic fork during the question-and-answer portion of the evening.
"I was just curious to see if he'd do it," Woo admitted.
McDonald instantly agreed, quipping, "Best trade ever goes to worst trade ever."
Later, when Woo got his book signed by the author, he placed the plastic fork next to McDonald on the signing table.
"I'm so happy I got a book out of it," Woo said.
The idea of trading objects came from a game called "Bigger, Better" that McDonald played as a child growing up in Vancouver, British Columbia, in which he would ask neighbors if they would trade a piece of junk for something that he had.
"If you do enough trades, you wind up getting something a lot bigger and better than you had before," McDonald explained.
A year later, when he found himself working several odd jobs after earning his bachelor's degree in geography, the game inspired him to write a list of ideas he had growing up and things he wanted to do. After receiving an email from a childhood friend, he decided he wanted to have "something to do that I could contribute," and the first thing he saw after reading the email was a red paperclip on the desk.
"I just thought, 'It's a crazy idea! No one's supposed to do this,'" McDonald said of his idea to start bartering with a red paperclip.
McDonald said he kept the red paperclip in his wallet and continued to work jobs found on Craigslist and Monster until he explained the idea to his father, who quoted the motivational book "Who Moved My Cheese" and encouraged his son to go through with his Bigger, Better plan of trading up from that red paperclip.
"What would you do if you weren't afraid?" his father asked him.
McDonald put up the red paperclip on the "barter" section of Craigslist, and within five minutes, people started calling him to see if he was joking. But the sixth call he received was from someone who was serious about trading, and the first trade occurred in the parking lot of a Vancouver 7-Eleven where McDonald walked away with a fish-shaped pen.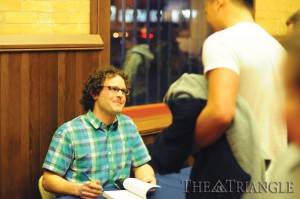 That same day, July 14, 2005, he traded the fish pen for a handcrafted face-shaped doorknob that someone offered off of the Seattle Craigslist ad he posted.
Ten days later, McDonald headed to Amherst, Mass., to trade the doorknob for a cabin stove with fuel. A conversation with the cabin stove's owner prompted McDonald to make his official bartering end goal a house because the owner said it was such a crazy idea that it would have to work.
McDonald was still having difficulty swapping the stove more than a month later. All of the other trades had happened in hours, days or weeks, and he was starting to feel despondent. His girlfriend, Dominique, gave him a pep talk about giving it his best shot, and shortly afterward he started constructing his website, which meant putting up pictures of all of the trades and linking each picture to a story. The website earned over 50,000 visitors in its first day.
After the website went live, a sergeant at Marine Corps Base Camp Pendleton in California traded McDonald a gasoline-powered electric generator for the stove. At the end of September, McDonald traveled to New York City to trade the generator for an empty keg of beer and a neon Budweiser sign, but a bomb squad was called on the generator when he left it at his hotel. Thankfully, McDonald was able to track down the generator at a fire station, and he was able to make the trade for what he called the "instant party."
A little less than a month later, Quebec comedian and radio personality Michel Barrette contacted McDonald about the "instant party." The blogger didn't recognize the importance of the caller until his girlfriend clued him in. Barrette accepted the keg and sign for his worst snowmobile, and reporters from different news stations were on hand to cover the event.
The Canadian news talk show "The Hour," now known as "George Stroumboulopoulos Tonight," which had previously contacted him around the time that his blog went live, had McDonald on the air, where he was asked if there was anywhere he wouldn't go to make a trade. Jokingly, McDonald responded that he wouldn't go to Yahk, British Columbia. McDonald would later write an apology to Yahk and suggest that its residents create a petition to have "The Hour" interviewer George Stroumboulopoulos do a live broadcast from the town.
McDonald was able to go to Yahk after he traded the snowmobile to a nearby snowboarding magazine for an all-expenses-paid trip for two to Yahk. And after the petition gained more than a thousand signatures, Stroumboulopoulos did a live broadcast from the town to film McDonald trading the other spot on the all-expenses-paid trip for a cube truck.
Cintas, a uniform design and manufacturing company, offered the Cintas cube truck for trade because the company received free press out of McDonald's story after he wore a friend's Cintas uniform for the first two trades. McDonald continued to wear his "lucky" trading shirt for all the subsequent trades, which were photographed and put online or published on news broadcasts.
By this time about six months had passed since the initial trade, and McDonald was receiving between 50 and 100 offers per day.
"My phone ringtone was set to a horse neigh, so it sounded like I had a horse stable in my pocket," McDonald said.
He eventually selected a recording contract with Metalworks Studios in Ontario to trade for the cube truck at the end of February 2006.
It was after that trade that McDonald said he was offered someone's virginity, out of the 300 to 500 offers per day he was receiving.
"Seems like it's the kind of thing that doesn't get offered a lot. It also is really illegal and really creepy," he joked.
Eventually he found a singer-songwriter, Jody Gnant, who was willing to offer an entire year's worth of rent in an apartment duplex in Phoenix, Arizona, for the recording contract, which she would use to record her second album. The apartment duplex was swapped for an afternoon with rock legend Alice Cooper, which was offered by an employee at Cooper's Phoenix restaurant, Alice Cooperstown.
McDonald flew to North Dakota to meet with Alice Cooper, where he went onstage and presented the musician with a giant red paperclip. In turn, Cooper presented McDonald with a giant red balloon filled with blood that he popped, spilling blood all over McDonald.
Afterward, Cooper asked McDonald to promise that he wouldn't trade the afternoon with Cooper for another activity involving a musician, like a weekend with Kiss or a night with Mick Jagger, because he didn't want to compete. McDonald kept the promise but still swapped the opportunity for a Kiss light-up snow globe offered by an aspiring concert photographer.
Many followers and fans of the blog were outraged by what they perceived as an unfair trade, even going so far as to compare it to a decision as terrible as those seen on "The Jerry Springer Show." But McDonald stood by his decision because he knew how much of an opportunity an afternoon with Alice Cooper could be for a concert photographer.
Though at first he was worried about the possibility of a setback, McDonald remembered a conversation with actor and producer Corbin Bernsen, best known for his role as retired police detective Henry Spencer on the USA Network show "Psych," in which Bernsen offered a paid role on his production company's movie "Donna on Demand" if McDonald was able to trade him something worthwhile. Because McDonald had been unfamiliar with Bernsen at the initial time of the call, he had to read the actor's Wikipedia article and remembered that Bernsen was an avid snow globe collector, with over 8,000 snow globes in his collection.
According to McDonald, Bernsen's response to the snow globe trade was, "Not only do I want it; I need it."
McDonald eventually used the role opportunity to swap for a two-story farmhouse after the town council of Kipling, Saskatchewan, approved the decision. The town turned it into a public relations move where anyone could audition for the role if they visited Kipling on Labor Day weekend. Over 3,500 people, including 12 out of the 14 people McDonald traded with, made the trip to the town with a population of a little over 1,100 people.
Thirteen people auditioned for the role, which Bernsen eventually gave to 19-year-old high school graduate Nolan Hubbard, who had been working for minimum wage at a bottle depot.
"That for me was so fulfilling. It was so much more exciting to see someone having an opportunity," McDonald said.
Because all his family and friends had gathered in Kipling for the event, McDonald thought it would make sense to propose to his girlfriend, who he said had been like "a silent partner of the whole thing." Though he didn't buy a ring beforehand, he made a makeshift ring using the original red paperclip that had started the whole adventure.
"Dom's French, and she said 'oui,' which is better than 'non,'" McDonald said.
McDonald, his fiancee and a couple other people moved into the house and lived there for two years before donating the house back to the town. It's now a tourist attraction for Kipling, which also holds the world's largest red paperclip, a gift to entice visitors to come to the town.