Mark Segal, a gay rights activist and president of the Philadelphia Gay News, was the keynote speaker May 8 at the annual student-faculty mixer hosted by Drexel's Foundation of Undergraduates for Sexual Equality and sponsored by Drexel Event Services.
Segal heralded the importance of creating and maintaining a gay community and explained the progress of the movement in the last 40 years.
Segal founded PGN in 1975 with the goal of providing a weekly communication platform for the gay community where readers can debate and discuss issues.
Segal has reported on gay life both in America and abroad. His reports at the Berlin Wall at the time of its fall and in Cuba during Castro's rule led to his moniker as the "dean of American gay journalism."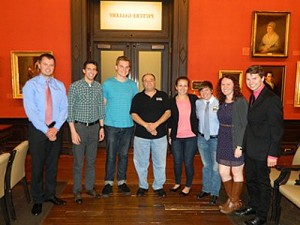 This April, the Local Media Association ranked PGN as the nation's second-best weekly newspaper of all types, winning 10 awards. PGN is also the most award-winning gay newspaper in the nation and in LGBT history.
"We're doing pretty well. If you look at our paper, it's doing as healthy as any other weekly in the city. We're real proud of that, which says that our community is doing well," Segal said.
Segal was recently awarded $19 million from the government to create an LGBT-friendly senior living center in the heart of Philly's Gayborhood. Construction is planned to begin this fall and be completed by January 2013.
"People like to be around their own type, especially in a time of need when you're getting older. That's a good reason, or when you're young and having problems — that's when you want to be around your own type," Segal said.
FUSE is currently working to bring an LGBT center to Drexel's campus to build a stronger sense of community among LGBT students.
"I, along with a lot of other members of FUSE, are actively working to get an LGBT center established on campus. I think it's really important that our community has some sort of beacon in the fog that is college life," Ajay Raghavan, a pre-junior biomedical engineering major, said.
During the event, Segal began brainstorming ideas with the audience about bridging the gap between the older and younger gay generations. An idea he proposed to the audience was to set up a youth program where a student would "adopt" an LGBT grandparent at the senior center. This would also serve the purpose of providing role models for younger people.
"When I was invited here I immediately said, 'Yes!' because I'm an older guy, and I assume no one in this room is older than 40, therefore I need your pulse," Segal told the crowd.
An audience member suggested adding a rotating college column to PGN to unite the five major colleges in the area: Drexel, the University of Pennsylvania, Temple University, Villanova University and La Salle University. The column would bring together LGBT students from the area and provide them with social events for the underage crowd. If all agree to participate, the column would start running this fall.
"When I was first talking with Segal, I realized this would be a great opportunity for him to come speak with us and talk about his life as a publisher and LGBT activist, about how it all relates," Ian Crumm, a freshman communication major who organized the event, said.
Segal began his life as an activist in 1969 when he moved from Philadelphia to New York to be free to live a gay lifestyle at the age of 18. Today, Philadelphia is one of the most LGBT-friendly cities in the country.
"I wanted to go to New York because I wanted to be who I was. I wanted to be gay, and in 1969 I couldn't tell my parents I was gay," Segal said.
At that time, gays were considered criminals by law enforcement, unholy by the church and neurotic by psychologists and psychiatrists.
Two months after he moved to New York, Segal found himself in an illegal bar during a police raid. Stereotypical gays, drag queens and those who the police planned to blackmail were left inside the bar while Segal and others stood outside.
"We decided that Black Panthers were out there, Puerto Rican Free Organization was there, Women's Rights out there, when can we get ours? When do we become free?" Segal said.
Segal fought back with others against the police for six hours, marking the first time gays fought back against the establishment. This event became known as the Stonewall Riot.
"The whole movement is referred to a lot in the drag community — there's an official bar now where Stonewall used to be, and it's a huge performance deal. Coming from someone who does do drag, hearing a personal account of an incident that means so much to our community just blew me away," Raghavan said.
The Stonewall Riot led to the creation of the Gay Liberation Front, which provided a community for gays when there was none.
A major problem the Front identified was that gays were not seen on television. After writing numerous letters to the networks and receiving no reply, the group began disrupting live television programming.
On Nov. 3, 1973, Segal walked on the set of the "CBS Evening News with Walter Cronkite," holding a sign that read, "Gays protest CBS prejudice." Later, Segal explained to Cronkite how CBS censors its news on gays, giving Cronkite the persuasion to begin broadcasting unbiased reports.
"I never realized how someone could do so much for our community, and sitting here tonight I realized there's so much history he has been a part of that I didn't even know," Crumm said.
Segal is currently an adviser to Comcast, owner of NBCUniversal, and he actively works toward the inclusion of LGBT characters, no matter how minor, in some form.
Segal established Gay Youth in 1970, and it is still in existence today, making it the longest-running gay organization in New York. He created the group to help give a voice to the young generation of that time while helping them to become integrated into the community.