Drexel University's Department of Public Safety was ranked the third best in the nation by Security magazine's annual Security 500 report released Nov. 1.
Rising three places from a sixth-place ranking in 2011, this marks the third consecutive year that Drexel has placed in the top 10.
Drexel is one of only two universities in the state of Pennsylvania to have ever been ranked by Security magazine. The other, the University of Pennsylvania, was ranked No. 1. This is Penn's sixth year with that title.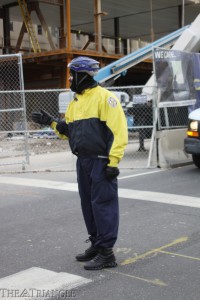 In a press release, Drexel University President John A. Fry said, "Drexel's close collaboration with University of Pennsylvania Police and the Philadelphia Police Department places our shared campus boundaries at the top of the list for safety among the nation's universities and 'college towns.' I am incredibly proud at what our talented professionals from the Drexel University Police Department and Department of Public Safety have accomplished under the leadership of Domenic Ceccanecchio and James Tucker."
Though Drexel has the third-best public safety program in the nation and is neighbored by the top-ranked university, some students are skeptical. Suhani Rathi, a freshman communication major at Drexel, said that the rating surprised her.
"I feel they could be more involved and attentive," Rathi said.
Whereas some students are skeptical of Public Safety's abilities, others are simply unsure of what it is they are supposed to be doing. When asked if Public Safety deserved this rating, Cecilia Gaultney, a freshman psychology major, said, "Probably. I don't really know the specifics of what Public Safety does, but I see them around everywhere."
Drexel partners with AlliedBarton Security Services, a private, outside security contractor, to provide the security personnel seen around campus and in the residence halls. They provide walking and medical escorts, which are services that some newer students may not know about. Justine Han, a junior chemical engineering major, uses these services regularly.
"During the weekends and evening hours, I always call dispatch for anything, from someone making me feel uncomfortable outside of 7-Eleven or concerning other people's safety," Han said. "This rating is surprising to me, but when I take the time to think about it, I guess the fact that I never have to think about my safety or am concerned about Public Safety doing their job means they're doing it effectively."
In 2011, Security magazine chose Domenic Ceccanecchio, Drexel's senior associate vice president for public safety, as a top security leader. Ceccanecchio, formerly a security officer at the University of Pennsylvania, began working at Drexel in 2007. The University made its first appearance on Security's annual report at No. 33 the next year. For Ceccanecchio, the ranking was an extreme source of pride.
"When I first came to the University, we weren't ranked at all," he said.
"Over the past five years Drexel has invested a significant amount of financial and human capital into our public safety program. We have focused on proportioning these resources to maximize our prevention and response capability," Ceccanecchio said.
Drexel's Public Safety department has been resourceful in managing its funds and personnel. However, this ranking goes beyond more than just numbers. Ceccanecchio said himself that one of the greatest assets of Drexel Public Safety is the strength and dedication of its officers and security. He also finds extreme importance in the relationship between the University and its surrounding community.
"We pride ourselves on our holistic approach to providing public safety services to our community and the neighborhood adjacent to our University," Ceccanecchio said.
Security magazine creates its annual Security 500 report with data supplied directly by universities or public records. From there, the ranking is determined by security spending and revenue, the amount of security spending per student, and the number of security officers per employee and facility.