A Drexel English professor recently traveled across the nation to spread awareness about The Spaces Between Your Fingers project and preserve the memories of Americans.
The Spaces Between Your Fingers project is a community art project that encourages people to write down and share their memories.
Matthew R. Smith is a professor in the College of Arts and Sciences and also the founder of SBYF. SBYF started when Smith was driving with his hand out the window and felt the wind between his fingers, which unlocked several forgotten memories of his grandfather who suffered from Alzheimer's. This recollection led to the creation of Smith's motto, "The Spaces Between Your Fingers," and his project titled accordingly. The mission of SBYF is to preserve the memories of people suffering from Alzheimer's disease and dementia as well as everyone with memories they never want to forget.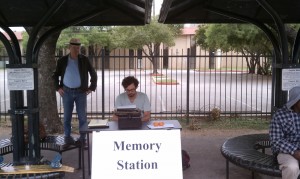 Smith has driven across the U.S. several times since the start of SBYF in 2009, stopping in Veterans of Foreign Wars locations, libraries, senior centers, community centers and art centers to spread his ideas and gain support for his project in communities nationwide.
The medium he uses to preserve these strangers' memories is postcards. According to Smith, "Postcards are the perfect medium because: one, they're accessible, and two, they're constrained. You can only fit so many words, so you really have to zoom in and focus. The most you can hope from a postcard is that it gives you one vivid snapshot in time."
Smith gets people involved while he's traveling by typing people's memories on postcards, and those people trace their hands on the postcards and mail them back to Smith.
Over the course of his project's four-year history, Smith has collected thousands and thousands of memories. Thanks to the Free Library of Philadelphia, Smith no longer has to keep all of the postcards in a box in front of his bed because he is being allowed to use a vault in the library for SBYF postcard storage space. Later this year the project will begin to share the postcards while continuing to build its Library of Human Experiences.
SBYF is looking for memory artists to render the memories of individuals with Alzheimer's. The project is also looking for volunteers who can help expand the website. Anyone interested in helping out, interning or getting a co-op with SBYF can email [email protected] or look for information at sbyfproject.com.