The project at 32nd and Market streets to construct a new building for the LeBow College of Business is on schedule and set to open in early 2014.
Geraldine C. LeBow Hall, named for the wife of college namesake Bennett S. LeBow, is a replacement for Matheson Hall, which was the home of the business school from 1965 to 2011. The $92 million project was funded largely by a donation from Bennett S. LeBow. His $45 million gift to the project was the largest single gift in Drexel University's history.
The building, designed by Robert A.M. Stern Architects LLP and Voith and MacTavish Architects LLP, located in New York City and Philadelphia, respectively, is a sustainable construction project. Jim Rose, a senior architect working on the building, explained that the team will not be seeking a LEED Certification for the building but will instead seek the Green Globe certification, which is a more cost-effective option.
Construction workers are slowly making their way up to the top, adding one factor to each floor as they go. Senior architect Jim Rose explained that there are teams of workers designated for certain tasks, and each will work on one floor, complete the task, and then move up to begin on the next one. "[It's] almost like a ballet. The timing is crucial," Rose said.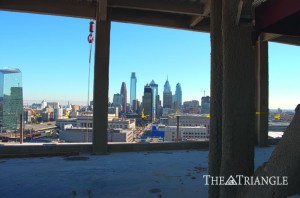 According to the college's website devoted to the project, "The building's warm masonry and glass exterior reflects the emerging vocabulary of the next generation of Drexel buildings. Sophisticated solar shading devices allow maximum transparency between the inside and outside while supporting the building's high environmental aspirations."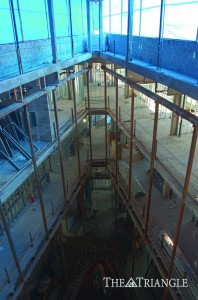 The main entrance to the building leads into a five-story atrium, surrounded on each floor by classrooms and available meeting spaces. The first floor will include three classrooms plus a student lounge, an experiential learning center and a Starbucks. A monumental staircase will be visible from the basement up to the top floor of the atrium, which is similar to how the Papadakis Integrated Sciences Building is designed. The other seven floors will include office space for professors and administrative suites.
The basement, which is open to the atrium above it, will have a 300-person auditorium as well as a 100-person lecture hall and a 60-seat classroom. The auditorium's design includes double block walls, which will keep the room soundproof. Because the basement is open to the floors above it, the design allows for natural light to reach and prevent it from feeling isolated and gloomy.