Lise Raven, an assistant professor of film and video in the Department of Cinema and Television, presented her film "Kinderwald" Jan. 23 at Slamdance Film Festival.
Slamdance Film Festival was created by a group of filmmakers that were not chosen to attend Sundance Film Festival, a similar yet more exclusive festival.
"Slamdance is sometimes referred to as the punk little brother of Sundance, but it is really a sidebar festival which means it is not associated with Sundance, but it goes on at the very same time on the same street and it shows first-time directors and films with a budget under one million dollars," Raven explained.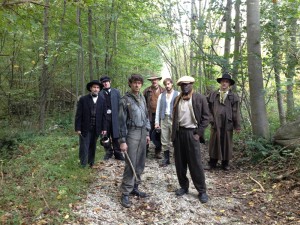 "Kinderwald" is set in rural Pennsylvania in 1854, when a wave of German immigrants comes to America. The two young sons of Flora Linden go missing, and the community comes together to locate the boys. The community gives up hope of the return of the sons, but Flora and her brother-in-law continue to search.
"This is the second in a trilogy, and it is three films loosely inspired by fairytales about children lost in the woods. My films are not an exact retelling of these tales but they are inspired by the idea. This was inspired by the idea of Hansel and Gretel, but it looks at the parents rather than the children," Raven said.
Frank Bruckner and Emily Behr, two German actors, were specifically chosen by Raven for their parts as Flora and John Linden. Raven said that Bruckner and Behr were the perfect actors to portray a realistic German family.
The film was shot in September 2012 at a YMCA campsite in Lancaster, Pa., which was recommended by the cinematographer. The 180-acre campsite offered a visually appealing landscape and the quiet needed for the filming of the movie.
"I wanted to spend my summer outdoors, so I set a film entirely out in nature. I am also very tired of dialogue and I used to love writing funny, witty dialogue, and now I am much more interested in what people's body language says," Raven said.
"Kinderwald" was funded by a large grant given to Raven and her crew by the Antoinette Westphal College of Media Arts & Design. These grants are limited to tenure track faculty members for creative research. Raven's crew consisted of film and video co-op students, fashion and design students, as well as Drexel alumni and actors. Both the crew and the actors were paid $100 per day throughout the making of the film.
"At the time, the decision was a no brainer. We're taught in the film department to seize absolutely every opportunity for networking or honing in on your craft. As time went on, the position proved really hard, but I am really glad I chose to do it," Alexandra Navratil, a senior film and video major and co-producer of "Kinderwald," said when asked about being offered the position.
"I felt lucky that I had the support of my department and my college and the University," Raven said.
Slamdance Film Festival is a weeklong event held every January in Park City, Utah. The festival consists of the film festival, screenplay and teleplay competition, and Slamdance studios.
According to Raven, Slamdance Film Festival accepts all genres as long as the film is produced by a first-time filmmaker and the budget is under $1 million. The films shown at the festival are chosen by a group of head programmers who review the submissions and any recommendations from outside sources. In 2013, Slamdance Film Festival received approximately 5,000 submissions.