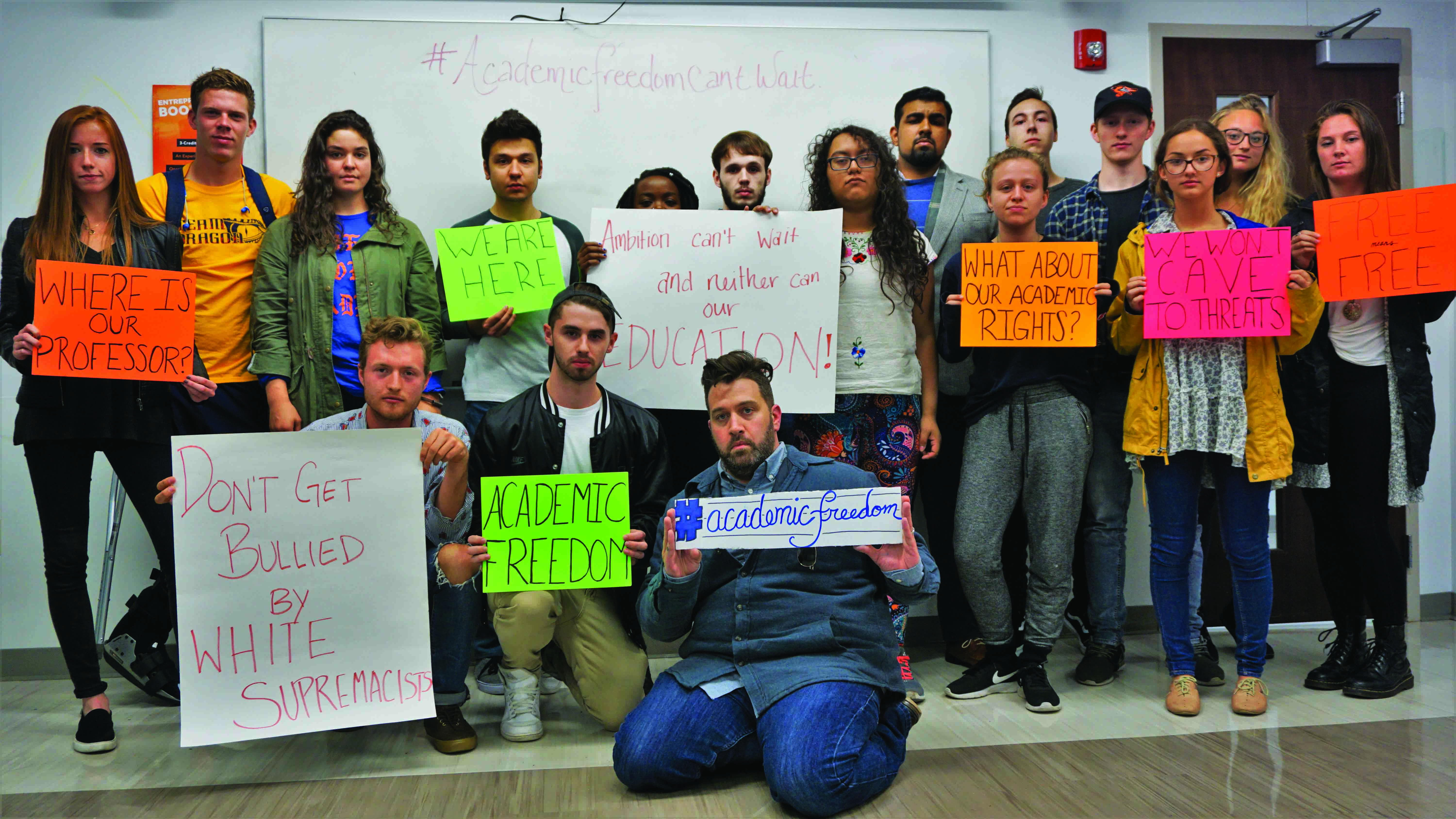 Drexel University professor George Ciccariello-Maher was placed on administrative leave by the university following backlash to a recent string of tweets and a concern for public safety.
"It's the white supremacist patriarchy stupid. But liberals will drown out all discourse with a deafening chorus screeching 'gun control.' To believe that someone who would shoot down 50 people wouldn't circumvent any gun law you pass is the height of delusion. But liberal escapism means talking about easy questions and proposing easy non-solutions rather than talking about who kills and why. White people and men are told that they are entitled to everything. This is what happens when they don't get what they want. The narrative of white victimization has been gradually built over the past 40 years. It is the spinal column of Trumpism, and [its] most extreme form is the white genocide myth. Yesterday was a morbid symptom of what happens when those who believe they deserve to own the world also think it is being stolen from them."
Drexel University released a statement regarding Ciccariello-Maher's leave of absence.
"The safety of Drexel's students, faculty, professional staff and police officers are of paramount concern to Drexel. Due to a growing number of threats directed at Professor George Ciccariello-Maher, and increased concerns about both his safety and the safety of Drexel's community, after careful consideration the University has decided to place Professor Ciccariello-Maher on administrative leave. We believe this is a necessary step to ensure the safety of our campus."
Ciccariello-Maher wrote a piece for the Washington Post Oct. 10 in which he addressed the content of the tweets, showed some of the reaction to them and criticized Drexel for caving to the pressure of threats.
This sentiment was reiterated in a statement Ciccariello-Maher made to The Triangle.
"I am very concerned that my students have been stripped of the opportunity to discuss and debate the important questions we confront as a country and as a world today. Students have the right to academic freedom, too: the freedom to engage in challenging intellectual debates without fear for their own safety, but also without the fear that that debate will be shut down any time someone threatens violence," Ciccariello-Maher wrote.
"This precedent is incredibly dangerous, and only encourages more threats in the future. Rather than cave to violent threats from white supremacists, universities need to realize that the best strategy is to take a unified stand to condemn threats — not those they threaten — and to defend faculty and students from those seeking to destroy the university as a space for open intellectual debate," he continued.
In a July Triangle Talks, Ciccariello-Maher reiterated that his goal is to engage students with free, in-class discussions.
"In the classroom — you can ask any of my former students or you can look at my evaluations — you see that I have great evaluations because students feel like they can say whatever they want as long as they're backing it up and making an argument for it," Ciccariello-Maher said in the July Triangle Talks.
He also spoke about the fall-quarter special topics class — Race and Politics — that he was teaching at the time of his placement on administrative leave. The class had been running for nearly two weeks before Ciccariello-Maher was placed on administrative leave, and now some of the students taking the class are lobbying for a reversal of the university's decision.
"I understand Ciccariello's recently forced academic leave as an encroachment on my, as well as the other students', academic rights. We, the student body, are in college to learn, and learning only takes place when we struggle with challenging intellectual concepts, derive and express our own opinions in the classroom. Yesterday that opportunity was stripped from a number of university students," Dakota Peterson, an undergraduate studying political science and taking Ciccariello-Maher's race and politics class, said.
Another student describes Ciccariello-Maher as respectful of students and tolerant of their ideas during class.
"Dr. Ciccariello-Maher has been nothing but respectful to me and all of my classmates. He makes it a point to highlight his place on the political spectrum, and insists that every student work to engage with the ideas of the class. He has always been tolerant of other people's opinions, but no position is allowed to be treated as beyond investigation," Talha Mukhtar, an undergraduate studying political science and taking Ciccariello-Maher's race and politics class, wrote in an email.
"It is ludicrous that the university put Dr. Ciccariello-Maher on leave. Universities are about fostering a diverse ecosystem of contrasting ideas. When we agree only to teach and talk about the safe and uncontroversial, we allow our education itself to be stolen away. A university that doesn't stand behind its professors doesn't deserve to have professors," he continued.
Students in the class organized an event to show solidarity with Ciccariello-Maher and their desire for the university to reverse its decision. The event took place Oct. 12 at 3:30 p.m., which is their normal class time. They're also airing their grievances in a collective letter to President John A. Fry and other administrators.