Drexel University celebrated the first home purchase made by a University professional utilizing the Drexel Home Purchase Assistant Program May 12.
Dr. George Ciccariello-Maher and his family are the new owners of the Philadelphia home, which is located on the 300 block of  North 41st Street. The deal was finalized on Drexel's campus April 28.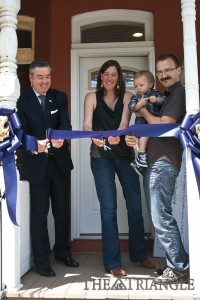 The Drexel Home Purchase Assistance Program was announced by the current president John A. Fry in his convocation speech last October. It is a forgivable loan of $15,000 that may be used by the recipient for closing costs, down payment assistance, closing "points" or mortgage insurance premiums associated with the purchase of a new home. In addition, a $5,000 forgivable loan may be given out to those who wish to renovate the exterior façade of their current home.
Full-time and part-time faculty and professional staff members from the University and the College of Medicine may be eligible to participate in the Home Purchase Assist Program if their homes fall within the defined borders of 31st to 42nd streets and Chestnut Street to Mantua Avenue.
The proceedings began with a speech by a representative of the Human Resources Department, who introduced the firms that made this program possible, including Sovereign Bank, Liberty Mutual, and Inspections Unlimited, among others. The representative invited other perspective buyers to consider buying a new home.
Apart from this house, a second house has recently been purchased by another member of the Drexel community in a nearby area with assistance from the program, and two more Drexel professionals are close to signing a deal as well. In all, there were approximately 128 homes available for University employees that were eligible to receive funding from the program.
When Fry spoke, he explained the background of the program, thanking the entire Human Resources Department and the other firms that made it possible to introduce this program. Fry explained how this program was a team effort, and is the culmination of work put in by not just a single individual.
Fry then formally introduced Ciccariello-Maher, an assistant professor in the Department of History and Politics. Fry commended Ciccariello-Maher, saying that he had made a "bold decision, which would hopefully serve as a source of inspiration to other aspiring home owners."
Fry added that Ciccariello-Maher's choice to participate in the program and help the University City community was a show of "great institutional citizenship."
"Being first was a big deal since it meant taking a risk," Ciccariello-Maher said.
As well as thanking everyone who had "put in the intense amount of effort required" to make this possible for his family, Ciccariello-Maher explained that without the program, "it would not have been possible to buy the home as a single income, young family." His young son Oakley also expressed his gratitude.
Ciccariello-Maher hopes that this program will not only benefit newcomers to the neighborhood, but will also help the people who have been living in the community since the previous years.