President John A. Fry fielded questions from students Feb. 2 at a "town hall" meeting in the Papadakis Integrated Sciences Building organized by the Undergraduate Student Government Association. Though turnout was low, Fry spoke on several pertinent topics including the newly instated application fee, the future of the online education program, the controversial then-imminent demolition of the James E. Marks Intercultural Center and future plans for campus.
Excluding deans David Ruth and John Cooke, who apparently came to support Fry, about 15 students were in attendance — the bulk of them USGA representatives. USGA President Kevin Murray opened by asking Fry to address this year's new application fee, which has caused a precipitous drop in applications.
"We've had an application process that I think over time was made too easy for students," Fry said. He defended the end of what he called "robo-applications" by distancing himself from his predecessor, Constantine Papadakis.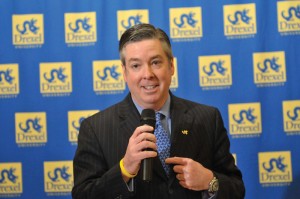 Fry's new appointees found that "a lot of those applications were frankly meaningless." He hopes to see an increase in actual enrollment as a percentage of accepted students will make up the difference. "Our visits [by prospective students] are almost equal to last year, with half the applications. … I believe this is absolutely the right thing to do," the president said.
From enrollment yield the topic shifted to student retention — the percentage of enrolled students who eventually graduate Drexel is around 70 percent. "That rate should be at least 80 percent," Fry asserted. When asked how he would accomplish this, he pointed at recent projects, such as the creation of Drexel Central, an improvement in academic advising, better public safety and a large-scale project of construction and renovation on campus.
On the last item, he mentioned that the construction of new living space, like The Summit, will provide enough capacity to close older dorms down for renovation, and let slip that the University will soon announce a major renovation to the Korman Computing Center. Mention of the former library led to criticism of the W.W. Hagerty building. Fry said that constructing a new library, as Temple University is doing, would be ideal but cannot be paid for and the library's structure makes phased closing and renovation impractical. Instead, he imagines incremental improvement and potentially the annexation of nearby buildings will provide improved facilities.
These plans are to be paid for with gains from successful University fundraising, which collected nearly $100 million, compared to around $30 million in earlier years, Fry reported. Much of this money will go toward endowment and be dedicated to increased financial aid, the third-largest University budget item, after faculty and staff, but a significant portion is earmarked for facilities improvement.
Questioned about Drexel University's online education program, provided through for-profit subsidiary Drexel e-Learning Inc., Fry was defensive. "It is hardly a diploma mill," he said, pointing to the fact that online classes are taught by regular Drexel faculty. However, he did announce that the subsidiary, founded in the 1990s, will convert to a non-profit status July 1 of this year. "Honestly, I thought the for-profit thing was a total bad idea."
On Drexel's ill-fated partnership with community colleges in the Delaware Valley area, which allowed community college students intending to transfer to Drexel to take classes on their home campus and obtain a Drexel degree at a reduced tuition rate, he said, "Unfortunately the enrollments were really low. … I think it was a very noble experiment." The program's termination was announced in December 2014, but Fry hopes that Drexel will still be accessible to community college transfers.
Continuing the topic of affordability, Fry was asked about co-op wages, for which an average value is advertised but which vary wildly in practice. He responded that transparency is important, but also mentioned that the University is trying to increase compensation for students in fields with few paid co-ops. In a step forward, a recent donation is to pay for co-ops at the Historical Society of Pennsylvania. Either way, Fry stood by the program's value to students, and the University has stepped up advertising since he took over. "I thought we did a really lousy job of explaining what 'co-op' actually means," he said of previous efforts.
Fry had an answer ready when asked about the demolition of the Intercultural Center, which drew protests in December 2014 when it appeared the student groups formerly occupying the building would not get a similar replacement space. "It's a tiny site," Fry said of the 19,000 square foot parcel, dismissing its use for a student-centered building. Additionally, the privately owned hotel that will be replacing the Intercultural Center is to pay the University a substantial ground rent. "It will cost us nothing to basically have a hotel that will serve all our constituencies," he said. "We want [campus] to have a significant ability to entertain [guests]."
The official plan to replace the Intercultural Center is to start construction of a student union building in April 2016 on the site of the venerable Firestone tire store on Market Street. Drexel purchased the land in 2013 for a sum of $8,950,000, according to the City of Philadelphia's Office of Property Assessment. However, Fry was under the impression that student groups had received equivalent space in the move — an assessment that left out the open space of the Intercultural Center basement, often used for student events. Dean Ruth suggested alternative of adapting the Van Rensselaer Hall ballroom. "I want to go over there and kind of look at this; I wasn't aware of this at all," Fry said.
Mentioning other long-term construction plans, he later talked about the Innovation Neighborhood, and remarkably, a project to sell condominiums to professors at reduced rates in a building that would also house a daycare, but be closed to students.
"I thought the conversation went really well and showed that President Fry really cares about the student input. … We really covered a lot of ground," USGA's Murray wrote in an email. Fry will next be open for questions at an event for student organizations Feb. 19.