Greg Porter, a Drexel sophomore who was one of three college students detained in Cairo last week for allegedly throwing Molotov cocktails at local Egyptian police, returned to the United States Nov. 26 after he was released from custody and permitted to leave the country.
Last week, news outlets around the world reported on the Nov. 22 detention of Porter, an international area studies major from Glenside, Pa., who was studying abroad at the American University in Cairo. Two other students studying at AU, Luke Gates, 21, from Indiana University and Derrik Sweeney, 20, from Georgetown University, were also detained.
The three were allegedly throwing the improvised explosives from the roof of the University down at police in Tahrir Square who were caught up in riots involving Egyptian civilians. A video broadcast of the three young men showed them up against a wall with their identification cards on a table and bottles filled with a colored liquid.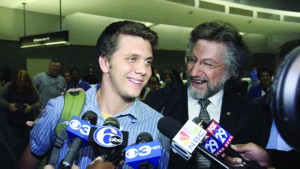 "I never had in my possession anything relating to Molotov cocktails," Porter said in a Nov. 29 "Today" show interview with his mother and lawyer present. "I never had any intent of making Molotov cocktails, and I was most certainly not on a rooftop as they were claiming we were when we were arrested."
Porter's family contacted Philadelphia attorney Theodore Simon Nov. 22 with hopes that he would assist with Porter's release. Simon famously represented Amanda Knox, an American student studying abroad in Italy who was acquitted of the murder of a British student.
In the interview, Simon described how he contacted a prominent Egyptian attorney to help with the students' release.
"He engaged his firm and had someone assigned [to the case] immediately, and we argued against the detention, and the court agreed with us. Both in court and out of court we were able to attain a 'no appeal,' which ultimately led to their release," Simon said.
While initial reports said the students would be held for four days, they were tried and released Nov. 24, just two days after their arrest. During their detention, an Egyptian prosecutor questioned the three with a U.S. Embassy official present. The U.S. Embassy was in contact with authorities in Egypt throughout Tuesday, prior to their release Thursday.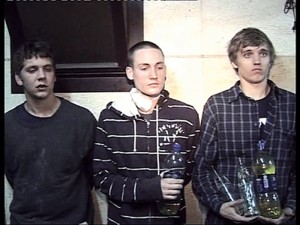 In the interview, Porter described the night he spent detained at a courthouse facility in Cairo.
"When I was first detained [the Cairo police] beat me up pretty good. They threw me on the ground and were hitting me, and then they hit us throughout the night," he said. "We were not treated very well, but we witnessed a lot of Egyptians in there that were treated way worse than we were."
Thursday, the day of his release, Porter was able to call his mother and asked if his whole family knew what had happened.
"Everyone knows," she said.
After he was cleared to leave the country, Porter traveled from Cairo to Paris to Philadelphia, where he was greeted by his family and lawyer. He said that he was thankful for the U.S. Embassy's assistance.
"I'm just so thankful to be back in Philadelphia right now," Porter said Saturday in a CBS News interview.
Gates and Sweeney also returned home that day.
Protests ensued in Cairo beginning Nov. 19, spawned by the upcoming parliamentary elections that began the week of Nov. 28