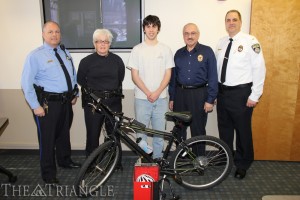 Jacob Cline, a freshman biomedical engineering major, was awarded a new bicycle, helmet and U-lock Jan. 29 for registering his bike with the bike registration program. Upon registering his bike at the Department of Public Safety's Safety Fair last September, Cline's name was automatically entered into a raffle to win new wheels.
According to the Public Safety website, the goals of the bike registration program are to deter thieves, heighten awareness in the community and provide law enforcement with possible crime-solving information in the event of a theft.
Registration of bikes on campus began in 2009, however students did not begin to register in greater numbers until July 2013. From January to June 2013, only 24 bikes were registered.
Police Captain Fred Carbonara was instrumental in revitalizing the program. All officers are able to register students' bikes. Carbonara arranged for the flexibility of these officers' schedules in order to make their service more accessible to students. He also computerized the program, upstarting two portable journals to store students' registration information.
Over this past summer, the program evolved into a proactive resource for students. From July to December 2013, 272 bikes were registered. Members of the Drexel women's and men's crew teams, who ride their bikes to and from Boathouse Row daily throughout the fall and spring seasons, registered their bikes in October.
Police Officer Kim McClay, Police Lt. David Caristo, and community relations police Officer Thomas J. Cirone are nurturing the program today.
Officer McClay said she has enjoyed the work she's done to protect bikes thus far, and she is excited for what's to come. She looks forward to educating and aiding more students. She enjoys meeting with them on the street and at events like the Safety Fair held in September each year.
"I had some fun with it, I really did," McClay said of her experience with the raffle.
McClay and Vice President of Public Safety Domenic Ceccanecchio hope that Cline can be an ambassador for bike safety. Now that he has registered two bikes, they believe he has the power to spread the word about the most effective ways to prevent theft on campus.
"Everybody should be using U-locks," Ceccanecchio said.
A U-lock is a rigid metal ring shaped like a "U," that attaches to a bike and locks with a cross-bar section. In comparison to chain, cable and wheel locks, which can be easily removed from a bike, the U-lock is resistant to cutting.
The bike of one of Cline's friends was stolen, so the winner understands the reality of bike theft. He plans to lend his friend his old bike to use. The two live in Myers Hall, where many students lock up their bikes in the courtyard and in front of the building.
Cline said that he did not expect to win the raffle. At the Public Safety fair in September, he registered his bike on a whim, one that brought him great luck.
"I figured I might as well just register my bike in case something happens to it," Cline said.
Cline is excited to own his new bike and use the U-lock in place of his wire lock. Because he rides his bike to class and other destinations not easily accessed by foot, he plans to take great precaution when locking it up.
As spring approaches and students begin to pedal more frequently, McClay hopes to protect more bikes from theft. Bike registration is a simple process: An officer documents the bike's description and serial number and then retrieves the owner's information.
"You can look forward to seeing us [police officers] out there as the weather gets nicer, continuing to register bikes and looking for students," McClay said.
If you wish to register your bike, please visit Drexel Police Headquarters at 3219 Arch St., which is open 24/7. If you have specific questions regarding registering or wish to register a group, please call McClay at 215-895-2152, mailbox 87331.
Keswick Cycle donated the prizes. The branch located at 4040 Locust St. supports Drexel's efforts to provide bike safety to students.