A pattern of cell phone robberies on and around campus began Sept. 23, resulting in two arrests, Drexel University Police officials said.
Domenic Ceccanecchio, Drexel's vice president of Public Safety, said that thefts of this type typically happen in a cyclical pattern often occurring at the beginning of the school year.
"These things happen in cycles. Students come back for the new term, and we have the population increases on campus, and there are that many new people walking around using their devices in public," Ceccanecchio said.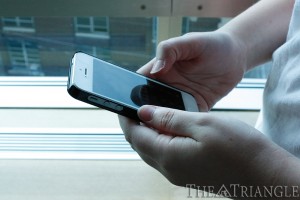 "These are crimes of opportunity, and what a thief does is look for the right moment to strike," Ceccanecchio added. "Watching somebody walking down the street using their device and not being aware of the moment, not knowing where they are at, who is around them, makes them vulnerable."
According to Ceccanecchio, most of the robberies were committed by juveniles who would quickly sell the phones for easy cash, usually about $20-25.
Marina Forster, a freshman biology major who had her phone stolen, described her experience when she was sitting on the bridge behind the Papadakis Integrated Sciences Building on Chestnut Street. Foster was approached by a female who asked her, "Hey, can I use your phone? I was supposed to meet my mom down here, but I haven't met up or seen her yet. Could I call her?"
After Forster agreed and gave her the phone, "She started asking about classes the school offers. 'What kind of classes do they have? What kind of majors do they offer?' … Right as I was about to answer her, this other guy comes up from behind me and just takes the phone from her and runs toward Market and 32nd." Forster said she believes that the male and the female were collaborating.
Ceccanecchio said he believes that these crimes can be stopped by spreading awareness and a message of common sense. In addition to increasing the numbers of Public Safety officers in areas where crimes have occurred, the officers are also handing out slips of paper to students and faculty with a notice informing them that "using a cell phone in public increases your chance of becoming the victim of a crime. Do not lend your phone to any stranger. Offer to dial 911 for them if needed."
"When we look at the thefts that occur of laptops and iPads within our buildings, most of those are internal crimes," Ceccanecchio said. "When we look at this type of crime, and bicycle thefts, these are people from the outside passing through our campus that commit these crimes."
Many of the robberies have happened in broad daylight and on main Drexel streets, such as Forster's experience on Chestnut Street and another that occurred on the 3300 block of Market Street.
Ceccanecchio repeated that spreading awareness and conquering apathy is the solution to reducing such crimes. "We should never accept the fact that we can't do anything to improve our environment. Our philosophy is that safety and security is a shared responsibility. Everyone has a part to play; we are a community."
Ceccanecchio implored students to consider alternatives, such as going into a Drexel building to use a cell phone instead of while walking on the street.
"Not only are you exposing yourself to become the victim of crime, but you're exposing yourself to becoming the victim of an accident, whether it's a vehicular accident, or a bicycle, or just trip and fall because you are not paying attention to what you are doing," Ceccanecchio added.
Heath Majewski, a sophomore chemical engineering major, is unfazed by the crimes. "Personally I don't feel in danger. My girlfriend's college is pretty close to here, I walk [the streets] all the time and I have never seen anything bad, and the area doesn't even look like anything bad."
Drexel and Philadelphia police officers arrested an individual attempting to steal a cell phone on the 3300 block of Market Street Sept. 27. A second arrest was made of a juvenile between the 4800 and 5000 blocks of Market Street. Police are trying to prove a connection. Since these arrests, no incidents have occurred.
In August, mobile security firm Lookout also ranked Philadelphia No. 1 nationally in cities with people attempting to locate misplaced or stolen cell phones.