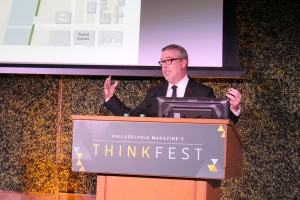 Although M. Night Shyamalan was billed as the event's headliner, Drexel President John A. Fry's Nov. 14 speech at Philadelphia Magazine's third annual ThinkFest was the more immediate one, framing a future for West Philadelphia supported by the tenets of innovation, expansion and collaboration.
"This is a place to go if you're an entrepreneur, if you want to start things up, if you want to get things done, if you need funding, if you need co-op students. Wherever you are, they should be in close hand. [It's] physically compact, transit-accessible, and technically wired," Fry said.
Presenting in the Gerri C. LeBow Hall auditorium to a mixed crowd of students, professionals and educators, Fry, along with a slew of other speakers, attempted to answer the question of how to make Philadelphia a world-class city.
"We still operate in too many silos in this region," Fry said. "We really need to now become more than the sum of our parts and we need leadership to do that. We also need aggregation of assets and collaboration to achieve that."
Fry has established a substantial leadership role as a champion for growth in the city, and has combined such assets in the form of Drexel's collaboration with Amtrak, SEPTA and Brandywine Trust Realty to create an "Innovation Neighborhood" at the foot of 30th Street Station.
To accomplish this, Drexel is in talks with Amtrak over conducting a feasibility study regarding the air rights of 85 acres of rail yards over 30th Street. The idea is to rest this "neighborhood," a mixed-use residential, research and commercial campus extension, on platforms just above the railway.
"[The area is] very dense, very compact, and located next to the third biggest passenger rail station in the United States — 4.1 million [Amtrak passengers] coming through 30th Street Station [each year]. You take a look at that opportunity …" Fry said.
He spoke emotionally about the importance of Amtrak to the region and the potential impact of high-speed rail in bolstering Philadelphia's "world-class city" status, making note of the fact that Philly trains deal with a comparable amount of passengers as do high-speed equivalents in places like Paris and Japan.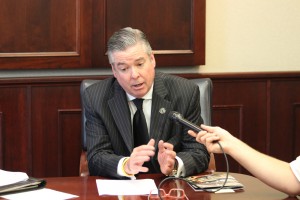 "Talk about being on the 50 yard line of the Eastern seaboard now. High-speed rail is a complicated thing, it's an expensive thing, it's a political thing. But if we have the will as a country and as a region to get this done, Philadelphia is sitting right in the best place possible," he continued.
Fry directed the audience's attention beyond West Philadelphia to Center City where Comcast Corp. is early in the process of erecting a second tower, this one at 1800 Arch Street.
"The Comcast tower is sort of part and parcel of this innovation neighborhood idea," he explained.
According to Karen Dougherty Buchholz, senior vice president of administration for Comcast, the project was conceived out of necessity. In other words, Comcast's corporate headquarters has simply grown too small for its 5,500 employees in the city, some of who are working in satellite buildings.
"And what's great about it is that it'll have all the best attributes of the workspaces that you'll find in the Silicon Valley," Buchholz explained. A term she and her cohorts have used to describe it: "the Philicon Valley."
The term coincides with a strong emphasis the speakers placed on providing opportunities for "STEAM" education — science, technology, engineering, the arts, and mathematics. University of Pennsylvania President Amy Gutmann can be held responsible for interjecting the "A" for arts.
The new Comcast Innovation and Technology Center will house technologists, engineers and software architects, as well as NBC10, Telemundo and a Four Seasons hotel.
Amid all this construction, there is concern that existing communities will be forced out. Of particular concern is Mantua, an area located just north of Drexel's campus that has historically been a flashpoint of conflict between the University and residents, and with further expansion, ThinkFest attendee Joe Carter thinks Drexel might run into trouble.
"When Penn did a lot of their expansion, neighborhoods weren't as informed as they are now. And there's more social media … more of a grassroots effort to really understand 'OK – what are they doing here,'" Carter, a local real estate agent for Berkshire Hathaway, explained.
Fry's speech stressed his desire for the University to promote what he called "inclusive growth."
"This innovation district and all the activity and vitality and economic promise should also impact in a positive way what's happening in really distressed neighborhoods like Mantua."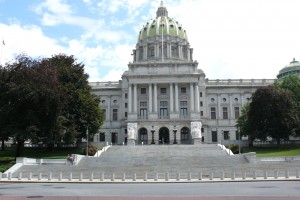 Drexel is in cooperation with the city of Philadelphia in aiding the President Barack Obama-designated "Promise Zone" of Mantua in escaping poverty.
Several other speakers hinged on the idea of helping disadvantaged Philadelphians, with specific regards to youth. Co-chairman and CEO of Dilworth Paxson LLP, Ajay Raju, noted a particular bias toward recruiting kids with certain talents over others.
Using the analogy of a high school football player who can throw the ball 80 yards with perfect accuracy, Raju described the nature of the "ecosystem" that allows that kid to go from "high school gridiron to the NFL."
"Take that same kid and replace his talent with leadership. Where's the David Kohan or the Richard Vague who's aware of that kid? Nobody generally knows that that kid has leadership potential [outside] his immediate surroundings," he said.
Raju recently founded the Germination Project to fill in the gap, offering scholarships to local high school students who show promise in all areas. The catch? While scholarship students can leave the city for college, they're asked to return afterwards, as Raju says, "to ensure that that seed of potential becomes a tree in Philadelphia."
The topic of excellence in education dominated the day's discussion, with talks from Philadelphia School District Superintendent William Hite, Gutmann, and M. Night and Bhavna Shyamalan.
The well-known filmmaker and his wife, who holds a doctorate in clinical developmental psychology from Bryn Mawr College, discussed their M. Night Shyamalan Foundation, which works locally and internationally by partnering with volunteers whose causes require support. In the Philadelphia region, this means education.
"So if we decide to give money for education, it may not work if we're not addressing all the obstacles to education. So we need to really have a full assessment of the situation and then we need to measure impact," Bhavna explained. "And that's how you do responsible philanthropy. You have the buy in of the community, you have the buy in of the leaders, you understand the culture and you measure it."