City Hall stood at the center of a resurgence of a movement that changed the face of history and marked the year 1964 as a turning point in American civil rights. Hundreds gathered in Dilworth Park for the Facebook-organized rally "Philly is Baltimore," which asked participants to "stand with the people of Baltimore who are rising up against racist police brutality and the murder of Freddie Gray."
Gray, a 25-year-old African American male, died April 19 after sustaining a severe spine injury and spending several days in a Baltimore area hospital in a coma. Recent reports from investigators state that Gray was mortally injured in the van transporting him to the precinct rather than during his arrest. Gray's death is the latest in a series of fatal encounters between black people and law enforcement and acted as the spark for the recent Baltimore riots.
Organizers of the rally felt that Gray's story parallels that of Philadelphia's own Brandon Tate-Brown, who was killed in a scuffle with police last December. Tanaya Tate-Brown, the victim's mother, along with other relatives organized a press conference on Dilworth Park April 29, the day before the rally, concerning the wrongful death lawsuit she filed against the city. Among increased accountability and transparency from the police department, Tanaya's desire to see reform in the police department was articulated by her lawyer, Brian Mildenberg. "I think every police officer in the city of Philadelphia must carry a taser. … If officers have a taser, that's a choice that they can make … to disable the suspect instead of kill him," he said..
There are some, however, who believe that no amount of reform will heal the pain of losing a loved one. "Nobody actually knows him, but we knew him. This is about change. This is about his mom having to live with the fact that her son was taken away from her for nothing," Taliah Cheeseboro, cousin of Brandon Tate-Brown, said, explaining the importance of the rally. Cheeseboro was also quick to point out the importance of the rally as a way to inform the public about all sides of the issue. "All you know is what the TV tells you. If this story is so one sided, why are so many people willing to come out and protest on behalf of getting him justice? Why are so many people, even today, months after he's been buried, still mourning his death?"
Connie Evans, Tate-Brown's step-sister, has experienced first hand how these kind of encounters can happen to anyone. On the night Tate-Brown was stopped, she said, "I got pulled over the same night, and I'm still here. It felt like they were trying to meet a ticket quota, nothing else. It really could happen to anyone."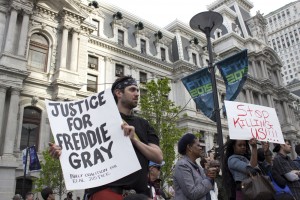 Many others who may not have had such direct confrontations with the police have felt a type of paranoia around law enforcement officials, such as Ian Newton. Holding a sign that read "Police the Police," he stood with the Dilworth rally because he feels like he knows many who are being affected, despite not being a victim himself.
"It's just a strange environment to be in when you feel more endangered around a police officer than safe around one. It doesn't make sense to me," Newtown said. He also advocates a different approach to what he calls the violence that seems to be so prevalent in police culture. "I think there needs to be some serious looking into of past cases of police abuse. Every time we have video evidence of a police officer killing somebody I think they should be punished instead of given paid vacation."
Brianna Nichols, a rally participant, also sees an incredible need for this rally to occur and for the conversation to be started. "We need to start to address endemic structural racism. It's not about individuals or individual stories; it's actually an entire structure that's percolating down," she said. Nora Gross, another rally participant, shared the same message while proudly displaying her sign with a simple message: "Solidarity." "I think it's really important to support this movement and demonstrate solidarity and that people in this city care about what's happening in Baltimore right now. I think it's an issue all over this country," Gross said, explaining the message behind it.
As with all movements, there are two sides to the story. Richard Ross Jr., first deputy commissioner of field operations, was on the scene with other officers to ensure the safety of all involved. Early on during the rally, Ross was impressed with what he was seeing, but was ready to handle any sort of situation, should one arise.
"It's been very peaceful, there are about 700 or 800 people here right now. We don't know exactly what they're going to do from here," Ross noted. He then went on to describe what he envisions a good demonstration might involve. "A successful protest would be people getting their messages out but doing so peacefully with no interactions of the negative kind, no encounters with the police or even each other for that matter. I mean I can hear some of the rhetoric in the group. Everybody over there doesn't necessarily agree with each other, and that's okay. But as long as everybody continues at the rate they're going and allows us to protect them and protect the rights of the people who are not protesting, then it's all good."
Support for the cause was found from all reaches of Philadelphia, with University City being no exception. Students, staff and citizens alike gathered at the University of Pennsylvania campus and marched together down Chestnut Street, ending their walk and joining the movement upon reaching Dilworth Park. Bria Banks, a Drexel University sophomore and biology major, hadn't intended on joining the march but changed her mind as she saw it pass by.
"I was actually walking to get coffee, and I saw them walking down the street, and I was like, 'You know what? This is more important right now,'" she said of her spur of the moment decision to join in. "I joined in on 33rd and Chestnut. They started with a small group of students from Penn and then people started multiplying as more people joined in. There were like 20 cops just escorting us through and blocking traffic off for us. It was really cool hearing people talk about how the cops were supporting what we were doing. It stopped traffic."
Despite the many conflicting views present and negativity surrounding similar protests in Baltimore, all were in agreement that this particular demonstration was successful at remaining peaceful and prompting discussion in the right direction. Banks was quick to notice this and was thankful for the atmosphere it produced. "I felt like it was really uplifting, just getting voices heard, that's what's moving. I appreciated that it was so peaceful," she said.