The Philadelphia Fire Department unveiled the Philadelphia Fire Department Safety App, designed by Drexel students, Sept. 27 during a press conference at 33rd and Race streets.
The web app will give users important fire safety information, such as the recommended number of smoke detectors for their homes and the location of the nearest hospital. It was created in a partnership with the Kal and Lucille Rudman Foundation, the Philadelphia Fire Department, Drexel Public Safety and the Antoinette Westphal College of Media Arts & Design. The need to make fire safety information easily accessible in a world of smartphones is what led to the creation of the app.
"Kal Rudman has ties with the Philadelphia Fire Department and has had ties for the past decade or so, and they wanted to do something to help get the word out to educate citizens of Philadelphia about smoke alarms, fire safety, other than printing pamphlets so on and so forth. They just wanted to reach more people," said Jervis Thompson, a professor of web development and interactive design in CoMAD who contributed to the project.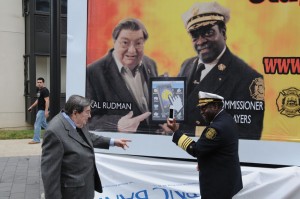 "Anything you need to know in the area of fire safety will be available to you with this app," Philadelphia Fire Commissioner Lloyd Ayers said.
The app was designed by digital media seniors Jordan Stewart and Darielle Brown-Davis under the supervision of Thompson and Troy Finamore, a professor of digital media, web development and interactive design in CoMAD.
Brown-Davis demonstrated the app's user-friendly interface at the unveiling.
"This is on the cutting edge," Ayers said. "[Now] you can use this phone not only to call in a fire but to prevent a fire."
Throughout the app's 10-week development, the Drexel team maintained contact between everyone involved.
"I was the liaison with the team. I met with the team on a weekly basis, met with the fire department on a weekly basis, and I kept [CoMAD] Dean Allen Sabinson in the loop, along with Kal Rudman via the Internet," Thompson said.
"In the digital media program we work to help bring these kinds of experiences for our students, to give them the opportunity to work with real clients and cutting-edge technologies," Finamore wrote in an email.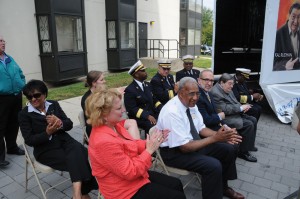 Although this app was created locally, the hope is that its use will be widespread.
"This is going to go all over the country," Rudman said, "We expect national recognition in the world of fire prevention."
Also unveiled at the press conference were the Clear Channel billboards that will be posted at strategic locations around Philadelphia with the slogan: "FIRE SAFETY APP … Stay alive with that!" The app is available for Apple iOS, Android, Blackberry and computers. To download the app for free, visit www.freedomfromfire.com/fsapp.