Last week, in an article regarding the job crisis for college graduates, The Triangle reported on the Philadelphia segment of the Occupy Wall Street protests, which were initially composed of 1,000 New Yorkers protesting the encroachment of corporations and lobbyists on government. The movement soon spread worldwide to dozens of protest sites, including City Hall in Philadelphia Oct. 6.
Roughly 400 Philadelphians, including students from Drexel, continue to voice their opinions in the ongoing demonstration with signs such as "I can't afford a lobbyist" and "Breathe if you hate capitalism," the latter of which was created by Drexel senior music industry major Dylan Moore. The local division of the international movement garnered much support and exposure thanks to news outlets and social media.
Many of the protesters have camped overnight in tents at the City Hall site, and during the day Occupy Philly participants make use of "The People's Mic" to voice their opinions.
The Occupy Wall Street protesters were the first to use this technique, in which the crowd repeats the message of a single protester to mimic the effects of a microphone. In New York City, an amplified sound permit is required for public demonstrations, so the demonstrators made use of this loophole and continue to do so at the various "Occupy" locations.
Drexel students were well represented at the protests, including sophomore sociology major William Lukas, who admonished the "irresponsible and discriminatory processes of the plutocracy that is known as the United States."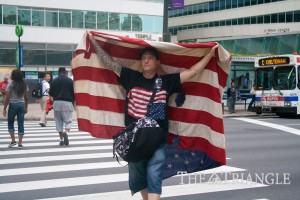 A wide variety of Philadelphians made up the demonstration, from various ages, races and socioeconomic levels. A considerable amount of families and college-age students continue to voice their opinions, concerned about their future career prospects and the opportunities that their children will have in the future.
Protesters in the Philly branch of the demonstrations, unlike many other "Occupy" locations, have not experienced any arrests or even any major backlash from the City of Philadelphia. However, construction at City Hall, in addition to a permit that the Tea Party might file for to demonstrate in opposition to the protesters, is causing them to consider a change of location.
Protesters camping overnight, known as "occupiers," have started building shelters for the homeless at Dilsworth Plaza, and are even corresponding with other cities in the "Occupy" movement. The occupiers will be forced to relocate at the beginning of November, when the city of Philadelphia begins renovating the plaza in a $50 million project. For more information about Philadelphia's branch of the Occupy Wall Street movement, visit occupyphilly.org.