The Philadelphia City 6 Extramural Classic celebrated its 25th annual 5K and Turkey Trot Nov. 5 with over 290 participants from six city universities, including Drexel.
The event was founded in 1986 to promote the socialization of Philadelphia's universities through recreational sports. While the first competition was hosted at Franklin Field of the University of Pennsylvania, this year's race kicked off near Drexel's own Armory on 33rd and Market streets. From this start, the route led to a counterclockwise loop around Drexel Park, continued to 36th Street and Lancaster Avenue, followed Lancaster Walk, and after a second lap, finished on Lancaster Avenue next to the Fitness Plaza.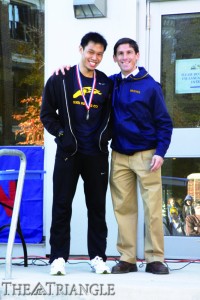 All of the funds raised were donated to Coaches vs. Cancer, a program sponsored by the American Cancer Society and the National Association of Basketball Coaches. The head men's basketball coaches of the City 6 support the Philadelphia chapter of this organization, including Drexel's James "Bruiser" Flint.
"There is definite gratification in running for a cause," Tyler Mauk, a  runner on the winning team, said. "Aside from this, another big motivation to take part in these competitions is the personal sense of achievement one gains after finishing a race."
Mauk is freshman architectural and mechanical engineering major at Drexel.
Drexel was well represented at the event; the Drexel Running Company sponsored two teams, and a third was composed of members from the school's Triathlon Team.
Bill Ling, a graduate student in sport management and founder of the DRC, finished with a time of 16:21, ranking second after Christopher Heisey from Temple University, who finished in 15:59.
"This event is unique because of the collaboration aspect," Ling said. "It brings the students of the City 6 together in a competition that is athletically competitive yet friendly since everyone is supporting a common cause."
The City 6 is made up of Drexel, LaSalle University, Saint Joseph's University, Temple, Penn and Villanova University. One of the DRC teams won the entire competition, with four of the five members placing in the top eight.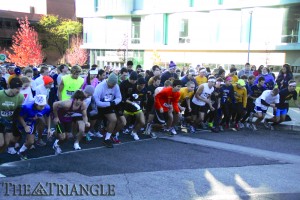 "Running is a recreational outlet that's growing in popularity, so I thought a running club would be a creative alternative to the group exercise classes offered at the Rec Center," Ling said. "I was able to bring the DRC into being this past summer in addition to mapping safe walking, running and biking [a part of the 'Healthier U' program] routes around the campus and city."