The groundbreaking ceremony for the new Perelman Center for Jewish Life on the 100 block of North 34th Street occurred Oct. 2. It was a day which Rabbi Isabel de Koninck, executive director of Drexel Hillel, had been anticipating for five years.
"Our board chair was asked by President [John A.] Fry to think about what his plan for Jewish Life would be," Rabbi de Koninck recalled, "This really led to a whole host of conversations…about what Drexel needed to be a campus that was safe and welcoming for Jewish students," she continued.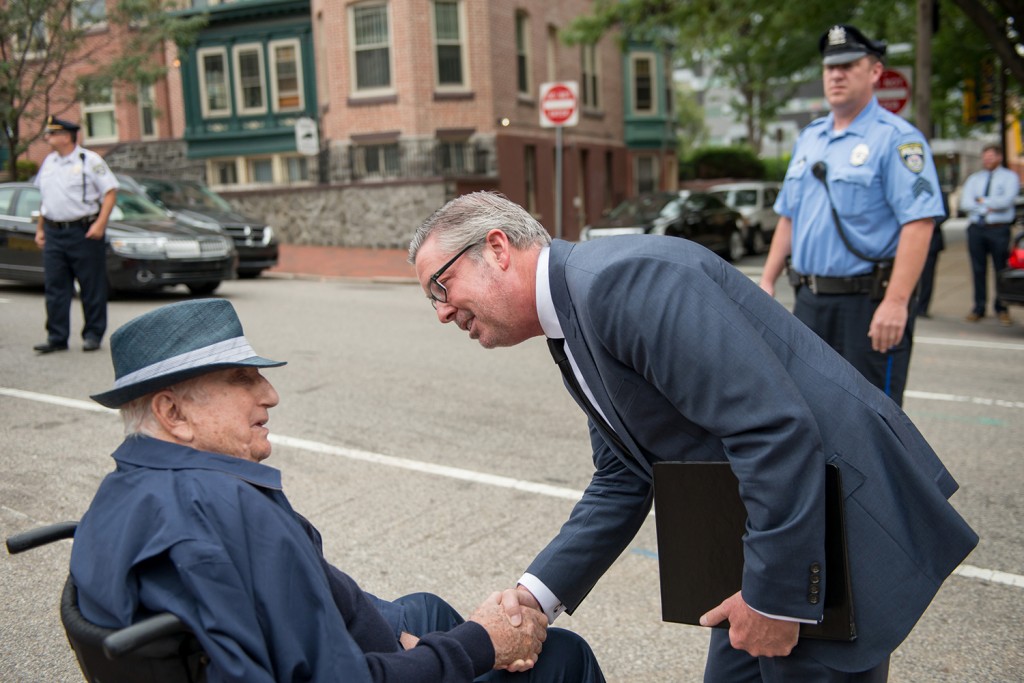 The facility is meant to mirror similar centers in other major Philadelphia universities, such as Penn's Steinhardt Hall and Temple's Rosen Center. From those centers and others like them nationwide, de Koninck said that the vision to really serve Jewish students was born. She hoped that the new center will enrich Jewish students so that they can also enrich the wider world, and be a space open to every kind of student, and promotes synergy between Jewish life as well as the broader University community.
Playing into this ultimate goal is the design of the building. De Koninck spoke animatedly about it, noting, "It's a space that's really easy to engage with, that it would be impossible to get five or ten feet into the building without seeing another person and without feeling a sense of connection. The first floor is really dedicated to that kind of engagement."
She continued on to describe the second floor, "It's really dedicated to community and leadership, and as you ascend, become more deeply involved and invested, you enter into a sense of community."
"The third floor is where all of our spiritual life spaces will be…it's going to be a space dedicated to ascending to the next level for deep engagement with torah and with Jewish tradition, and a sense of connection across different Jewish communities and traditions," de Koninck continued.
The new building, designed to host Drexel Hillel and other organizations, is nondenominational – that is, all sects of Judaism, such as orthodox, reform and conservative, will be welcome to utilize spaces for worship. She said the third floor would welcome these different faiths.
"The layout of the space means that each of those communities can be praying at the same time, on the same floor of the building, and as they come in and leave they'll be intermingling."
She spoke about how the building is designed for synergy and community, amongst individual students, different sects of Judaism, and amongst the Drexel community as a whole. Most important is the focus on the amount of light entering the building, accomplished by placing windows strategically to maximize the amount of natural light streaming into the building.
De Koninck said she hopes to be moved into the new building by this time in 2016, before the Rosh Hashanah, the Jewish New Year, so that the center can be operational for the Jewish High Holidays.
Jewish community member and Drexel Hillel President Avi Bash is also excited about the new building. "The groundbreaking [was] a momentous occasion for not only the Jewish community but also the Drexel University community. This building will be a centerpiece and a place of beauty where Jewish life will continue to grow and thrive," he commented.
De Koninck described her hopes for the completed building, "We're focused on how this facility can be a springboard for the growth of Jewish life on campus. We're actually going launch a set of leadership groups that are going to focus on how we are going to activate this new space…in ways that will nurture Jewish life throughout campus."
These include partnerships with the culinary school as one of the first academic partnerships that Drexel Hillel plans.
"The new Center for Jewish Life will bring the Jewish community at Drexel much closer then ever before with an amazing variety of programming, community engagement, Jewish education and so much more," Bash said. "Aspects of the Drexel Jewish community that could only be dreamed before will soon become a reality," he continued.
Expect to see the Perelman Center for Jewish Life in open Fall 2016.