Morgan Meis, a staff writer for the Center for Cultural Outreach in Drexel University's Pennoni Honors College, joined nine other award winners of the Whiting Writing Award, which awards $50,000 for exceptional emerging talent.
Meis, a critic and essayist, generally writes about art and culture and was recognized for his contributions to The Smart Set, Drexel's arts magazine. His work is featured in Harper's Magazine, the Virginia Quarterly Review and The Believer.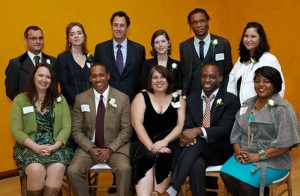 Each of the 90 to 100 nominees is hand-selected by literary professionals across the country. The nominators change annually and range from bookstore owners to dramaturges.
In Meis' work in The Smart Set, he criticizes various works of art.
His work is said to be profound yet clear. One of his articles stated that technology has killed criticism. He said that Netflix, Pandora and Amazon note your preferences and give you disturbingly accurate accounts of what you want. But we don't need the critic to tell us what is good or bad; we need the critic to help us experience.
Meis is a recipient of the Andy Warhol Foundation Award for his art criticism. His many publications and existence in the writing world have gotten him to where he is today.
According to Meis, he will use his winnings to write a new book that he has been researching for the past two years about Franz Marc's Blue Rider paintings.
How does an aspiring college writer even begin the climb to recognition without an exorbitant amount of self-doubt? There are various writing awards for college students.
Drexel's Department of English and Philosophy offers awards during its annual Week of Writing. These awards recognize two freshmen for outstanding writing and honor even more students by publishing their essays in the English class textbook "The 33rd."
The University of Pennsylvania awards grants to students for writing contests. Some of these contests include a critical writing journal, internships and fellowships.
However, the transition from the collegiate level of writing to the "real world" creates an uphill battle for many writers.
The Pushcart Prize, Pulitzer Prize and The PEN/Faulkner Award for Fiction are a few of the most prestigious awards a writer can receive. The Pulitzer Prize has been compared to winning the World Series or an Academy Award.
Entire self-help sections in bookstores are dedicated to boosting the confidence of writers. The Alliance of Independent Authors interviewed Diane Capri, a USA Today best-selling author. "Thankfully, persistence and lots of luck got me to where I am today," she said when asked what her secret to success is.
She went on to explain that meeting Lee Child at a conference led her to produce some of her most successful work. "Face time is like spinach — good for [authors]," she said.