The Leonard Pearlstein Gallery of Drexel University opened the "Half the Sky" art exhibit Sept. 23, which is composed of over 60 art pieces from 22 contemporary Chinese female artists.
The full title, "Half the Sky: Women in the New Art of China," refers to Mao Zedong's communist manifesto in which he declared that in society, "half the sky" rested on the shoulders of women. The exhibit, co-curated by Fa Di'an and Xu Hong of the National Art Museum of China, is a survey-scale exhibition — the first of its kind to appear in the United States.
The opening of the exhibition was marked by an afternoon question-and-answer panel that included some of the contributing artists. The women were asked to share their thoughts about the struggles of female artists in China as well as in the world in general. Some expressed the belief that women have cultural barriers to overcome before they can be successful artists in China and internationally.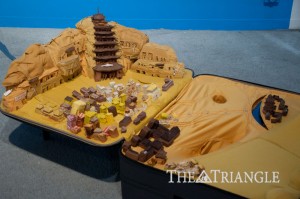 "This is the long-term definition of a woman in our culture," exhibit curator Xu Hong said. "It's an externally applied definition [that] somehow becomes internalized and works to jeopardize our own self-confidence as female artists."
Others among the panel had alternative opinions regarding gender struggles for artists in China.
"Asking how we feel about being female artists is like asking the President of the United States, 'How do you feel about being a male president?'" artist Liu Liyun responded.
The artwork encompassed a scope of artistic styles and media. Pieces range from classic drawings by artist He Weina to the black-and-white photography of Cui Xiuwen. Weina's work features flowers, fruit and dresses, while Xiuwen's photos focuses primarily on dark-haired girls captured against vacant backdrops.
"Art is a way to explore our own existence," Xuiwen said. "It's a form of discovery, with the destination being totally unknown."
In addition to sketches and photography, there are also many three-dimensional art pieces present in "Half the Sky," including Jingjing's "Never Ever." The piece, composed of foam packing peanuts suspended with red thread, imitates snow, which appears to be falling on a solitary pair of shoes atop a round mirror.
The exhibition, which is open until Nov. 12, includes a series titled "Portable Cities" by artist Yin Xiuzhen. She used scraps of old clothing to form miniature metropolises within opened suitcases, the clothing composing the skyscrapers.
Televisions set up around the room continuously broadcast various video productions created by some of the artists. One such video by artist Chen Qiulin combines fantasy with reality. In the film, a woman dressed in a brightly patterned kimono dances in the rubble of a demolished building.
Hong honored the artists for their various exhibits, stating "you've really shown your potential."
She continued, "In doing so, you've reached a certain level of self-discovery – a noble achievement for any artist, or indeed any human."