In a celebration of International Women's Day March 5, panelists, professors, community members and students met in the James E. Marks Intercultural Center to discuss various topics and progress of the women's liberation and feminist movements.
In a panel discussion about the radical stigma behind the word "feminism," moderator Julie Mostov, vice provost for global initiatives and professor of political science, described that being a feminist does not need to imply bra burning and refusing to shave. Instead, she explained, "All this means is that you support women and full equality. [It means that you believe] that we are equal to men and deserve the same rights. It means you stand up against systematic discrimination and inequality. I don't think there's anything strange or radical about that."
With this interpretation, feminism implies it is a movement to stand up for equal human rights. "But it disturbs the status quo," she said. "It's about being resistant. That's what creates social change."
Amanda Good, a fourth-year international area studies major, originally came to the presentation to "get a different perspective on the challenges women face in the world." After the conclusion of the presentation, she couldn't be happier that she attended.
"I was pleasantly surprised. I got more than I came for," Good said.
Each panelist described which individual, in their opinion, is a true agent of change in the history of women's rights and the feminist movement. Anne-Marie Obajtek-Kirkwood, an associate professor of French at Drexel, brought to light the story of Mukhtaran Bibi (also known as Mukhtar Mai), a Pakistani woman who was gang raped in 2002. Although many in the Pakistani culture see suicide as the only way to escape the shame and humiliation brought upon her and her family as a result of such an assault, Mai became an advocate for women's rights and actively, yet nonviolently, fought against her attackers.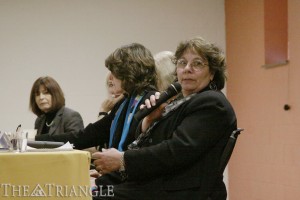 Despite being unsupported in her efforts by then-Pakistani President Pervez Musharraf, she went on to create the Mukhtar Mai Women's Organization, and to this day she is singlehandedly changing the nation's outlook on women's rights.
"She changed the attitudes of rape in Pakistan," Obajtek-Kirkwood said.
Mary Day Kent, president of the Greater Philadelphia chapter of the United Nations Association, expanded on this point and reminded the audience about the ripple effect that a single person can have.
"We need to realize the importance of personal change in political and social movements," Kent said. She brought up the work of Vilma Lucila Espin Guillois, a Cuban revolutionary who was a driving force in the creation of the Convention on the Elimination of all Forms of Discrimination against Women, which is frequently referred to as an international bill of rights for women.
"Cuba was one of the first countries to sign [the CEDAW]; it's possible America will be the last," Kent said. Over 30 years after the convention was originally created, the United States still has not ratified the treaty.
Barbara Simmons, executive director of the Peace Center of Bucks County, emphasized the importance of civil disobedience and the inspiration of that seen in activist Dorothy Day, who "went against government and didn't take no for an answer," Simmons said. As a devout believer in economic distributism, she was often labeled a communist and not taken seriously. "People sooner or later will have to admit that things are rapidly getting worse, not better," Day wrote in a 1948 Catholic Worker publication.
As an activist, she offered that distributism is an alternative to both capitalism and socialism and hence could have justice-propelling effects for all of society.
"She was one of those women who really could offend everybody. If you can manage to do that, you know you're doing something right," Simmons said.
Donna Sabella, a mental-health nurse and assistant clinical professor at Drexel and assistant academic dean of health sciences at Arcadia University, also reiterated to the audience the contributions that a single individual could make in the road toward justice and equality. Her prime example of an agent of change was Kathleen Mitchell, a former prostitute and heroin addict who created a housing, education and rehabilitation organization for prostitutes to get off the streets and into schools and eventually have careers.
"Most people would say, 'Why should we help you if you're just going to go back out [to prostitution]?'" Sabella said.
Mitchell went into prisons to talk to women and let them know that she had once walked in their shoes. Arrested over a dozen times, Mitchell knew the cycle of imprisonment in that lifestyle and was able to relate emphatically to the women and eventually help them out of their dangerous lifestyle.
In the audience at the discussion, Mackenzie Grapes, a pre-junior international area studies major, informed the audience about the work being done on campus to bring these issues to light and construct safe areas to discuss potential solutions. As a member of the newly formed group Students Advocating Feminism and Equality, she invites anyone to come out to a meeting to discuss feminism, gender and reproductive health issues. During Drexel's annual Social Justice Week, they will host a discussion titled "Dismantling Rape Culture: A Social Justice Imperative" April 12 from 6 to 7:30 p.m. in North Hall. Contact [email protected] for more information.
The presentation was sponsored by the Office of International Programs, Peace Day Philly, the College of Arts and Sciences, the International Area Studies Program and the Women's Studies Program.