Eight Pennsylvania gubernatorial candidates gathered at the Academy of Natural Sciences of Drexel University Jan. 13 to discuss environmental issues in the state. Each of the candidates was asked to present his or her thoughts on several issues regarding sustainability in Pennsylvania, including hot topics like fracking and global warming. Dave Davies, senior government and politics reporter for WHYY, was the moderator for the evening.
Questions for the candidates were prepared in advance by the event's sponsors, but audience members interrupted the forum several times and directed their own questions at the candidates. Davies was pushed to regain control of the audience several times.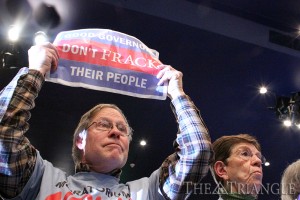 Key issues discussed included the future of Marcellus Shale drilling, funding cuts to state parks and Pennsylvania's role in the efforts to reduce global warming. With regard to drilling, Davies asked candidates to take a stance on hydraulic fracturing, also knowing as "fracking," a process known to release pollutants and contaminate drinking water by drilling into shale rock and injecting water into the ground at high pressure to break the rock and release natural gas. Most of the candidates supported a partial moratorium on fracking, though some took a stronger stance, such as small-business owner Max Myers.
"If you really care about Pennsylvania, then there's only one choice, and that's to stop fracking," Myers said.
Mayor of Allentown, Pa., Ed Pawlowski took the conversation a step further by calling for a moratorium on campaign contributions from the gas companies. "What's happened here in Pennsylvania is that these corporations have basically bought the political system," he said.
Pawlowski proceeded to pledge that he would refuse any funding from gas companies for his gubernatorial campaign. This proclamation prompted Davies to ask the same question later of the other candidates, many of whom parried by saying that they probably would not receive contributions from such companies.
In addition to at least a partial moratorium on fracking, many candidates supported a tax on fracking. These candidates, including state Treasurer Rob McCord, proposed that the revenue from this shale tax be put toward state parks. Pawlowski added that funds for the state parks could be taken from the subsidies currently allotted to fossil fuel companies.
Myers offered a different solution to the problem of state park funding. He attributed the loss in funds to a lack of appreciation of the state parks and proposed that the state should first invest in supporting park tourism, predicting that funds will then follow. "Once you begin using [parks], embracing them, you begin to value them," he said.
While each candidate had a different approach to the issues raised, all agreed that the administration of current Gov. Tom Corbett has failed to prioritize sustainability. Candidate Katie McGinty, former secretary of the Pennsylvania Department of Environmental Protection, accused Corbett of "the state equivalent of treason" for opposing renewable resource industries and thereby preventing the expansion of the job market. The other candidates also agreed that the move toward renewable resources would help to generate jobs and boost the economy.
Given the vehement disapproval of Corbett's administration, each candidate was asked to speak about a past experience in which he or she was able to work with an opposing party. Most candidates referenced an event in their political past.
John Hanger, another former secretary of the Pennsylvania DEP, listed a number of bills that he helped to pass despite a Republican-controlled state senate. He explained that his history of working across the aisle would help him in the future as governor. "You can't work with Tea Party Republicans, but there are still some sane Republicans left, and I look forward to working with them," he added.
Once the question-and-answer session had concluded, the candidates dispersed to speak with audience members.
As a whole, the forum was received with mixed feelings. Some, like real estate design and construction project manager Sean Dukes, were disappointed. Dukes has worked with the University of Pennsylvania on sustainability efforts and felt that the candidates were simply appeasing the mostly science-based and environmental activist crowd. "To hear these guys throw pixie dust on it, it's kind of disheartening," he said.
Others, such as Hannah Jones, a 2012 Swarthmore College graduate, came out to support their chosen candidates and were pleased with how the event transpired. "I was excited to hear what the candidates had to say," Jones, who is a supporter of Hanger, said.
Candidates Jo Ellen Litz, Lebanon County commissioner; U.S. Rep. Allyson Schwartz; and former Pennsylvania Secretary of Revenue Tom Wolf were also in attendance. Gov. Corbett was not.
Pennsylvania gubernatorial elections will be held Nov. 4, 2014.