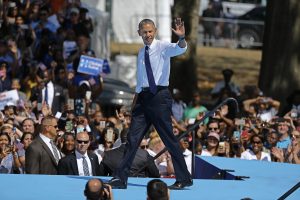 President Barack Obama visited Philadelphia Tuesday, Sept. 13 to endorse Hillary Clinton as inheritor of his presidential legacy. The party that wins Pennsylvania will clinch 20 electoral votes, and in the last presidential election Obama won them by only about 5 percent over 2012 Republican candidate Mitt Romney. As a result, Pennsylvania is being watched closely as a battleground state, and Clinton strategically chose to have her most powerful advocate campaign to the state on her behalf.
Having the sitting president attempt to sway voters in her favor proved to be an effective way of drawing in spectators, as a crowd of nearly 6,000 people assembled at Eakins Oval in front of the Philadelphia Art Museum. Many waited under the scalding sun for hours before doors opened to improve their chances of seeing the President.
Swarthmore College student Patrick Houston introduced Obama to an enthusiastic crowd, which applauded as the president arrived on stage.
Obama discussed his successful administration, a valuable asset to Clinton's campaign with his rising poll numbers.
"America is stronger and more prosperous than when we started out on this journey together," Obama said.
"And gas is two dollars a gallon!" he said after an audience member shouted the gas price, "I didn't even — thank you for reminding me. Thanks, Obama!" the President responded, eliciting laughter from the crowd.
After finally settling in with the audience, Obama geared his speech towards campaigning for the democratic presidential nominee, Hillary Clinton.
"I believe there has never been a man or woman more qualified than Hillary Clinton to serve as our President," Obama stated, hoping to reassure nervous democrats about Clinton's capability as commander-in-chief.
Obama recounted working with and against Clinton in the 2008 presidential election as a "tough fight." He praised her vigilance and persistence, claiming that she was a fierce competitor always one step behind him.
"Every time I thought I had that race won — It was like going up the 'Rocky Steps.' I was about to celebrate, and then I look and she's right there," he explained.
The President then mentioned Clinton's experience as Secretary of State under his presidency, emphasizing that Clinton would make a more than suitable commander-in-chief.
"I had a front row seat. I watched her intelligence. I watched her judgment. I watched her discipline…and she worked hard, tirelessly…Because she had never forgotten what she was fighting for — to make sure every child has the same opportunities as her granddaughter and her daughters and your kids."
Obama commented on Clinton's character, suggesting that she is more emotional than her publically perceived impassive disposition.
"She'll listen to people and she will keep her cool, and she treats everyone with respect…No matter how many times people knock her down and mess with her, she does not quit," he said.
Saranya Khurana, a senior biology major, reflected on how hearing Obama endorse Clinton alleviated some of her concerns for the coming election.
"Hearing the President talk made me feel better about the election because both candidates have been mudslinging and negatively campaigning but Obama kept it really light while pointing out Trump's flaws while focusing on Hillary's strengths," Khurana, explained.
Obama shifted the speech towards Republican presidential nominee Donald Trump, mocking him as a fake "champion of working people." Obama emphasized the parlous consequences in Trump's recent actions. He particularly highlighted Trump's praise for Russian Prime Minister Vladimir Putin.
"Think about what's happened to the Republican party…They used to be opposed to Russia and authoritarianism," he said.
Obama dismissed Trump as an inaccurate representation of America's values and beliefs, calling Trump's vision for America a "divided crime scene" compared to Reagan's American vision as "a shining city on a hill." He emphasized how Trump epitomized misdirected rage this country feels.
"He's betting that if he scares enough people, he might just scare up enough votes to win this election," Obama said.
"The speech also clarified for me all the reasons that Donald Trump can't win the election, which made me think about how important it is for everyone to vote in November. I made sure to double-check that I was registered to vote in PA after the speech," Wright stated.
"Don't boo — vote!" Obama exclaimed after audience members booed at the mention of Trump. Throughout the performance he emphasized how crucial it was for all eligible Americans to vote.
Obama attacked Trump's legitimacy, questioning how his character would enable him to be commander-in-chief. He highlighted how Trump refused to release any tax returns, and mentioned the Trump Foundation's fraudulent behavior: taking money donated to the charity and then buying a "six-foot tall painting of himself."
"At the end of the speech I was honestly left wondering why we were still debating between Trump and Clinton. The more suitable answer is too obvious," Wright continued
"We cannot afford to suddenly treat this like a reality show," Obama explained. "Democracy is not a spectator sport. You don't tweet in your vote. America is not about 'yes, he will,' it's about 'yes, we can.'"
"Obama made the audience feel that every vote counted — and it does. Most of my friends are voting for Hillary and the ones voting for Trump are just doing it because they hate Hillary. I think college students were extremely excited about Bernie and seem less so about the election now that Bernie is out of the running. I don't think the importance in voting is lost on anyone. I think most people are arranging their absentee ballots or are registered to vote in Drexel," Khurana explained.
"I need you to work as hard for Hillary as you did for me," Obama concluded over a crowd chanting, "yes we can."
The deadline to register before the Nov. 8 election is Oct. 11. Registration is a free and simple process and can be done through the mail or online at www.pavoterservices.state.pa.us.