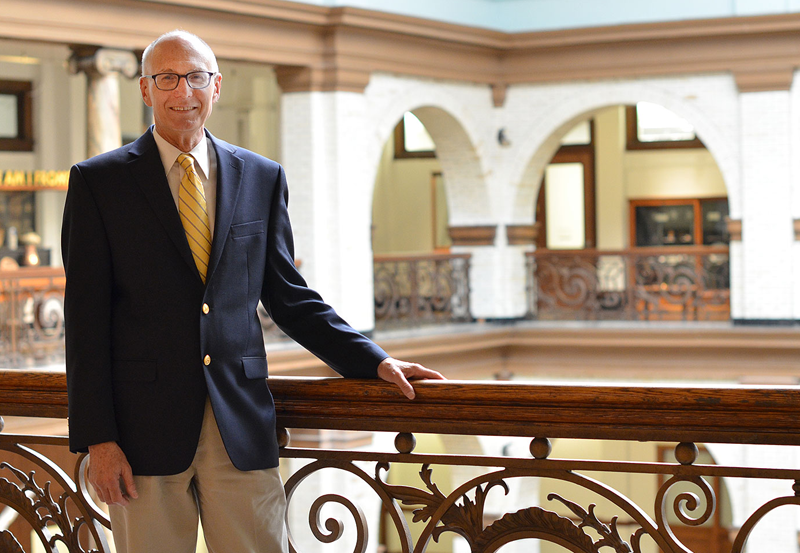 Philadelphia Mayor Michael Nutter announced June 27 that James Buehler, professor in the Department of Health Management and Policy at the School of Public Health, will be taking over as health commissioner. This announcement came along with the announcement of the departure of three senior staff members: former Health Commissioner and Deputy Mayor for Health and Opportunity Donald Schwarz; Department of Human Services Commissioner Anne Marie Ambrose; and First Deputy Chief of Staff Suzanne Biemiller.
"When the current health commissioner, Dr. Donald Schwarz, informed the city of his plans to step down after serving for six years in this position, I was among the list of potential successors who were recruited to apply. After learning more about the position and speaking with Dr. Schwarz, and after conferring with my wife, I decided to become an applicant," Buehler wrote in an email.
"The process culminated in an interview with Mayor Nutter. The mayor's strong commitment to public health was clear, and I was deeply honored when he offered me the position," he continued. Buehler's term as health commissioner will begin in the middle of July.
The position of health commissioner requires Buehler to lead the Department of Public Health for the city, which manages programs and services dealing with health problems ranging from HIV infection, chronic diseases, maternal and child health, childhood lead poisoning, environmental health, air quality, and food protection. This also includes eight primary care clinics, a public health lab and the medical examiner's office, according to Buehler.
Buehler brings over 30 years of experience in public health, beginning with his epidemiologist work at the Centers for Disease Control and Prevention in Atlanta in 1981. "Over that span of time, my career has touched on many different areas of public health, and I've had opportunities to work closely with colleagues in many cities, counties and states and in other countries," he wrote.
He continued, "Most recently, my attention has focused on harnessing advances in health information technology to improve public health services and collaborations between public health and healthcare providers — an issue of growing importance to all health departments, including Philadelphia's."
According to Buehler, he will take a leave of absence from his faculty position in the School of Public Health until the end of Mayor Nutter's term, and then expects to return to teaching and choose a new health commissioner for the next mayor.
"As a university faculty member, both at Drexel and previously at Emory University in Atlanta, I bring to my role as an instructor and researcher the mix of experiences I've had in public health practice. So, I expect that I'll return to teaching and research with a vastly richer perspective," he wrote.
Buehler plans to begin his term by announcing a strategic plan that contains a series of priority actions to address current health issues in Philadelphia, a plan that was developed with the support of the associate dean for public health practice of the School of Public Health, Jennifer Kolker.
"In the strategic plan, four priority areas that have been defined include improving the health of mothers and children, with an emphasis on reducing disparities in infant mortality between black and white infants; enhancing efforts to prevent and treat HIV and other sexually transmitted diseases; preventing chronic diseases by making it easier to adopt healthy lifestyles and making our environment healthier, including improvements in air quality that can reduce asthma and enhancements to programs that promote food safety," Buehler wrote.
The former health commissioner, Schwarz, was known for several feats during his term including smoking cessation and anti-obesity programs. These programs led to a five percent reduction in child obesity and a 15 percent decline in adult smoking in Philadelphia. His time as deputy mayor has led to a 50 percent increase in permanent housing for the homeless as well as a 24 percent reduction in dependent children being removed from their families.
Schwarz is now moving on to becoming the demand portfolio team director for the Robert Wood Johnson Foundation, the nation's largest philanthropic organization for health.
Buehler expressed excitement in taking on the issues facing the citizens of Philadelphia, "I'm very excited to have this opportunity. I've lived in Philadelphia for just over a year, and I've quickly grown to love this city. To serve as its next health commissioner is a tremendous honor," he wrote.