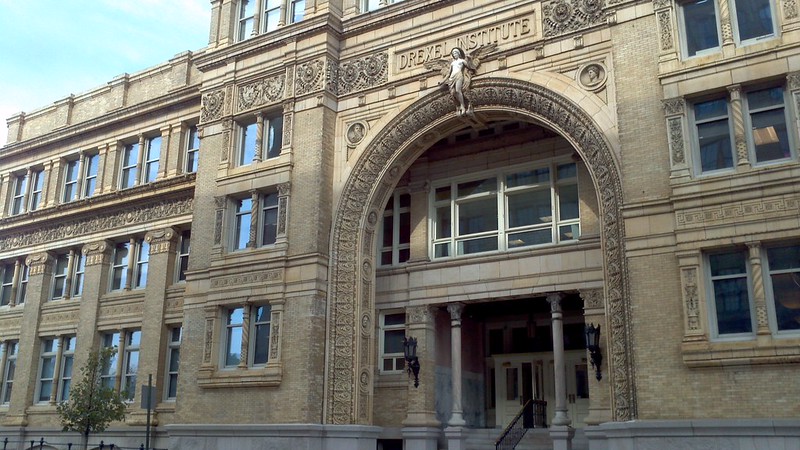 On Thursday, April 20, Drexel University hosted the Emerging Graduate Scholars (DEGS) Conference at Bossone Research Enterprise Center, where 61 master's and Ph.D. students across several Drexel departments presented their research projects.
The conference is one of several demonstrations of Drexel's prestige as a research university. According to Sandra Strang, the director of communication & events at the Graduate College, "Drexel is designated as an "R1 Doctoral University: Very High Research Activity" in the Carnegie Classification of Institutions of Higher Education [and] one of 146 institutions out of approximately 3,900 to receive this prestigious classification, indicating the highest level of research activity."
Graduate students in the conference displayed the kinds of research they have been doing through a poster showcase. 
"It's a very interdisciplinary space, and you get to learn about other things within your field, so it's cool to come together in a conference like this," says Elliot Dickman, a graduating student of the Master's Program in Digital Media at the Westphal College of Media Arts and Design.
During the showcase, participants shared how their research correlates with elements of the field they study. 
"The purpose of this project matches my interests, and the machine learning methods applied in many fields hold the potential to improve the accuracy of a diagnostic for human disease," says Jintong Hou, a Ph.D. candidate in the biostatistics program at the Dornsife School of Public Health. 
By presenting these projects at the conference, these graduate students are not just proving their worth as researchers to their higher-ups, but also to themselves. According to Karthik Narasimhan, a graduating student of the Master's Program in Artificial Intelligence and Machine Learning in the College of Computing and Informatics, "[My project] should represent that I can work independently and that if I have an idea I am willing to pursue it even if people aren't willing to join me on that project."
Behind the projects are unique perspectives the grad students have on the potential of their projects. 
"[My] research can push forward the need and importance of having nature around us," says Dahlia Stott, a third-year Ph.D. candidate in the nutrition sciences program at the College of Nursing and Health Professions, "that way, we can interact with it more to not only benefit our mental health but our physical health too so I think it's a very tangible and hopefully easy thing people can go and do." 
There are also compelling reasons why the student researchers chose their topics. "My background is textiles, so I work a lot already with fibers, and with a new material called MXene, I can make the fibers conductive with many more functions like chemical and electrical detection," says Lingyi Bi, a third-year Ph.D. candidate in the materials science and engineering program at the College of Engineering.
Some of these students' projects' goals are broadly aimed at benefiting entire societies, like those of Casey Hanna, a first-year Ph.D. candidate in the educational leadership and policy in the School of Education. 
"I would love other school districts that do have community schools, such as the School District of Philadelphia, to consume this research and think about what is the sum of the assumptions that we make about community schools and how we can be considerate about those in the planning, implementation, and design of community schools so that we are implementing them with fidelity for the benefit of the people that we serve which are students and communities," she says.
While trying to make their research ideas come to life, these students tap into their desire to make something they are passionate about possible.
"I've always been interested in cancer studies, so finally working on something related so it kind of defines everything I have been building up all my life, and I love to be a researcher," says Jana Sri Havya, a first-year master's student in the molecular and cell biology and genetics program of the Graduate School of Biomedical Sciences and Professional Studies at the College of Medicine.
Aside from the projects' meanings, the students behind them were attracted to making them possible at Drexel due to the accomplishments of its graduate programs. 
According to Youngdai Won, a marketing Ph.D. candidate at the LeBow College of Business, "The faculty in the Marketing department have published a considerable amount of peer-reviewed publications in top journals of the highest quality, and disseminated their work through conferences, seminars, and colloquia."
While many of these graduate students are from other universities, some have graduated from Drexel and decided to continue expanding their visions at the university. 
"My [thesis] project started as a senior design project from there when I was doing it [me and my primary advisor] used this co-polymer coating, and with that coating, we found it was very anti-microbial, so we thought that was very interesting because this coating itself we did not expect it to have those types of properties and we decided to continue studying them, and I decided to take it on as my thesis project," says Jamie Trinh, a fourth-year biomedical engineering Ph.D. candidate at the School of Biomedical Engineering, Science and Health Systems. 
Drexel's DEGS is a yearly event that expresses the graduate students' dedication and creativity in developing projects that aim to one day bring about positive change in our society. 
In Strang's words, "Students are challenged to present their work in general terms to a broad audience allowing them to share more about themselves and their journey [making this] truly a celebration of our graduate community and their research."