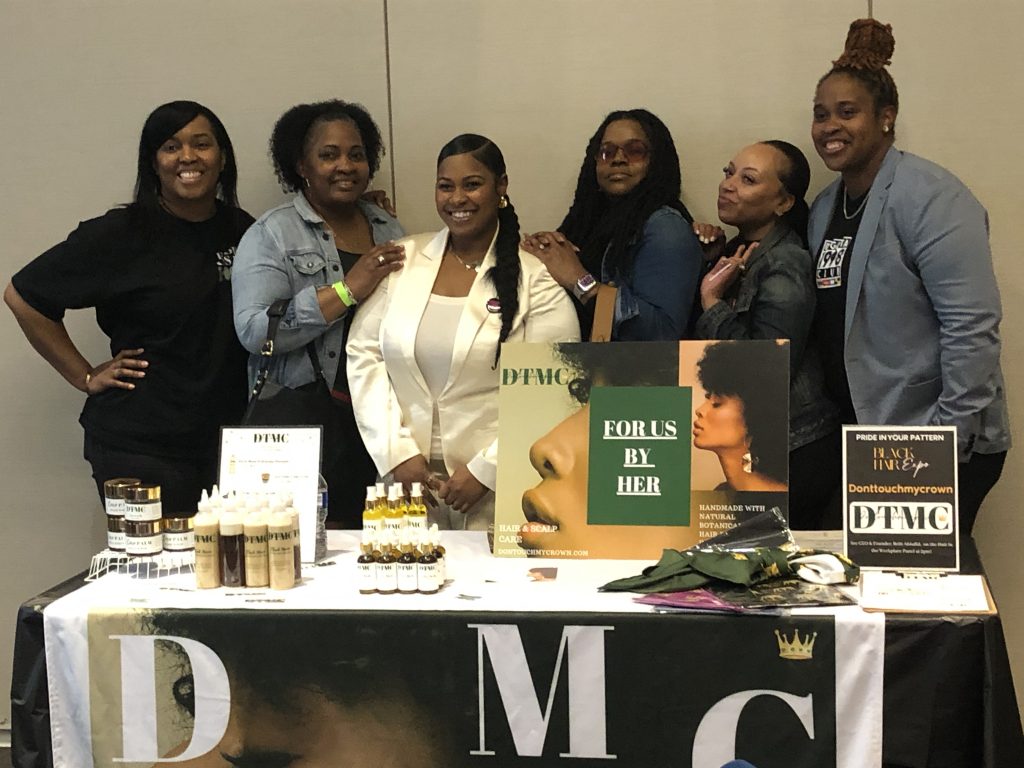 Leaving the familiarity of home for college is often jarring, but Black students experiencing the added isolation of life at predominantly white institutions face an additional very specific, yet daunting, challenge: losing access to people and products with expertise in maintaining the health and style of their hair. Sussie Addo, a 2021 graduate of Drexel University and current teacher's assistant, recalls struggling with this issue alone as a student. 
"My mom did my hair growing up so I didn't really know what to do with it on my own," Addo said. "So throughout the years it was, 'I don't know, use a pick and some water,' and that was kind of all I knew." 
Knowing firsthand how common experiences like Addo's are, a group of Black hair care business owners made the journey to arrange product stations in Drexel's Behrakis Grand Hall on the overcast morning of Sunday, April 30 for Pride in Your Pattern: A Black Hair Expo. Co-sponsored by Drexel's Center for Black Culture (CBC), the Student Center for Diversity and Inclusion (SCDI) and Campus Engagement, the event that the CBC described as a "celebration of Black hair"  invited students to participate in a marketplace, product giveaways and workshops catered to their needs. 
Students were greeted with a spread of locally-made refreshments and baked goods before sitting for a welcome address from Rae Coleman, assistant director of the CBC. After welcoming them, she explained the program's specialized structure, which let students choose between concurrent workshops based on their interests.
The set of opening workshops featured a panel of local barbers and the interactive seminar  "Untangling: Loosening the Knots that Bind Black Beauty and Self-Esteem," led by Drexel's embedded BIPOC mental health specialist Robia Smith-Herman. She educated students on both the history and ongoing conversation around Black hair including the hair-typing system's origins in eugenics and current criticism of celebrities with afro-textured hair, but also encouraged students to share personal relationships with their hair and confidence. According to Smith-Herman, who pitched the idea for the Expo to Coleman when she joined Drexel's Counseling Center in 2021 and was instrumental in the planning process, the topic was already a major point of discussion in her conversations with BIPOC students.
"I talk a lot in therapy sessions with folks who come and see me about texturism, colorism, featurism and how that affects them. So I just felt like that would be a natural thing for me to talk about here, and as part of the planning committee I felt like I needed to not only plan but do my part to see that the event went well by doing these workshops and panels," said Smith-Herman. 
The next set of workshops consisted of a panel on "Transitioning Your Hair," which Smith-Herman also participated in, and a headwrapping workshop led by Netfah Bell, owner of the hair care and fashion business Simply Netfah. Bell quickly involved students by demonstrating various methods of tying colorful headwraps on volunteers of different hair lengths and styles, making sure to choose colors that students resonated with. It was important to Bell because she also emphasized the impact that hair care practices could have on mental health, such as making students feel "empowered, confident, valued, and self-loved."
For Bell, volunteering her time and services for the expo was "an easy yes" because she "loves the vision, what they're trying to promote through Pride in Your Pattern." Having done well-received workshops for Drexel's Center for Black Culture in the past, Bell values spaces for BIPOC expression and wellness on campus. "Anything that supports, encourages wellness and well-being is something I stand for," she said. 
As the workshops concluded, students and vendors alike poured into the main hall for an address from keynote speaker Wendy Greene, a professor in Drexel's Thomas R. Kline School of Law and legal architect of The Create a Respectful and Open World for Natural Hair (C.R.O.W.N.) Act of 2022 that now prohibits race-based hair discrimination in professional and educational settings in 20 states and many cities nationwide, including Philadelphia. While proud of the progress that the legislation has made, Greene stressed that there was more work to be done in eradicating hair discrimination such as expanding protections to include protective styles classified as unregulated "mutable cultural characteristics" and beginning international legislative efforts. 
As Greene describes, "The ultimate goal of all the collective movements around the world is not only to secure social, legal and policy change, but for personal reform. So that Africans and others around the world can freely wear our natural hair or freely wear our hair according to our personal needs and desires, and ultimately so that we can universally declare that all hair is good hair." 
For students like Drexel senior Katelyn Odoms, the message hit home, especially after discovering newfound confidence in her hair while at Drexel. "I would've never worn my natural hair in high school, but after taking an Africana Studies class, African-American Literature, I began to really value my hair as a part of my culture," she explained. "My high school was mostly white so I changed my hair to fit in, but now I love my hair."
In a schedule filled with student-focused workshops, the planning committee aimed to ensure attendees knew how to retain confidence in their hair after graduation. Following the keynote address, audience members were invited to ask questions of a "Hair in the Workplace" panel consisting of Greene, Don't Touch My Crown founder and CEO Brit Abisdid, psychotherapist Tiara Rodia, and Ursinus College enrollment management VP Michael Keaton. Drawing from personal experience, they each gave advice on dealing with microaggressions in the workplace and evaluating self-worth in professional environments.
Closing out the day's program was a raffle of four packages of hair care products, one of which Addo won. As students bought armfuls of merchandise from vendors and began filing out of Behrakis Grand Hall, many also left with business cards and phone numbers of stylists, entrepreneurs and mental health professionals with the resources to help them improve their relationship with their hair.
In Addo's words, "It was nice to learn more about how to work with your hair and what resources are out there and who you can talk to. I think it's great for students of all years to have that space to discuss it."