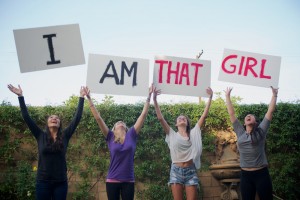 Claiming , the non-profit organization I Am That Girl has grown in the past five years to an impressive and formidably popular feminist organization. Kelsey Gringer, junior graphic design major as well as the president of the new Drexel chapter of IATG, has a lot to be excited about.
Gringer realized, after learning about IATG through a friend, that the mission of the organization was one she believed in and one she wanted to pursue and make available to the women of Drexel.
Gringer has already gathered a group of 50 members, and gained recognition of the chapter from Student Affairs two weeks ago.
"This organization is intended to help women see themselves as the amazing people they are. By building a network of women through this group, it provides 50 new people to talk to, hang out with and eventually become friends with," Gringer said.
She continued, "I was raised to love myself and I want to spread that mentality to other girls who struggle to see it."
The mission of IATG is, according to its website, to create "a community, a support system, and a movement inspiring girls to LOVE, EXPRESS, and BE who they are." Visiting the organization's site provides a barrage of blog articles, campaign packages, conversation kits and a chance to pledge yourself to the missions of the entity on every single page. Pledging on the website makes you an official IATG community member, adorned with email subscriptions, inbox articles, event news, and updates regarding chapters near you. There is also an "I Am That Guy" pledge available for men, in accordance with the concept of feminism that runs as a central vein throughout the organization's mission and movement. Part of the pledge states that the organization "isn't just a girl's movement; it's a human movement," and that men who pledge are claiming that they are "proud to be a part of it."
The many campaigns that are run by the organization are large in scope, aimed at providing materials, both to local chapters as well as to curious and hungry women around the globe. The campaign kits allow them to discuss and communicate freely their ideas of beauty and self-love with one another. The kits include main ideas and sections, which in turn feature several quotes, photos, discussion questions, activities, books and movies suggestions.
Gringer says that in an average meeting, the girls present will spend a large amount of time in free discussion led by the ideas in these kits and curricula. According to Gringer, this is one of the most important aspects of meetings and is "the girls' time to talk and be really open about whatever we are discussing and have a great conversation."
Intercultural advocate and student employee for the LGBTQA Student Center, graphic design senior Maddy Russell saw positive potential in this new chapter of IATG. From an inclusion standpoint, Russell believes that the group "has the potential to affect [inclusionary student life] if [it] works with the Center" and that the effect "would be positive."
As for LGBTQ involvement and association with the organization, she felt there would be no issues, and that the club would bring something the queer community in general supports: feminist ideals.
Freshman Kyle Streeper, computer science major, spoke in favor of IATG. "As a guy, I can say this sounds like an amazing idea for the inclusiveness of all people. It's a club I would support," he said after learning a bit about the organization and its goals.
Streeper later said he would be interested in going to the online community and searching for more information, and possibly pledging to the cause. When Gringer was asked about the possibility of male membership in her chapter, she allowed that while at the moment the group was girls-only, in time, as the group felt comfortable and the decision was unanimous, events and discussions would be held which were open to both sexes.
She added, "I think it's just as important for men to hear women's opinions as it is for women to hear men's. It's just about having that conversation in an environment where everyone is respectful and open-minded."
"It's about respect for women from men, and respect for men from women. No gender is superior. So it's about respect for people overall," Ginger said. Feminism has become a politically and socially supercharged word that brings up preconceived ideas. However, organizations like IATG focus not on that "f-word," but rather on self-love, true beauty, confessional media and healthy propaganda.