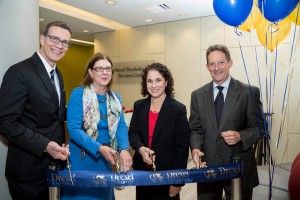 The Drexel Department of Psychology held a ribbon-cutting ceremony for the new Drexel Psychological Services Center, open on the second floor of Stratton Hall. The center will be providing services through evidence-based approaches (practices that are backed by research) for mood and anxiety disorders, disorders of eating, behavioral medicine, clinical neuropsychological assessments, child and adolescent services, and forensic psychological assessments.
"We are a training clinic in the Department of Psychology, meaning we are the place our doctoral students are going to get their experiences … learning how to do treatment. We have a three-fold mission: we provide high quality doctoral training for our grad students; we provide services to the community at all fee levels — we are working on a sliding-fee scale. We also do research through our clinic so we are extending knowledge base in our field," Jennifer Schwarz, the director of the Psychological Services Center, said in an interview. Schwarz was hired the year prior to be the director.
Emily Stasko, a second-year doctoral student in the clinical psychology program and a part of the Women's Health Psychology Lab, has been involved with the Drexel psychology program for some time before the change including the Psychological Services Center. Doctoral students in their second year are the ones who begin their training at the center. "The fact that Drexel had a concentration for health psychology was a big draw for me. Coming from a public health background, especially, the connections between physical health and mental health are pretty [apparent]. I like the fact that this program trains people to look at those connections, plus there's a great faculty — very collaborative student body — or department in general," she said. Other than her personal interests in women's health and psychology, it was the work being done at the center that drew her to Drexel.
"We're the first class to be working in the Psychological Services Center, since it just opened," Stasko continued. "Now that this is open, we get to start a little bit earlier in the spring … We got to get our feet wet, seeing patients here in the clinic and now we have our practice here in PSC instead of going somewhere else, which is great because we do have such wonderful faculty and they do supervise us."
"Prior to doing [the students'] training in Drexel, the students were doing their training all over Philadelphia," she explained. Schwarz said that Drexel will not only now have in-house training, but sources for outside training for their psychology students as well.
"Everyone knows that this is a training center [but] we're also able to help the community because of the low cost. That wasn't something that Drexel offered before," Stasko said. "And because people know that we're students and that we're training, people come in [being aware of that fact] instead of if we're in external placement … you're still seeing patients but they're integrating you into their practice that isn't geared around training. PSC is really geared around giving us the training we need while still helping people."
The center currently caters to 15 doctoral students that are training at the center. Schwarz said that the center hopes to grow to host at least 40 students at a time. "Additionally, we have a co-op student," she said. "So we're providing experience in a clinical setting for undergraduates." The co-op student is required to answer phone calls from patients, participate in exposure treatments and attend group supervision meetings where they talk about different approaches in treatments.
The co-op student, who started in the fall, is pre-junior psychology student Cecilia Gaultney. "Everyone who calls are looking for a place where there are no judgments. That's a sensitive situation. They don't have anyone to talk to, this is new to them. We get people who call in for mood disorders. We get people who call in for assessments to see where they are," she said.
According to Schwarz, the doctoral students meet regularly with their clinical supervisors. There are currently seven clinical supervisors, who are supervising students and cases within their expertise in psychology. More faculty members can work as supervisors on an ad hoc basis. Some supervisors, according to Schwarz, will sit with their student while in-session with clients or evaluate them to give feedback after, others will prepare students for what to do in sessions. The students are said to have learned the latest in evidence based treatments in a very hands-on manner regarding how to deal with all of the variety of problems that patients come in with.
Most clients come from Philadelphia and the surrounding regions. "We see people of all socioeconomic statuses. We do not take insurance," Schwarz said. The typical therapy session can run from $15 to $50 a session. Evaluations for learning disabilities and neuropsychological problem can run from $100 to $800. There are also set fees for forensic evaluations for $1,000. The Psychological Center will also do evaluations for students who are attempting to gain entry into a gifted program, such as programs for younger children, for a flat fee of $350. Although the Psychological Services Center caters to a wide variety of clientele, Drexel students are encouraged to continue taking advantage of the free service at the Drexel Counseling Center.
In the future, Schwarz hopes to bring in more clients that are within the areas of the expertise of the supervisors, such as patients who may suffer from an eating disorder, anxiety disorders, forensic evaluations, and child and adolescent services. The center also hopes to expand on the types of programs they can offer to their students as well as research opportunities.